Employers are starting to roll out Covid-19 antibody tests for those returning to work — with some finding higher-than-anticipated positive results.
One London-based construction firm has found more than half of its staff have Covid-19 anitbodies, according to a report in building.co.uk.
The firm Collins Construction is the first contracting firm tooffer Covid-19 antibody blood tests to all its employees and subcontractors. More than 230 people took up the offer.
The tests were carried out by Hammersmith-based Corona Test Centre, using the same testing protocol widely used in Germany during the pandemic.
Initial results show that 50.4% of staff tested had antibodies, indicating that they have had the disease already.
It is widely expected that some employers will look to offer these testing facilities to staff as the UK starts to move out of lockdown in stages. There is some scientific debate as to whether the presence of antibodies confers immunity, but there seem to be very few cases of people getting reinfected by this coronavirus.
Having this information could help firms plan a return to work and ensure additional provisions are in place for those who might be at greater risk of catching the virus.
Employee Benefit consultants and corporate advisers say there is growing demand for such services as part of an overall benefit strategy.
advo was one of the first intermediary firms to offer COVID 19 testing and has since expanded support to incorporate full safe-return to work strategies for clients and wider support for those employees that continue to work from home.
If you would like to know more about how advo can support your employees plaese email jamie Tuffield, advo's head of employee benefits on jtuffield@advogroup.co.uk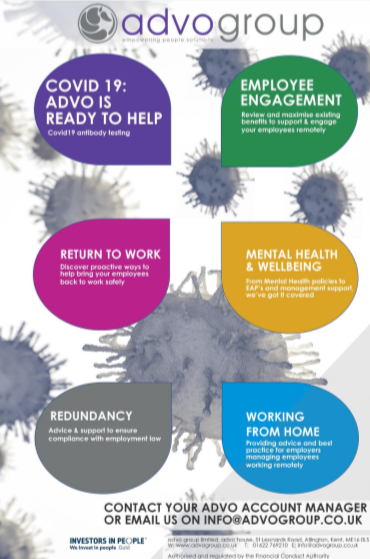 This article is based on a news report in Corporate Adviser magazine – you can read the original article in full here.