advo are to be recognised at the prestigious Broker Innovation Awards for the creation of in-house technology which allows SMEs and smaller corporates to link the essentials of paying, rewarding and managing staff absence through one HR system.
The Broker Innovation Awards that include the whole of the UK insurance industry focus on those advisor firms 'that have fully embraced technology in order to meet the needs of clients.' The awards pay close attention to firms that have taken an innovative approach to insurance protection and demonstrate collaboration, inventiveness and modernisation. Judged by an independent panel of experts and accredited professionals, the awards will consider how intermediaries have successfully implemented insurtech, adapted to new challenges through inventive solutions.
One of the judges, Steve White, BIBA's Chief Executive confirmed that "The quality of submissions we've had was quite outstanding" making advo's finalist placing for the 'Broker Innovation Award' even more notable.
advo's online platforms link employee benefits, absence management and payroll which extend to individual staff portals. Integrating expert advice and the use of technology allows advo clients to have all their information at their fingertips, assist with absence, manage multiple staff benefits effectively with the option of managing payroll and auto-enrolment. Standard operating systems and staff portals are offered to all clients with options to extend to flex benefits and incorporate Total Reward Statements
Despite COVID 19 the awards ceremony, usually a black tie event, will still go ahead on the evening of 16th July,  but this year will be held as a virtual event with the ceremony live streamed.
Kevin Crew, advo's IT Director, who led the development of advo systems, added "We have always strived to stay ahead of competitors and use technology wherever possible to make our client experience better. Our approach to linking together the essentials for SMEs of payroll, staff benefits and absence management into one HR system is unique to the UK and will save our clients time and money."
Colin Boxall, advo's commercial Director commented ""our market is tough, competitors are relentless and so we need to have an edge, anything we can do to move ahead of them helps retention and draws new clients to us. Our innovative technology, coupled with great people allows us to do this. advo has had success in the past at the awards and so fingers and toes are crossed."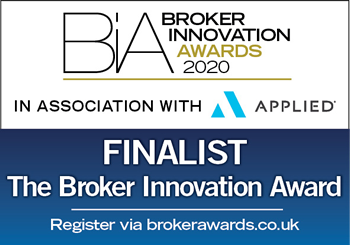 You can find out more about the advo online options by emailing Jamie Tuffield on jtuffield@advogroup.co.uk
You can register to watch the awards ceremony live from 7pm, on the evening of 16th July, or to find out more about the Broker Innovation awards here.