An improvement in working practices and approach is needed as new Investors in People statistics that reveal how work and home life is affected through workplace stress.
80% of UK workers say that they've felt stress at work, with 59% saying that their mental health has been negatively impacted by their work, according to the findings of Investors in People's first ever Managing Mental Health report. The research, conducted in early April, sets out how stress and workplace anxiety are impacting workers of all regions, sectors, ages and genders.
IIP also sought out employee attitudes on how line management and workplace culture contribute to stress awareness and management in the office.
Just 36% of those surveyed said that their workplace supports their mental wellbeing, while 34% agreed that their office had a culture of openness around mental health. This means that in both instances, the majority of UK workers don't feel that there is support in place, should they have a mental health concern.
Of those who responded to the poll, there were clear gender trends in the way that men and women interact with their mental health while at work. 83% of women say that they've felt stressed at work, compared to 74% of men. This trend toward women feeling more stressed than men is compounded by the fact that 57% of women say they've felt work-related stress while at home, compared to less than half (49%) of men.
Not only does the Managing Mental Health report suggest that stress frequency is higher among women, it also reveals that women are more likely than men to feel like they could discuss their mental health, with 59% saying they'd discuss a concern with a colleague, while just 46% of men would feel comfortable doing the same.
IIP also sought to identify the extent to which mental health support would be a priority for an employee, over and above other employee benefits like a 3% pay rise.
20% of workers would rather have workplace support for their mental health than a 3% pay rise
25% would rather have a trustworthy manager than a 3% pay rise
27% would rather have a comprehensive healthcare package than a 3% pay rise.
There is a lot more awareness of people suffering from stress at work and there has certainly been an increase in the number of employers calling up for assistance from us on this issue.
The HSE has confirmed that 12.5 million working days were lost due to work-related stress, depression or anxiety last year. Relationships, money problems, work; many things can put you at risk of burning out. If you are a manager it's your job to keep an eye out for the warning signs and help prevent a burn out before it happens.
Carly Gregory, Business Partner at advo hr commented on the IIP survey saying "Employers can do much to help prevent workplace stress by encouraging good communication within teams; good relations between managers and their employees; monitoring workload; conducting regular 1-2-1's; providing relevant training; and by taking immediate action when they are aware there is an issue. In short being aware and being there for staff"
IIP CEO, Paul Devoy said "Increasing credence is being paid to the impact of work-related stress and mental wellbeing on UK workplaces, and rightly so. Recent statistics suggest that the loss of productivity stemming from poor mental health (presenteeism, absenteeism, lack of focus etc.) could be costing our economy as much as £99 billion a year.
This figure, coupled with IIP's core finding that 80% of British workers admit to feeling stress at work, prove the strength of correlation between mental health and productivity.
Paul continued, "These same workers were most likely to agree that their workplace could better support their mental health by providing line managers with more training focused on mental health. If employers were to heed these insights, they could reap the dual reward of happier employees and a more prosperous business."
advo group is an Investors in People GOLD employer.

Notes
Investors in People poll of 1000 men and 1000 women full time workers in the UK was launched in March 2018. Data was captured via an online survey carried out by research organisation One Poll. This data was then used to inform the findings presented in IIP's 'Managing Mental Health in the Workplace 2018' poll.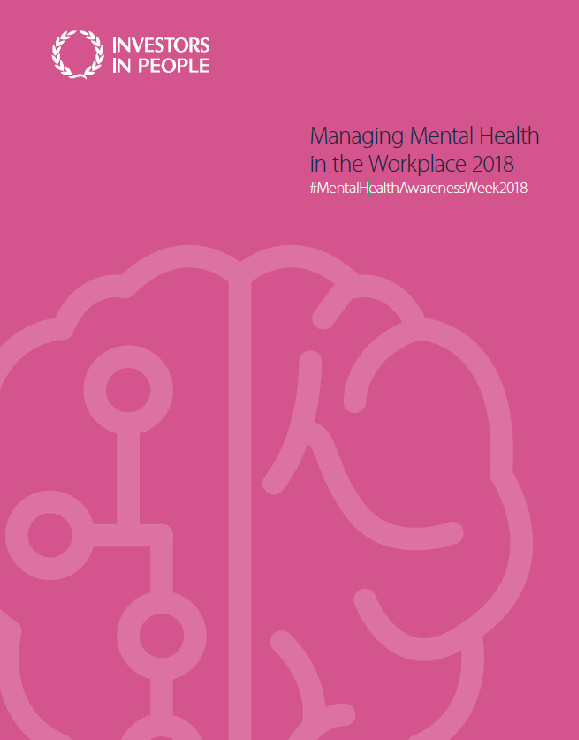 Download the IIP Managing Mental Health in full report here:
You can view the Investors in People press release here.