advo has retained Investors in People Gold accreditation.
The in-depth accreditation process involves auditing every part of a business encapsulating how staff are supported, trained, motivated and generally looked after with an organisation. In addition to written submissions and auditing of processes there are staff interviews over several days and an anonymous staff online survey.
Investors in People states that "Organisations that meet the world-recognised Investors in People Standard reflect the very best in people management practices."
Advo has been IIP accredited since 2004, moving to Silver and later Gold, which has just been renewed.
The report on mentioned that "The advo Group is clearly a great place to work. Staff were positive about the supportive and trusting work culture and the great level of team working."
One comment from a member of staff summed up the culture "They [advo] really care about us and look after you"; "They have an open door and are approachable and give good advice"; "very visible and supportive"; "It's a very trusting culture – the best place I have ever worked".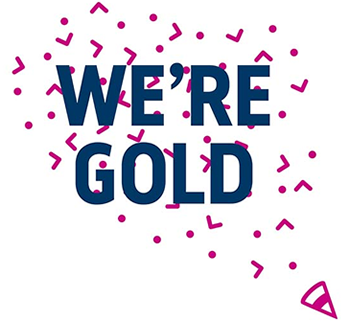 Lucy Irvine, advo's Operations Manager commenting on the news of again receiving the Gold accreditation said "we [advo] were absolutely thrilled to be awarded gold status 3 years ago. To be awarded it again, in what has been an incredibly busy and challenging time, is just brilliant." Lucy was instrumental in ensuring the accreditation process went smoothly.
Colin Boxall, advo's Commercial Director commended the quality of advo's staff adding "the achievement is down to how fantastic are people are. The IIP accreditation process is an excellent opportunity for a respected outside organisation to audit your approaches, internal processes and systems. It's an invaluable process from which you discover more about your company and what you can do better. We are proud to be one of the very few in our industry to achieve Gold status, but we can't stand still, we know there is more we can do."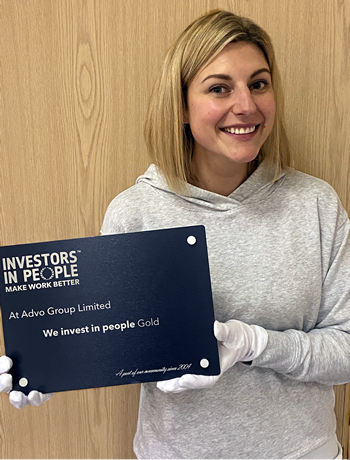 Lucy Irvine, advo's Operations Manager
Lucy concurs "There's always more to be done, however to receive feedback that our staff really value the continuous development, good practice and generous reward advo offer means a great deal to us. We are so proud of our employees and what we achieve together. We hope to continue working with them for a long time to come."
Colin added " the Gold accreditation coming on top of last month's industry awards which highlighted us as the 'best' in a wide variety of disciplines is quite simply bl**dy marvellous.

You can find out more about Investors in People can support your business here.