At the close of 2019 advo held its annual 'Oscars' to recognise members of staff that have gone above and beyond the customary high standards.  Recipients are mostly chosen by peers but the overall award, 'Star of the Year' is selected by the Management Team.  This year resulted in broad recognition across the group highlighting the high people standard within advo.
The results were announced at the end of year company meeting with the Advionian and Star of the Year receiving a cash prize in addition to well-deserved recognition. The winners were:
STAR OF THE YEAR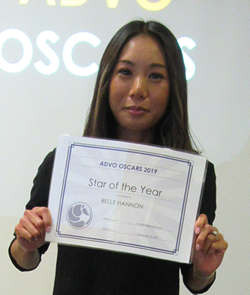 BELLE HENNON
(Voted by Directors and Management Team)
Manager's comment: It's been a challenging year for advo, and Belle has handled the pressures thrown at her admirably and with maturity. Despite the ongoing pressures she maintained high standards of accuracy whilst still offering a personable and professional service to clients.
Receiving praise across numerous areas of the business, this person is a reliable and respected member of the team who will always offer support to other people in the team when needed.
All following Awards were voted by advo Group employees.
ADVONIAN OF THE YEAR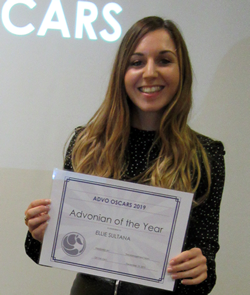 ELLIE SULTANA
This was a close-run category with a number of worthy runner-ups.
Ellie's Manager summed up her win: "Ellie works consistently hard to offer the highest levels of service to her clients at all times. She has a challenging portfolio and the relationships are stronger than ever.
Despite high workloads, she always supports her colleagues where needed including buddying and mentoring new starters.
OUTSTANDING TEAM AWARD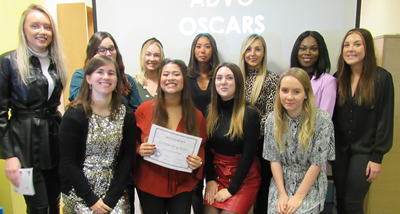 ACCOUNT SUPPORT
Comments included: "So much to deal with but still delivering, our backbone." "The accounts support team are always in the background doing the hard work that keeps it all going." "Huge amounts of pressure lately and big workloads yet managing to keep on top of it and still smiling, all of them do an amazing job."
MOST INSPIRATIONAL AWARD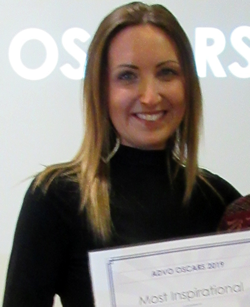 LUCY PEARCE
This was the individual within advo who most inspires their co-workers. Comments from staff included: " She truly is a superhero" "She's constantly busy but still manages to find time to help us all! She's such a strong person and definitely deserves this award." "A true achiever; inspirational!" "Her work ethic, business imagination, no nonsense pragmatism and professionalism."
GET INVOLVED AWARD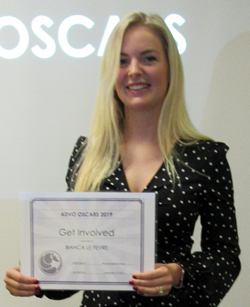 BIANCA LE FEVRE
Awarded to the member of staff who is always in the thick of it, getting involved with advo and charity partners. Comments included " She is always keen to take part in absolutely anything!" & "Bianca has joined in so many activities and is always a fun person to be part of a team with."
CHIEF CLOSER AWARD & POSITIVE ATTITUDE AWARD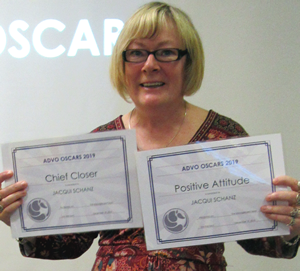 JACQUI SCHANZ
Jacqui won two awards recognising her ability to deliver on targets and her positive attitude when working with her co-workers and clients. Comments included "Massive amounts of knowledge of advo's benefits and services and always meets target." "Always positive, no matter what" & Most positive and happy person I know, always smiling and never gives up despite a difficult job role".
BEHIND THE SCENES AWARD & DIRECTOR SPECIAL RECOGNITION AWARD
LUCY IRVINE
The behind the scenes award recognises the person staff most believe added the most to the company working environment. Comments for this award included: "She organises so much to make advo a fun place to work with all the quizzes, trips, charity involvement and bake offs. It's never boring here with Lucy around!"
Lucy was also recognised by the Directors for a Special Recognition award. This was a one-off award this year as the Directors felt that her all-round contribution to the company in 2019 deserved to be celebrated.
HELPING HAND AWARD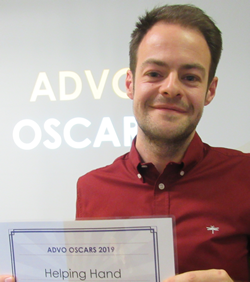 JAMIE TUFFIELD
This Award recognised the person to whom staff feel they can most rely on. Comments when voting included "[Jamie] always has the answer!" "Never says no to helping even when is he really busy, and takes the time to actually go through things properly".
MADE MY DAY AWARD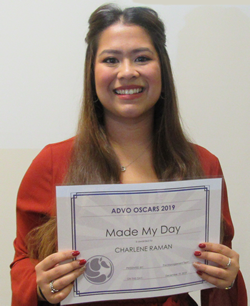 CHARLENE RAMAN!
This final award is for the person who brings the most positivity to the office, the person who lifts everyone's mood. The many comments included She never fails to make me laugh and smile. Every day is brighter by just having her in the office." "She is always helpful even when she is busy and goes the extra mile." "she can turn anyone's bad mood around with laugh" "There have been a countless number of times when she has put a smile on my face when I've really needed it!" "Charlene – Without a doubt makes me laugh every single day"
Congratulations to all the winners & all the rest of the fantastic advo people.