Carole Haswell returned to the finance industry after a career break and was stunned to discover that, despite huge shifts elsewhere in the equality landscape, the male-dominated world of financial advice remains largely unchanged. She's railing against the status quo with her own approach – running informal workshops for women to get them engaged in the subject of savings, investments and long-term financial planning.
advo is supporting Carol Haswell's Talking Finances with Women 'blog'. Carole is a financial adviser with a novel approach and insight to engaging more women with personal finance. advo's Colin Boxall takes the opportunity to sit down with Carole and ask her about her different approach and its success.
Carole describes the scene of a recent workshop: On a windy evening in October, six women sit around a table in a low-lit office just outside Windsor.  The atmosphere is relaxed and there is much talking and a fair amount of laughter, rivalling the noise from the bar next door. To the casual observer the true nature of the discussion might come as something of a surprise: since when did a chat about Investing, Risk and Pensions constitute a night out?
Q. What and who are the workshops for?
These are workshops for women who feel that, for whatever reason, they are lacking in knowledge and confidence when it comes to investments, risk, pensions and planning for the long term. I feel that much can be done to make learning about finance more accessible – by untangling the language and the concepts, relating it all to the everyday, encouraging women to be open about how much they know and don't know, and – above all – talking freely in a relaxed, non-judgmental environment.
Q. Why do you think it is necessary to get women talking about finance?
When I first walked into the world of financial advice – or planning, as it has mostly become – I was immediately struck by how male the industry is. The majority of advisers are male, the majority of clients are male and the majority of the reps from the investment companies who provide their services are male.
This is an industry that has grown around men, and I started wondering how many women felt it had anything to offer them. Women have just as much need as men for good financial lifetime planning – arguably more so, given that they earn less, have less in their pensions and live for longer – but I sense that they are not always made to feel particularly welcome.
Q. What sorts of things struck you as being alienating to women?
I noticed that the financial experts who speak at adviser conferences use language and examples that assume a mostly male audience – and mostly male clients. I also noticed that, when clients come in as a couple, it is often the man who engages the most and so the conversation flows around him. And I saw that the literature presented to clients tends to be light on helpful narrative and heavy on graphics that have been designed to appeal to men. It's like there's an unspoken assumption that the men are in charge of the long-term finances and I found that quite shocking.
Another interesting thing I spotted was that when it comes to investing often the man might have an adventurous risk profile, where his female partner is more cautious. I found myself wondering why that was and whether it should be challenged.
Q. Do these anecdotes reflect the wider finance industry?
Just a small amount of digging will throw up any number of surveys and statistics around the fact that, relative to men, women invest less, invest more cautiously and don't seek financial advice. For some years now big insurance companies, banks and investment firms have been looking at this – and yet the wholesale change that needs to take place on the ground doesn't seem to be really happening.
It looks to me like Big Finance is aware that women remain a relatively untapped market in terms of investments and financial planning services – but all they are doing about it is publishing surveys that tell us the statistics and swapping out some of the squeaky-clean, good-looking men in the adverts for squeaky-clean, good-looking women. From what I can see, this is not having much impact on women's behaviour and so the majority of advisers at the end of the chain are carrying on as normal.
Q. How is your approach different?
I made a conscious decision early on to keep my 'fresh pair of eyes' well and truly open so as not to sleepwalk my way into established practices. I knew I couldn't drag women off the street and force them to take a more active role in planning their lifetime finances – and even if I could, the male bias in the existing service would probably lead to swift disengagement.
That is why I am inviting these small groups of women in for a chat and a cuppa and we do a few interactive exercises to introduce the concept of risk within investing. It offers a chance to talk about all sorts of things relating to money, risk, investments and providing for the future. And I am blogging about all of these topics, too – to keep the conversation going.
Q. What do you think are the reasons behind the statistics?
We talk about this in the workshops and, when we start to unpack why it is that these statistics exist, we discover that a lot of them are historical. In the past, it was the men who earned the bulk of the money (and who were in control of it) and naturally the industry danced to their tune. And because the marketing was aimed at men, even as women's earning power has shifted, a lot of women have retained the sense that none of this stuff is really meant for them – in many cases, I think we have sort of switched off.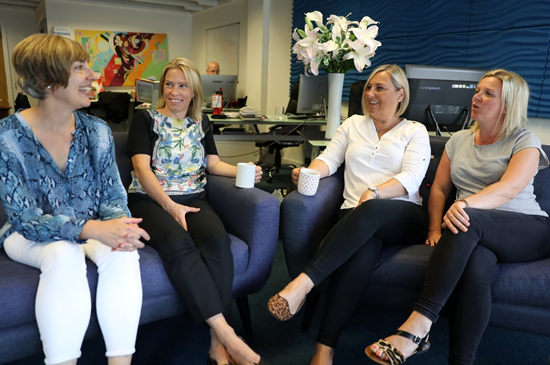 Recent 'Talking Finances' workshop.
Workshop quote "It's like they're talking to someone else – someone who wants to duck and dive and beat the system"
Coupled with all that, women were traditionally in charge of the day-to-day budgeting rather than the long-term finances, like retirement provision. I think we have possibly inherited a more cautious attitude to money because, back in the day, the job description was to make ends meet, not to take risks with the money in order to make it grow. So, for example, a number of the women I have talked to have a fixed notion that putting their savings in a deposit account is the safest thing to do, but have not considered the risk that inflation poses to its value.
Workshop quote "I feel as though men like the thrill of watching their (investment) decisions go up and down, while the women just want to be sure there is enough money in the account to cover the term's ballet fees"
Q. But surely, times have changed?
Yes, times and attitudes have changed – and there are definitely some encouraging patterns emerging in the younger age bracket. But it remains a fact that women earn less than men over their lifetimes.  On top of that, we are likely to have part-time or flexible jobs at different stages in our lives and so require different sorts of lifetime planning to manage these situations – and that planning is likely to involve investing. The fact is, that the days when a company pension was guaranteed to suffice for a married couple's retirement are well and truly over. If, as the statistics suggest, women continue to be wary of the risks involved in investing they will find it harder to provide adequately for their retirements.
Workshop quote "Having children changes everything – from how much control I have over my finances to my attitudes to money and spending"
Q. How do you think 'talking' can help women to be better financially prepared?
In the first instance, these discussions are great groundwork for more detailed learning. The first workshop – the one I have been running since last autumn – is called 'Women save, men invest'. This is an adage that I wanted to challenge and I am finding that, by getting a lively and interesting conversation going around the table, we all start thinking slightly differently about things we previously shied away from.
Workshop quote "Education is key – I didn't understand a word that was said when I had my first pension meeting at work – but I didn't feel I could say anything at the time"
The relaxed environment helps us tackle the subjects that, for many, have become something of a gremlin. It's a first step. And the women who attend tell me that the discussions really motivate them to take more notice of their finances and to become more proactive.
I will shortly be running a second workshop called 'Learning the language' in which we will further demystify some of the investment terminology, look at the basics and consider the various routes to making provisions for our future. But, again, the emphasis will be very much on talking our way through it together so that we can gain our understanding in a way that relates to our lives.
Q. What do you hope to gain from the workshops and the blog?
My main motivation is to be part of a conversation that I believe needs to be had. I know that there are established female financial advisers out there who are also taking fresh approaches to planning and offering innovative services that take many of the issues that I am addressing into account. But they are still in a minority so I want to do my bit to widen the reach. By listening to the women coming to the workshops I can evolve what I offer in terms of a financial planning service that speaks to them and feels relevant to them.
I hope that, after attending, these women feel that they would be comfortable approaching a planner, should the need arise at a future point in their lives, without fear of technical jargon, sales pressure or 'not being listened to'. Or maybe they would feel confident enough to tackle some of the planning themselves. That would be great!
Workshop quote "Coming to the workshop has made me feel good about knowing that it's not just me who switches off when I hear financial jargon"
The point of the blog is that it takes the conversation a bit further afield. I try to take an engaging approach to the – let's face it – somewhat dry subjects of pension, investment and finance and use the blog to air some of the topics that arise in the workshops so as to keep them live, relatable and educational. The terminology alone can be mind boggling, but I feel that if I can start to engage more women in a way that doesn't feel too much like hard work then that will be a start.
This is how change begins, I think. Not by following a rigid, structured programme with PowerPoint presentations and complex graphs and scatter charts. But by talking and thinking about how things could be different – and better.
You can follow Carole's Blog here.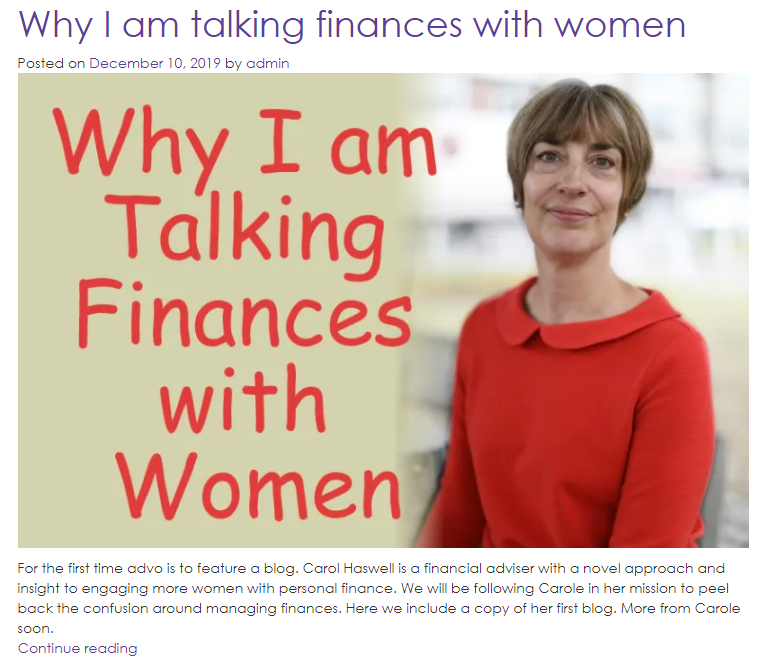 Carole Haswell DipPFS – who she?
A former career in the City fostered a deep frustration with investment jargon and the finance industry's apparent male bias. After a career break Carole is now forging a new path in financial planning with a difference at Talking Finances in Datchet, Berks.
Past relevant positions include: UK equities investment management; writer and section editor for Investors Chronicle magazine; Senior Editor at Commerzbank (Investment Research).
Carole lives in Berkshire with her husband, two teenagers and Welsh Terrier.
Talking Finances is a trading name of Talking Finances Ltd. Talking Finances Ltd is an appointed representative of Beaufort Financial Planning Limited, Kingsgate, 62 High Street, Redhill, Surrey, RH1 1SH, which is authorised and regulated by the Financial Conduct Authority, FCA Registration No. 583233