advo's Bianca Le Fevre, 'Jag' Dosanjh, Chloe Luff and Ellie Sultana ran the London Landmark's Half Marathon March raising thousands of pounds for ellenor.
The 13.1 mile course was held on Sunday 24th March and led runners around the capital's central London Landmarks. The race started on Pall Mall and finished by Downing Street and took in views of London's most iconic landmarks including Big Ben, St Paul's Cathedral, Nelson's Column, the Gherkin, the Shard, the Tower of London and the London Eye.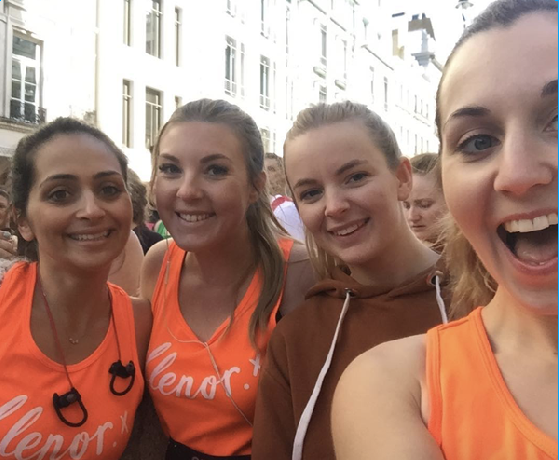 Getting ready – on the starting line
Their goal was to raise £1,200 but the team is set to raise over £2,000.

Commenting on her race the next morning Bianca said "It was really tough and although the weather was lovely my face was burning and I'm very red this morning. I don't remember seeing any landmarks, was looking at the floor in too much pain but I am very proud of us all for completing it, and under 2.5 hours too!
Jag added, when asked about her race "It went well enough, but my legs are killing today. The atmosphere was amazing and I am really proud of us all for completing the course.
When asked about advo's involvement with ellenor the team commented "We were lucky to view firsthand the support they provide to young people with life limiting conditions and their families at their annual summer party. The support that the charity provides to the wider families around their young people is invaluable, and the close relationship the volunteers have with them shone through.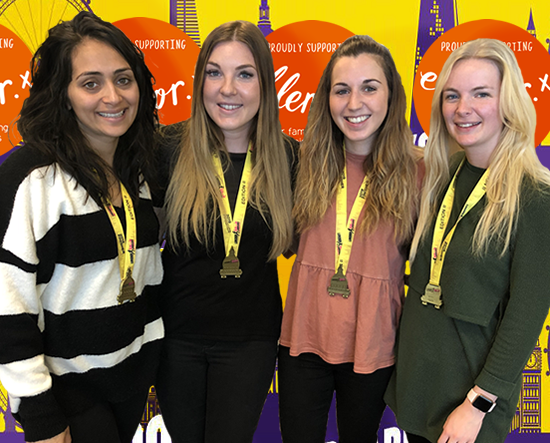 With their medals
You still have time to donate by visiting their fundraising page here.