Corporate adviser magazine recently held a 'round table' focussing on the how staff benefits have performed through the lockdown and asking if the workplace protection sector will find itself at a crossroads when we emerge from Covid. Invited to participate were industry professionals including advo's head of employee benefits, Jamie Tuffield.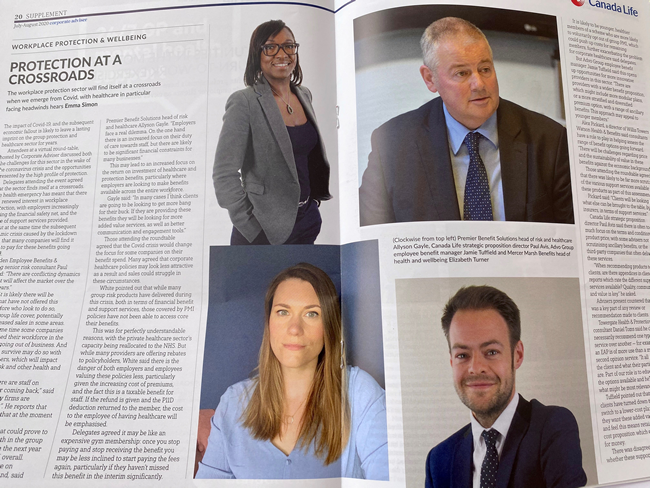 The impact of Covid-19, and the subsequent economic fallout is likely to leave a lasting imprint on the group protection and healthcare sector for years to come. The 2020 Workplace Wellbeing & Protection Report published by Corporate Adviser has shown the sector was in a very strong position ahead of the widespread economic disruption caused by the Covid-19 pandemic. Post lockdown it would seem that Workplace protection and wellbeing services have stood UK plc in good stead during the Covid-19 pandemic in what has been a fast-evolving market.
The discussions at the roundtable were far reaching covering the reliability and suitability of benefits and the wider ancillary benefits. There  was general agreement that the sector finds itself at a crossroads. The health emergency has meant that there is a renewed interest in workplace protection, with employers increasingly valuing the financial safety net, and the range of support services provided.
But at the same time the subsequent economic crisis caused by the lockdown means that many companies will find it harder to pay for these benefits going forward. Discussing this Jamie Tuffield pointed out that this opens up opportunities for more innovative providers in this sector. "There are providers with a wider benefit proposition, which might include more modular plans, or a more stratified and diversified premium option, with a range of ancillary benefits. This approach may appeal to younger members."
Jamie highlighted however that in his, and his team's experience, some clients have turned down the option to switch to a lower-cost plan, because they want the added value services that can come with protection policies, and feel this means retaining a higher cost proposition which offers better value for money.
As the Covid crisis has taken hold this year, this support for mental health has been particularly valued by clients, according to advisers attending the roundtable – and most agreed mental health will be one of the key employee benefit concerns going forward.
As the discussions continued Jamie highlighted that "the [Workplace Wellbeing & Protection] report contained interesting figures on the cash plan market. While the number of employees covered by cashplans increased last year, I was surprised to see the number of employers offering corporate cash plans had fallen by 2.2 per cent. I wonder if this is partly due to the changes to PMI excesses?"
He said these figures contradict advo's own experience in this market, where they have seen more clients offering this as part of a comprehensive employee benefits package. "Given the breadth of benefits now available under a cash plan it will be interesting to see if this growth continues in a post-Covid market, and whether this may be an alternative option to a more expensive PMI plan."
The discussion turned to private screening. advo was one of the leaders in the private advisory sector and was able to secure access to testing early on in the pandemic to allow a number of clients to continue to operate. Commenting on the current situation and demand for testing Jamie added "We have had a high number of enquiries about testing, but clients are generally not making decisions about this at present. There is a feeling they want to wait for more medical evidence." As he points out it is not a case of simply testing those in the workforce once: these tests would potentially have to be repeated regularly for those testing negative.
Summing up the round-table event the feeling was that despite the economic headwinds there was a real potential for the workplace protection market, with more value added services, more flexible propositions and greater digital delivery. Online benefits platforms specifically should be beneficiaries in the post-Covid era as more employees work remotely.
Challenges will remain on affordability, particularly for those working in industries that have been particularly hard hit by Covid-19, but with a wider understanding of the benefits available there is a belief there is a genuine opportunity to continue driving the sector forward.
If you would like to know more about how advo supports clients during COVID, including back to work and how our online platforms help with communicating the value of benefits provided by clients, then drop Jamie an email on jtuffield@advogroup.co.uk 

The 'round table' discussions were discussed in two articles, the first looking at How benefits have performed in Lockdown and the second asking if COVID has brought protection policies to a crossroad. You can read the full reports of the Corporate Adviser round-table discussions here and here.