There's no doubt that living and working during the global pandemic has been hard. It's no wonder then that the latest study shows that one in three Brits (32.5%) have struggled with their mental health over the past three months. 
The online recruiter, the CV Library, surveyed 2,000 UK workers to discover how professionals have been coping during lockdown. Their findings show that job security appears to be the biggest concern for working professionals right now.
What's worrying people the most? 
As part of the CV Library study, they asked respondents what they have worried about the most in relation to work. It appears that nearly. Half (47.4%) have worried about losing their job and 47.2% have worried about not being able to find a new job.
In addition to this, money appears to be another concern for professionals. 16.3% have worried about their finances after being put on furlough; 14% have worried about having their pay cut; and 12.9% have worried about money because they pay has been cut.
The full list includes:
Losing my job – 47.4%
Not finding a new job – 47.2%
Not having enough money after going on furlough – 16.3%
The company I work for folding – 15.9%
Having my pay cut – 14%
Not having enough money because my pay was cut – 12.9%
Having too much work to do – 12.9%
Not getting a pay rise – 11.8%
Going on furlough – 11.3%
My performance/productivity at work – 5.9%
How supportive are employers? 
Fortunately, it appears that workers feel supported by the company they work for, with 54.1% stating that they feel their employer is doing enough to support employees' mental wellbeing.
Trying to work from home while looking after a family, going on furlough, facing uncertainty around their job; it's not been easy for professionals and it's going to take a long time for life to go back to normal.
So, it's important to continue to support employees and encourage them to look after their mental health and wellbeing. Remind them that it's ok to admit if they aren't feeling themselves. And let them know about any measures you have in place that they can maximise; such as Employee Assistance Programmes.
Who is struggling the most? 
The study found that people who were unemployed were most likely to struggle with their mental health in recent months. In fact, the percentage rose to 37.1% amongst this group of respondents.
Alongside this, 57.8% of unemployed people said they've worried about not being able to find a new job, 23.1% have worried about finances and 5.4% have worried about their health.
The findings also show that women are more likely to worry about money because they had their pay cut (16.2% of women vs 10.7% of men), and about not being able to find a new job (55.1% of women vs 42.6% of men).
In addition, men worry more about going on furlough (14% of men vs 6.9% of women) and not getting a pay rise (12.2% of men vs 11.1% of women).
Protecting your employees' mental health 
When it comes to mental health, everyone has different triggers. From the CV Library findings, it can be seen that there's a general concern around job security. It's important to be as open and honest with employees and candidates during this time. Be sensitive and remember that these are people you're dealing with, not just numbers.
If you need added assistance in supporting your employees then advo can help. Email us on info@advogroup.co.uk.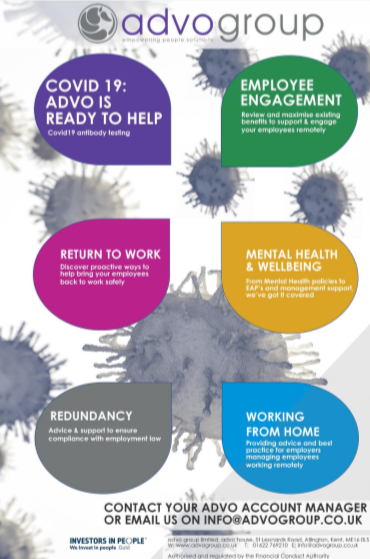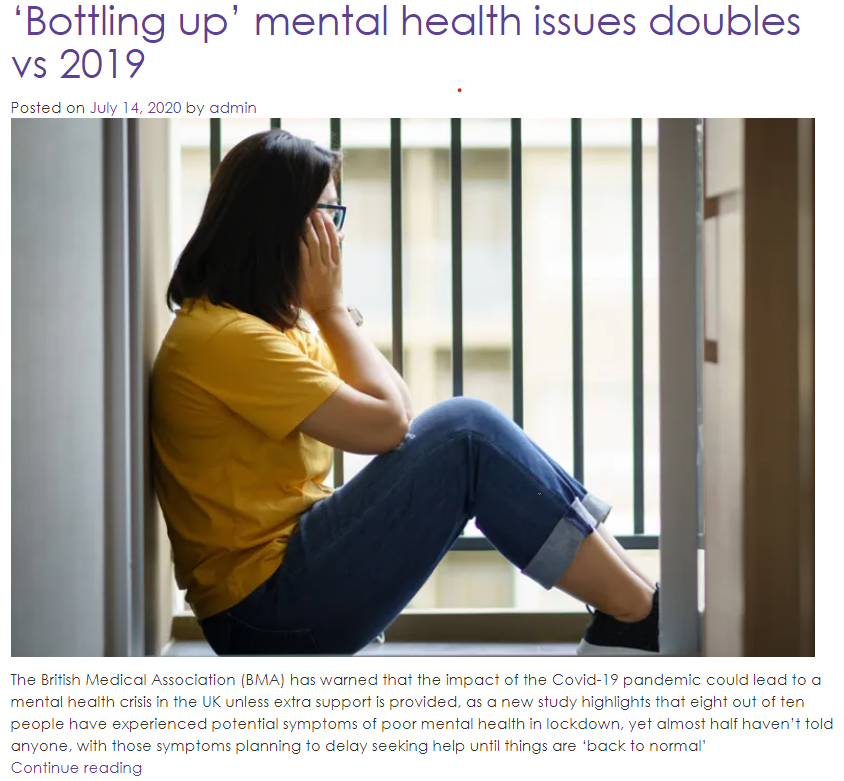 You can read the CV Library's Press release in full here.