Bupa Global recently held their annual conference at Somerset House, London. The event updated brokers on new approaches, successes and initiatives including a focus on customer service and investment on digital technology. The stand out part of the event was a panel discussion between three experts in mental health within business who urged a need for wider understanding and acceptance of mental health. In a follow up interview Patrick Watt outlined his personal view and Bupa Global's approach to mental health.
The panel included representatives from a leading global financial institution, the CMHA (City Mental Health Alliance) and a global consulting firm. Patrick Watt, Bupa Global's Commercial Director chaired the wide ranging and fascinating discussion.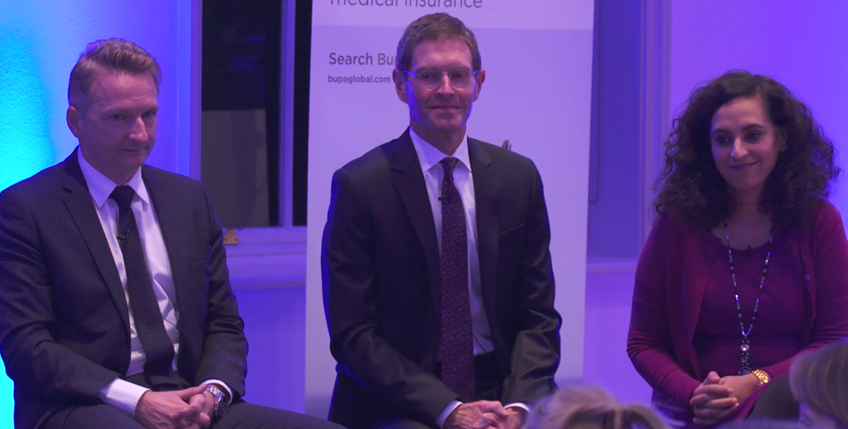 The panel urged a need for wider understanding and acceptance of mental health with Dr Wolfgang Seidl (on left) summing up this problem with his introduction that "we use the term mental health to describe mental ill-health". CMHA's Nigel Jones' (centre) comment that "unless support comes from the top down we are wasting time and money" was accepted by panellists and the audience in general.
In the follow up interview Patrick Watt expanded on the conference, Bupa Global's approach to mental ill-health and his own personal view.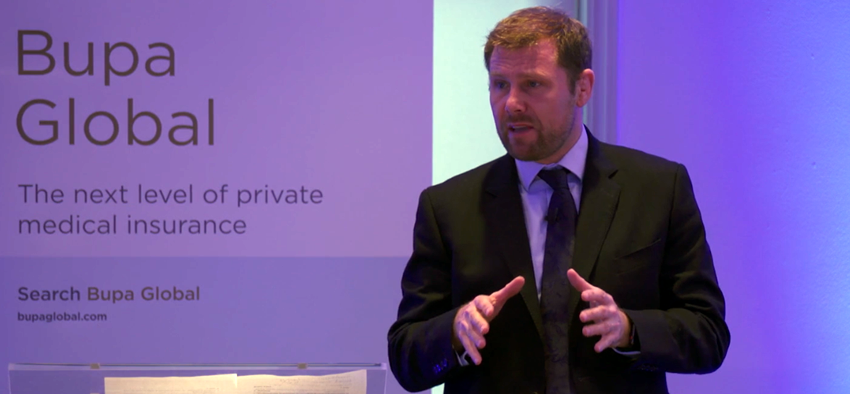 "In today's dynamic business environment, the job of a senior leader has never been more rewarding, yet demanding. An 'always on' culture, innovation moving at breakneck speed, and a global workforce operating 24/7 means that senior leaders are now expected to take on more personal responsibility for their businesses than ever before. And whilst this increased responsibility is rewarding, it also has an impact on their mental health. According to the City Mental Health Alliance, 44% of employers are seeing an increase in reported mental health challenges. In addition, 50% of long-term absence in non-manual workers is accounted for by stress, demonstrating the cost to businesses of failing to provide suitable support for employees suffering with mental health conditions.
Mental health is one of the biggest issues we face today, and it's never been more important to address this. To highlight the extent of the issue and to mark World Mental Health Day, this year Bupa Global conducted a study with 1,556 global business leaders to uncover the challenges that come with seniority in the workplace and the related pressures such as responsibility and working internationally.
The research found that 58% of respondents said that they felt it was harder for leaders to talk about mental health and a quarter of people feel less supported around the issue of mental health since becoming more senior. And the most common barriers among sufferers to addressing mental health at work is the fear that it would reflect negatively on their ability to cope as a leader, concern that it would be career limiting, and fear of being judged by others.
These findings are worrying, but they won't surprise anyone who's worked in a high-performance role. And whilst mental health challenges can affect anyone at any level, business leaders are not immune, and in some cases can be especially vulnerable. The pressures that come with the job, such as frequent travel and being away from family, can be overwhelming. In addition, there's a worrying association between mental health and inability to lead, which makes the topic taboo.
Businesses everywhere need to openly address the obvious link between workplace pressure and mental health, challenge perceptions around mental health and leadership, and ensure that there are a range of services available to support senior people. There are certainly more open conversations happening about mental health in the workplace, and we're beginning to see a real cultural shift for the better. But disclosure is not enough – employers need to do even more by creating mentally healthy, open workplace cultures and offering support to staff at every level.
That's why at Bupa Global, we offer ongoing support to our customers for the monitoring and maintenance of their employees' diagnosed mental health conditions, and have recently removed restrictions on some of our key product lines. We work closely with organisations like the City Mental Health Alliance, a business-led collaboration whose focus is on supporting City workers, to ensure that we're at the forefront of thought leadership and the latest developments in mental health research. And mental health is a core area of focus in terms of looking after our own people, as well as our customers and the communities we operate in.
Mental health is everyone's business – so it's up to us to collaborate on this issue."

advo works closely with Bupa Global and can advise on whether they are a good 'fit' for organisations where employees are based outside the UK.
You can see a video of the Bupa Global event here.
You can find out more about Bupa Global here.