Bupa UK has unveiled a new brand campaign which focuses on mental health and challenges what's considered to be 'normal'. Their aim is to normalise the need to seek support for mental health by offering reassurance that with over seven billion versions of 'normal' on this planet, there is no one type.
The 'Is it normal?' campaign is Bupa's first major advertising campaign since 2017, and seeks to tackle the stigma around mental health, while underlining the mental health support that the insurer provides to its customers.
Bupa believes that mental health is just as important as physical health. And, with one in four people experiencing poor mental health each year, is committed to providing extensive mental health and wellbeing support to customers.
As part of the campaign, Bupa is also launching a new online Mental Health Hub, accessible to everyone where the insurer aims for this to be a go-to source of information, guidance and practical tips to help people improve their mental health and support others. It will also signpost visitors to other valuable resources developed by mental health charities, including Mind and Samaritans.
Alex Perry, CEO, Bupa UK Insurance commented: "In this campaign, we want to illustrate the many states of mental health, as well as the diverse range of people it affects. Many people will find their mental health challenged at some point in their lives and the new TV advert shows how this can feel. We know raising awareness is vital and we also want to encourage people to take the appropriate action to get the support they need, whatever's on their mind."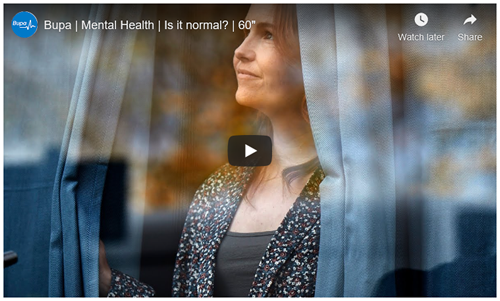 "Through our work, we want to not just talk openly about mental health, we also want to help people get the support they need, when they need it. One of the biggest issues in mental health is people not getting help early enough, and we're continually looking at ways we can advance our support. That's for our customers, our own people and the wider community – which is why our new mental health hub is accessible to everyone."
You can watch the Bupa Video here.
You can read the Bupa press release in full here.
Notes:
1 Bupa UK recently enhanced its mental health cover for individuals to include cover for addictions as well as ongoing support for longer term conditions such as depression.