As the current flu season draws to a close in the northern hemisphere, how does the 2018-19 period compare to previous years?
Healix, the health and risk management company's recent world Health Report takes a look back at last year's flu season.
"Influenza remains one of the world's greatest public health challenges. Every year across the globe, there are an estimated one billion cases, of which three to five million are severe cases, resulting in 290,000 to 650,000 influenza-related respiratory deaths.
The current flu season is just about over in the northern hemisphere, and it has been much less harsh than those of recent years. There have still been an unusually high number of deaths, though not anywhere near the scale of the flu season of 2017-18 which was one of the most deadly seasonal influenza outbreaks for decades. In the United States, for example, there have been between 9,000 and 16,000 flu-related deaths this winter – by comparison, flu killed about 80,000 people there last year.
The seasonal flu vaccine is individually tailored for the northern and southern hemispheres each year to best match the suspected prevalent flu strains at the start of the season. It reduces flu illness and hospitalisations, protects pregnant women during and after pregnancy, and is lifesaving in children. For older people with chronic health conditions, getting a 'flu shot' is as effective in preventing a heart attack as quitting smoking, taking cholesterol-lowering drugs or taking blood pressure medications, recent studies show.
How we measure the response to the flu vaccine is in the percentage reduction in three parameters: illness, hospitalisation and deaths.
The group in which the vaccine has been most effective this season is the 'under-five year old population'. In older adults there has been a much less significant effect – this is down to the particular strain of flu that has been prevalent, mainly affecting children. In a season where the vaccine has a good match with the predominantly circulating strains, the flu vaccine can reach 60% effectiveness.
The Centers for Disease Control (CDC) in the US has calculated that this season's vaccine has been about 47% effective – last year's was much less effective with only a 40% reduction in cases.
The MMR vaccine, out of interest, is around 97% effective with the standard two doses!
Last month (March 2019), the World Health Organisation (WHO) launched a revised "Global Health Strategy 2019-30" proposing measures to protect people in all countries from the threat of flu for the next 11 years. There are three main goals of the strategy:
To prevent seasonal influenza
To control animal-to-human spread of the virus
To prepare for the next pandemic – an ever-present, inevitable threat
The only way to achieve these aims is for every country in the world to develop a tailored programme for surveillance and response, while scientists continue to develop tools for better detection, prevention and treatment, that are then made available to all of these countries.
WHO recommends annual influenza vaccination as the most effective way to prevent influenza. Vaccination is especially important for people at higher risk of serious influenza complications and for health care workers."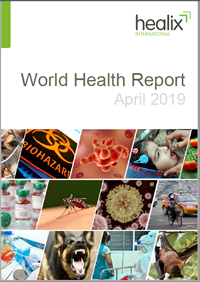 You can view the Healix World Health Report here.