The group risk industry paid out a new high of £1.68bn in claims in 2018, a £64.5m increase on 2017, and helped 5,595 people back to work after a period of sick leave.
GRiD, the association that promotes  group risk insurance through a collective voice to Government has announced figures representing the whole group risk industry. In an article first published by Corporate Adviser we take a closer look at the statistics and what they mean for employers.
The Cancer was the main cause of claim across all group risk products, although mental illness was a significant cause of claim under group income protection, according to statistics from Group Risk Development (Grid) published today.
Grid captured details of the cases where the insurer supported a return to work with active early intervention, such as fast-track access to counselling or physiotherapy, funded by the insurer, before that person was eligible for a monetary payment. 3,551 people – 36.3 per cent of all claims submitted, up three percentage points on 2017 – were able to go back to work during 2018 because of such early intervention. Of these, 52.1 per cent had help to overcome mental illness and 17.3 per cent had support overcoming a musculoskeletal condition.
Grid also captured details of cases to demonstrate help and support once a claim is in payment. Of the 5,454 group income protection claims that went into payment during 2017, 2,044 people were helped by the insurer to make a full return to work during that year or during 2018.
Group life assurance policies paid out total benefits to the value of £1.117 billion, an increase of £50.2m over 2017; group income protection policies paid out a total of £482.7 million p.a., an increase of £16.2 million p.a. over 2017; group critical illness policies paid out benefits totalling £82.4 million, a decrease of 1.9 million compared with 2017.
The average claim amounts (£114,691 for group life; £26,322 p.a. for group income protection; £66,824 for group critical illness) evidence the fact that these benefits throw a vital financial lifeline to people regardless of their salary, age or position and that they should not be seen as simply perks for the higher paid, says Grid.
Total claims paid and average new claim amounts

In total, there were 75,466 interactions during 2018 with the additional help and support services funded by group risk insurers.
Cancer was the main cause of claim across all three products during 2018 – with the highest for group critical illness (69%), followed by group life assurance (42%) and group income protection (24.5%). Mental illness was the second highest cause of claim for group income protection (24.1%).
Main causes of claim across all group risk products


Grid statement on declined claims
Grid says that while very few claims are declined for group life assurance, on the surface, for group income protection and group critical illness claims, the numbers declined appear much higher. The group risk market has an additional layer of complexity as the employer is the policyholder and so it can sometimes be hard for an employer to be sure that the claim an employee wants to make is either genuine or something that is valid under the policy as they may not know the detailed health situation of the employee. Other factors can come into play too. For example a poor manager/employee relationship or capability/disciplinary issues can be a contributory factor for a sickness absence and an employee putting in a claim for either group income protection or group critical illness benefit. The advice given to employers generally is to submit the claim for the group risk insurer to consider. In these circumstances, the employer can then uphold their role and meet their obligations as the employee's advocate and as the policyholder.
Such claims are captured as declined in Grid's reporting, even where there would have been no real expectation on the employer's (and often the employee's) behalf that the claim would be paid. One insurer anecdotally reported a chest cough was submitted as a potential critical illness claim (which of course would count as a declined claim) and so GRID urges all organisations to use the materials insurers provide to educate employees, wherever possible. This recommendation affords all parties the maximum protection and clarity and ultimately will lead to an increase in claims acceptance rates.
It should also be noted that, in times of uncertainty (such as has been the case with Brexit), there is an expectation that the industry will see far more of this kind of "try it and see" claim submissions so there will be a corresponding increase in declined claims, as has been the case during 2018.
The table below highlights the main reasons for declining claims during 2018 across all three group risk products.
Main reasons for declining claims across all group risk products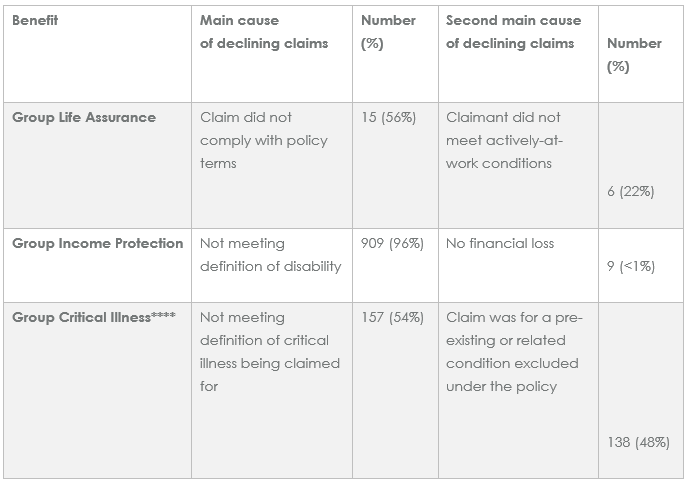 Grid spokesperson Katharine Moxham says: "Despite the uncertainty around Brexit, the health and wellbeing of staff – particularly mental wellbeing – continues to move up the Government's workplace agenda. Employers looking for help in how to support this will find that group risk protection products can provide a lot of answers as the inherent support services that come with them significantly extend the reach of the help employers can give to their people, especially for mental health.
"It's important to remember that every number has a person and a story behind it. We meet people's needs by treating them as individuals and tailoring support to their unique circumstances and, once again, these figures demonstrate the positive difference the group risk industry makes to people's lives every day."
Canada Life Group Insurance marketing director Paul Avis says: "As ever I become the grumpy old man of group risk at this point every year but the fact that we have 2.457m people covered across 17,576 group income protection schemes and have only returned 3,551 people back to the workplace before they become a claim shows that only 0.15 per cent of insured people are benefiting from early intervention services (EIS). With insurers offering day 1 support I am sure that more people could use these services, which are provided at no additional cost to the premiums paid, as they are proven to work. For example in 2018 our EIS had an average absence duration of 7 weeks – 5 weeks if the organisation worked with our team – and 95 per cent of EIS users did not become claims. So why aren't more advisers promoting these services?
"On a more positive note without the vocational rehabilitation and EIS support, the claims statistics for GIP would be a lot worse and by capturing the additional 2,044 people that were returned to work once in claim, the combined figure, with EIS, of 5,595 people returned against the 15,244 claims shows what an important contribution these services are making. But advisers need to get them used and promote the benefits of using them to organisations.
"Clearly the claims acceptance rates need further exploration and specifically why the group critical illness will be different than the individual market. The fact that around 67 per cent of all GCIC is bought through flexible or online benefits packages is a good news story as the market grew by 10 per cent from new organisations taking out the benefit in 2018. However this growth has only been achieved by making the product affordable and easy to access with the group market, unlike the individual, underwriting the employee at the point of claim using pre-existing conditions and related health conditions to enable cover to be provided quickly and inexpensively. The market is popular and works well but for advisers and employers it is important that they provide employees with clear communications as the FOS case reviews confirm that where this is done, the maximum protection is provided to all parties, that is to say the employee opting for GCIC has skin in the game to understand what they are buying."
This article was first published in Corporate Adviser Magazine. You can read the original article written by John Greenwood here.