COVID was devastating for many businesses, and the travel and aviation sector was not exempt from this. No1 Lounges has had an incredible journey over the last few years, they are a nationwide business providing premium airport lounge services, offering travellers a comfortable upscale environment to relax, dine and access various amenities, while waiting for their flights.
advo's Colin Boxall met with Ioana Cretu and Vicky Graham to find out more about No1 Lounges' robust approach supporting employees which has contributed to building successful teams.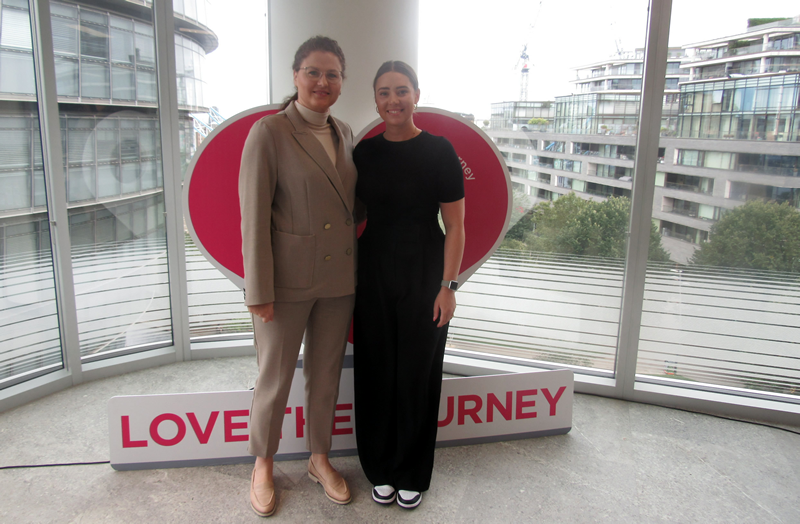 Having suffered more than many, with business effectively 'on hold' for two years, No1 Lounges has bounced back post pandemic, expanding locations and adding over 200 to their workforce.
"A focus on our people, on both their physical and mental wellbeing has been key with the expansion. Coming back from Covid we noticed increased anxiety and stress. There were increased conversations around the need for wider health and wellbeing support. One of the key components adding to the success is a working partnership with Mind." Observed Vicky.
Mind, the mental health charity, has played a central part, not only bringing people together to raise money for a meaningful cause, but using their resources in educating and supporting No1's management team.
The Challenges
Ioana explains further their challenges "We have a diverse workforce with many of our new team members entering the workplace for the first time. For our onsite staff there can be a rigorous routine of shifts as our Lounges need to be covered all day. Our lounges operate from 4am up until 10pm in the evening, and the shifts to cover this can include unsociable working hours. With many constantly working shifts we know we need to give as much support as we can throughout a long working day. Each of our locations is a small community in themselves."
Vicky adds "We recognise that mental health can be as debilitating as any physical illness. Just as a broken leg can lead to work challenges, so too can a mental health condition. Our team members often work in public-facing roles, and any issues related to mental health can not only affect their well-being but also have the potential to impact the satisfaction of our travellers and perhaps lead to complaints. Therefore, it is crucial for us to create a supportive and inclusive environment where our employees feel comfortable discussing their mental health and accessing the necessary resources for their well-being."
Having the right staff benefits
Wider additional support is available as Ioana explains "this is why also having a staff benefit package that reflects what is needed and wanted, and supports our staff is so important. For example, one popular benefit for both staff and the management team is our Medicash cash plan. It's great for staff, with them making everyday savings, but the attraction is also the wider health & wellbeing benefits that fit nicely into our company strategy. Its mental health support, online GP access and support lines allow for additional coverage supporting our wider staff wellbeing strategies.
The employees' choice
"We recognised that a great way to engage staff was to work with a charity" explains Vicky. "We wanted to give all team members the chance to nominate a charity of their choice. Three names kept coming up, St Ormond's Street Children's charity, Cancer research UK and Mind. These were shortlisted with Mind coming out on top."
Ioana adds" Mind is a great Charity Partner, they have shared resources & ideas, that can be implemented within the business, in addition to fund-raising ideas. We create both our own events and join in Mind's national strategies."
Practical support & guidance
Guided by Mind, No1 Lounges have made practical changes including creating a Mental Health First Aider initiative at all sites. Mental Health First Aiders trained to provide support and guide their co-workers to seek further help, or just be someone there to listen. There are posters in breakout areas guiding how and where help can be found.
"Our Mental Health 'First Aiders' have made a real impact in bringing acceptance of difficult subjects, helped normalise conversations and have made a positive impact. Says Ioana. "After COVID, people are feeling more relaxed about sharing their experiences, there seems to be less stigma. We have capitalised on relationships in our various sites, people know they can talk to our 'First Aiders' in confidence."
Making it work with top down support
Vicky, who heads up the digital marketing team, confirms that the success is "all about communication. WhatsApp groups, posters in breakout rooms and workspaces, the use of social media; it's a combination of all. We then use great teambuilding events that bring everyone together. We wanted both in-person and virtual events, to drive engagement whilst being inclusive, as we have people located around the country working on-site and home based.'
Our events are varied such as sponsored walks with teams across the country engaging in 10-20k sponsored treks, which had great engagement. Other well supported events include bake sales, a boat party and a Football match between Head Office, called Inter-Management and the Gatwick Team, AC Lounges."
Asked if the Mind initiative gets top-down support Ioana confirmed that their MD, Shaun Weston, was playing for the Head Office Team, clearly proving the point. Adding "No1 Lounges senior management wholeheartedly support the Mind initiative giving funds to run events and giving donations alongside money raised by staff.  When the idea was brought to our MD, he was keen to make sure there was top-down support to our staff 'wellbeing' events."
Asked why they thought employees voted for Mind Vicky said "I believe it's because of the recent times we have lived through. All have experienced the challenging times to varying degrees of living through COVID. No one has escaped, all have their own personal story, everyone has been impacted whether directly themselves or through family and friends. The feedback we had was that the charity Mind resonated with so many of our people".
Positive Impact
Asked what impact working with Mind and the focus on mental health has had on the organisation, Ioana confirmed "Overall employee engagement is up. I believe creating fun events that make people want to be involved certainly helped. Mind delivered lots of communication tools, and shared ideas allowing us to create our own events with their support, while joining in with their nationwide events. I think it taught us to improve communication with our Lounges staff and to form a better overall communication strategy. Retention of staff has shown marked improvement over last year."
Ioana adds "We have seen improvement in overall staff retention since investing in wider resources to support our people. We believe investment of our time and resources on this can only have a positive effect".
So, how do No1 lounges plan to keep the momentum going? Vicky explains "We announced our chosen Nominated Charity in October 2022 on World Mental Health Day. We are now working hard to develop our business wide CSR and sustainability strategy further, consulting with team members across the business.
Since October last year, we have held a number of fundraising events and taken our team's feedback on board for each of them, which were easy to get involved with, which ones weren't. This has allowed us to plan to run another calendar of team building and fundraising events into next year and beyond.