Millions of people across the UK are potentially misdiagnosing themselves with cancer.
Cancer-related topics are searched once every 1.7 seconds in the UK which totals nearly 1.5 million searches a month. (see below for full individual breakdown).
Pancreatic, skin and bowel are among the cancers most searched on Google, amassing nearly 150,000 searches in the UK each month. All of these have a diverse range of symptoms making it unlikely that a 'Keyboard Doctor' will be able to accurately diagnose themselves using information online. In line with this, half of results for constipation advised it could be cancer and a sore throat results in cancer for one in three results**.
The online data, commissioned by leading health insurer, Bupa, shows that 47% of searches for an illness brings up at least one cancer result*. The 'Keyboard Doctors' figures illustrates the extent of online diagnosis as Bupa, launches its new self-referral cancer service.
Dr Steve Iley, Medical Director, Bupa UK said: "One in two people in the UK will be diagnosed with cancer during their lifetime but the good news is that survival rates continue to improve. Early cancer detection can have a significant impact on an individual's chance of survival and reduces their need for complex and invasive treatment that disrupts their life."
Bupa has recently introduced a new Direct Access service for cancer. This is the UK's most comprehensive self-referral cancer service – to improve early diagnosis and treatment of cancer. Without needing to wait for a GP referral, customers simply call the dedicated oncology team before being sped through to a specialist consultant, if they are experiencing cancer symptoms.
Dr Steve Iley continues: "We know that diagnosis and treatment are often delayed as people struggle to find time to book a GP appointment or worry about wasting the doctor's time. Our Cancer Direct Access service removes the need for a GP referral so our customers can get medical advice in a way that is easy and convenient for them.
"Cancer Direct Access quickly offers peace of mind that the symptoms either are not cancer, or allows them to quickly access the appropriate medical support and treatment for their diagnosis."
The 20 most searched for health related topics in the UK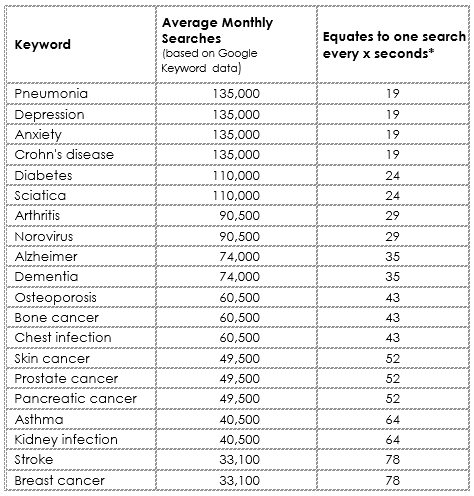 The top 20 cancer-related searches.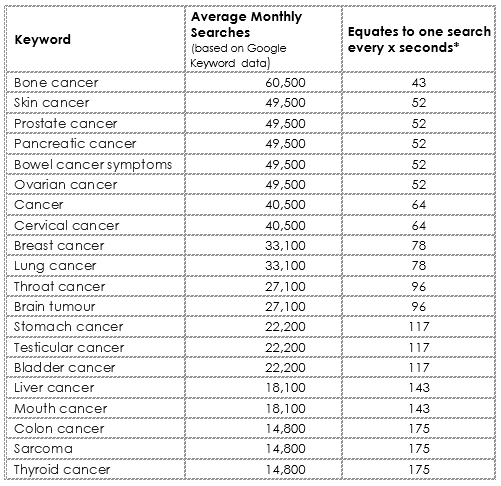 (Theses amount to 656,600 a month – more than any other keyword)
*Based on 30 day month = 2,592,000 seconds
About the research
Opinium Research on behalf of Bupa independently surveyed 2,000 people online in November 2017. The total sample size was 2,004 UK adults aged 18+ years old. Results are weighted to nationally representative criteria.
Methodology
* and ** 20 of the most common symptoms of illness were searched on Google (November 2017). For each of the 10 results on page one of Google, the page was assessed to see if any of the diagnosis contained cancer.
Bupa's new Cancer Direct Access service covers stomach, oesophagus, pancreas, skin, lung, oral, laryngeal, testicular, bladder, renal, endometrial, breast and bowel cancer.
For more information on Cancer Direct Access visit www.bupa.co.uk/direct-access.
You can see the Bupa press release in full here.