advo's Nadiya Gregory gives a personal perspective.
Employee engagement has become quite the buzzword in business world. According to a study by Qualtrics, approximately half of the workers in the UK are engaged. That puts the country in sixth place on the list of countries with the highest engagement rates, so perhaps we are not as good as we think we are, perhaps we still have lots to learn?
So, what is employee engagement and why are some employees just naturally more engaged than others?  Essentially more engaged employees will be more invested in the business and ensuring they are successful.
A CIPD article clarifies one of the earliest "official" definitions of employee engagement is Kahn's which focuses on how people 'express themselves physically, cognitively, and emotionally' as they interact with their jobs. This describes an internal state of being but one which relates closely to behaviour, such as discretionary effort or 'going the extra mile'.
With this in mind is employee engagement just a reflection of personality? Or are employee engagement programmes naturally more likely to appeal to certain personality types?
Let's take the typical introvert and extrovert stereotypes. A large employee gathering capturing both social and work focused topics is certainly going to appeal to the extroverts where as this could be viewed as a complete put off for the classic introvert.
It is therefore so important for businesses to consider various approaches to engage the whole employee population. We have provided a quick guide including practical advice about how to increase engagement.
Feedback!
The best way to find out how to engage your employees is by asking them! Surveys are a vital tool in establishing how best to engage your employees. Carefully considered survey questions will allow you to establish trends in how employees may be feeling as well as understanding what will make them feel more engaged. Its important to ensure surveys are not a one off. This type of tool should be used at regular intervals. This will help pick up any changes in attitudes and new employees to the business.
Plan and follow through!
So, you have done your survey. Now its time to use all that amazing data to come up with an engagement plan/calendar. Scheduling events in line with company goals will help give structure to your engagement. Being well organised and structured will also demonstrate to the employees how invested you are in them.
Variety is the spice of life!
There is never a one suits all solution to engagement with this mind including a variety of engagement topics or activities is a great way to reach out to all employees. Hopefully your employee survey has given you some tips to what your employees enjoy. Use this and build on it! Team building events are a great way to engage employees with the business and their colleagues. What often springs to mind for these type events are physical activities however this won't always appeal to every employee. Hence why its important to have a mix and maybe just accept that some events will engage certain employees more. Having a mix will ensure you engage as many employees as possible.
Communicate!
Very simple but sometimes missed. Make sure you communicate your plans and initiatives with employees! Keep the communication channels open and consistent.
Technology
Explore what technology is available to you. Do you provide staff with benefits such as death in service? Medical insurance, cash plans etc ? Have you checked what technology your benefit insurers provide? Are your payslips accessible online? Where do employees book holiday? Do they have an employee portal? Its really important to fully understand the scope of any technology which you have picked up as part of another service. There may functions included which can help boost engagement.
Employee engagement is certainly high on our agenda. Speak to us directly about how we can help you as a business.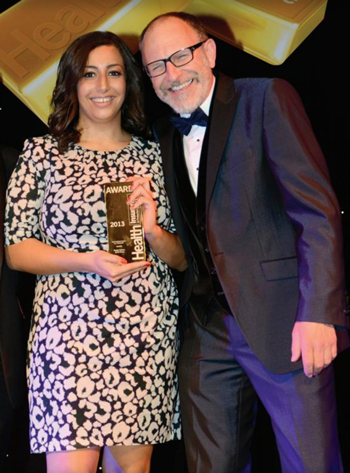 Who is Nadiya? Joining advo in 2012 Nadiya has extensive experience of the employee benefits industry having worked as an account manager. Nadiya currently heads up the Business Development team. In 2013 she was recognised in the Health & Protection Insurance Awards as the most promising newcomer. (pic above).