The advo group hosted their annual employee awards to highlight those staff that have gone above and beyond what would be expected. It has been a tough year for all businesses and so it has been harder than ever to select the 'best of the best' given that all staff had risen to face the new challenges of 2020.
The advo awards, called our 'Oscars' by staff are held at the end of each year. The categories change slightly depending on the trading conditions and particular challenges of that year. Most of the Awards are voted on by staff who select who they believe has stood out from colleagues. The Star of the Year is chosen from nominations from managers and selected by general consensus from the Management Team. Both the Advonian of the Year and Star of the Year attract a healthy 'cash' award.
This year the nominations for STAR OF THE YEAR were spread across the whole group with Sarah Mallins from advo payroll, Bianca Le Fevre, an account Manager and Chloe Luff who works in the administration support team.

From L. Sarah Mallins, Bianca Le Fevre & Chloe Luff
All would have been worthy recipients but this year Sarah was named STAR OF THE YEAR. Comments from the Directors included "never flustered or shows frustrations" "she simply ploughs though" "she is very accurate and doesn't drop the ball" "she remains composed and has absolutely lovely feedback from clients" "a great mediator" "she provides support to colleagues". "she is a swan"
The runners up for Advonian of the Year were Simon Friday, an Account Manager, Mal Tomlins, Operations but it was Bianca Le Fevre who received the top spot. Comments from her colleagues included "works hard and level headed" "always seems to impress people outside the business" "She's has a very heavy workload but always finds the time to be lovely, funny and approachable"" always positive and willing to help" "always getting involved and fun to work with" "the definition of an advonian"

From L. Mal Tomlin, Simon Friday & Bianca Le Fevre
The ADVO TEAM OF THE YEAR was the IT Team, a clear winner they were recognised for ensuring the company kept its high standards throughout lockdown and made homeworking possible for all staff. Comments for the IT team included "Without doubt we would have been absolutely screwed without them" "They have done an amazing job" "Our team are the unsung heroes" "They have been exceptional" "Can't fault them and their hard work!" "Undoubtedly, they have had it the toughest this year"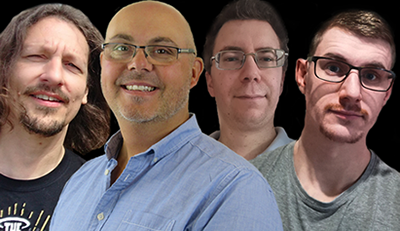 The award for the MOST INSPIRATIONAL PERSON was newly confirmed Director, Lucy Pearce who received comments including "She seems to be doing so many things all at once as well as keeping so bubbly" She is so passionate about driving the business forward and gives her absolute everything to every person and every job that needs doing" "I feel truly inspired by her" "always positive and friendly and provides clear direction" "an inspiration to all current & future advonians"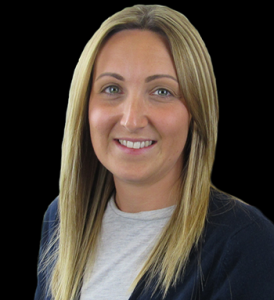 Lucy Pearce
This Year advo has quite a few new faces. This year's 'BEST NEWCOMER', was Lauren Palmer, with new IT member, Lewis Rundle runner up. Comments about Lauren from her colleagues included "she has really made a difference" "always takes on anything given to her" "She organised a quiz night without meeting the majority of people who attended, what a woman!!! "I've never met her but I think I love her" "She's so supportive and is always there when I need her help" "! Laurens' 'we've got this'" "she's so committed to working so hard"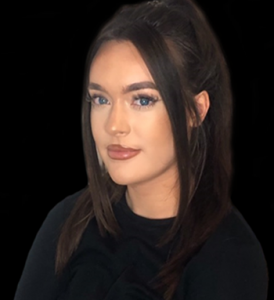 Lauren Palmer
Lucy Irvine won the award for OUTSTANDING SUPPORT DURING LOCKDOWN with comments from colleagues that included "really has made a difference to our team and to me personally" "open and honest and keepin' it real" "so supportive" "super reassuring when I needed it" "the voice of reason during lockdown and been a massive help" "checks in with us to make sure that we are okay" "a brilliant Manager" "All in all, she is great!"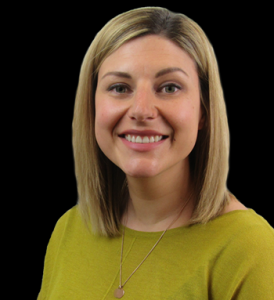 Lucy Irvine
The OUTSTANDING SUPPORT DURING LOCKDOWN and SERVICES TO MORAL were won by Colin Boxall for the internal staff communications including the ADVOGOODNEWS Magazine which helped keep everyone in touch. There were many comments but all were summed up by "Colin has done such an amazing job, continued to give everyone a boost, a smile whilst reminding we are in this together"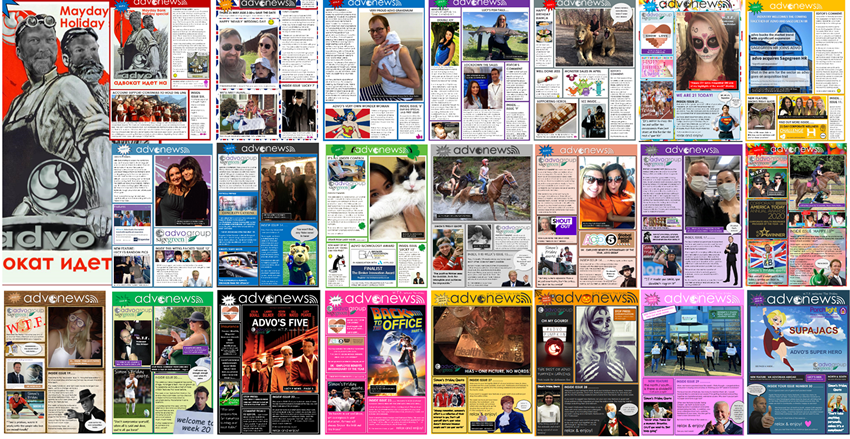 The POSITIVE ATTITUDE AWARD had two joint winners, Mal Tomlin with comments such as "Such an uplifting person" "she has such an optimistic attitude and I love her fun loving way"  "My days have lightened up thanks to her" "I've only ever seen her happy and smiling" "always so positive and it's so refreshing" "a natural ability to turn a negative into a positive". The second POSITIVE ATTITUDE AWARD winner was Jenny Durling. Her win was summed up by comments from colleagues including "always has a smile on her face and always puts a smile on everyone else's face" "There's never a problem that can't be fixed" "always provides the positivity" "A welcome breath of fresh air" "positive vibes all round" "cup is always half full, optimistic and a can-do attitude" "Always encouraging me to believe in myself"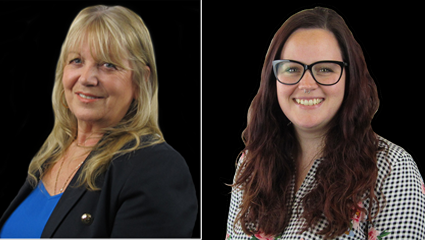 Mal Tomlin & Jenny Durling – Joint winners of the Positive Attitude Award
The 'MADE MY DAY' award was a four-way tie between Ce Herring, Account Support Team, Ellie Sultana, Account Manager Mal Tomlin, Operations and Colin Boxall.
The awards were summed up by Colin who said "this year has been so incredible and looking back quite unbelievable with the challenges we faced. The advo staff were, and are fantastic and their 'can do' attitude is the reason why advo has not only survived lockdown, but thrived. Well done to everyone!"