At the 'Oscars' of the protection insurance industry advo was singled out for praise and won the hotly contested category for the UK's 'Best Group Risk Intermediary' at a glittering ceremony at the Grosvenor Hotel, London, attended by over 800 of the industry's leading figures.
advo Account Manager, Lola Muddiman picked up the overall winning trophy as advo was also highlighted for work with private clients and dental/wellbeing.
The Health Insurance Awards are celebrating 20 years. The evening was hosted by comedian Jimmy Carr who kept the audience laughing throughout despite his particular 'near the knuckle' adult brand of humour. Jimmy Carr returned to host the event after first appearing at the Awards in the late 1990s.
Winning the group risk category meant demonstrating a wide range of skills including in-depth knowledge, commitment to ensuring clients get their best solution, employee communication and the ability to be creative in getting the most from insurances and wellbeing programmes.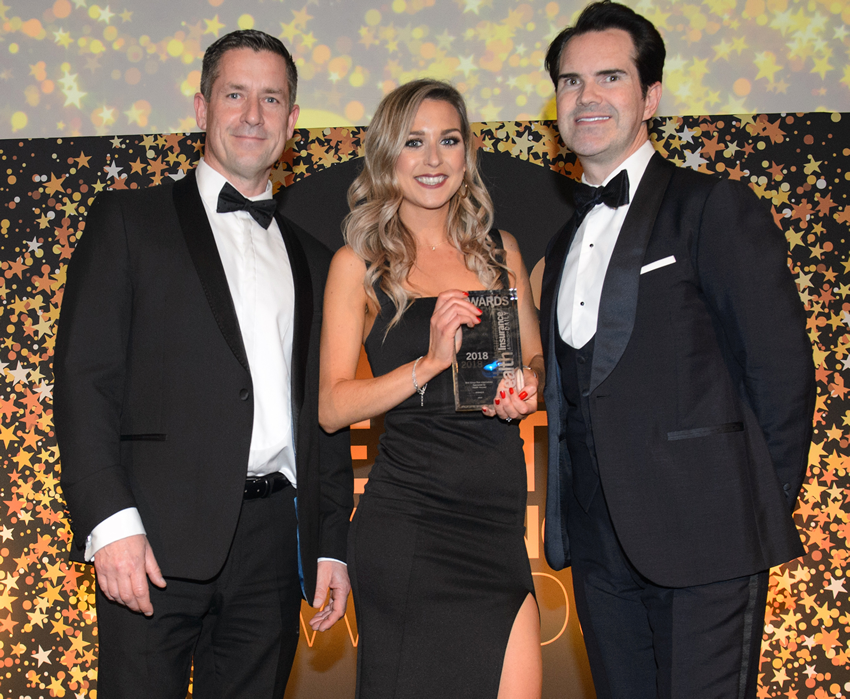 Lola Muddiman, advo account manager collects her Award on behalf of advo from Jimmy Carr and Healthshield, the category sponsor. 
Lola had said prior to winning the award after hearing she was a finalist said: "I'm really excited to be shortlisted in my category and for advo to be recognised for the hard work we do, especially with wellbeing being a hot topic at the moment."
Some of the 'advonians that attended the event. From left Lola Muddiman, Account Manager, Ellie Sultana, Account Manager, Lucy Pearce, Head of Sales and Developement, Jagbir ('Jag') Dosanjh, Lauren Smith, Account Manager and Bianca Le Fevre, Account Manger