Can you remember sports day at school with the classic sack race, tug of war and three legged race? Here at advo we like to relive our youth and planned to hold our very own Sports Day.
The weather, however, had other plans! Instead on the day we held a hastily arranged 'Not So Sports Day' where we all took time away from our desks to have lunch together and competed in 12 team challenges in four separate zones around the Maidstone office. Challenges included guessing the TV theme tunes, memorising 40 items within 20 seconds, guessing the song title from emoticons and building the tallest tower with paper straws, tape and spaghetti.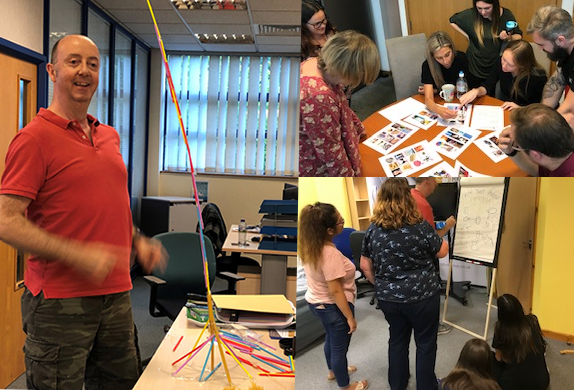 advo's 2019 'Not so Sports day'. Account Manager Clinton Bennett takes pride in his work. Others try to figure out the challenges to win the prize for the best team.
Seeing how this works for our organisation we wanted to share some of the benefits of taking a few hours away from your desks as a Company for both employees and employers and why we take the effort to host these events.
Team building and team bonding
Company sports days or team events enable those employees who may not usually cross paths, to integrate, to either create or strengthen a harmonious workforce. This is especially good for new members of staff who can be integrated in a less formal way. This naturally leads to better bonds between employees and teams, which hopefully makes for a more collaborative way of working between departments. When we host staff events we make sure we mix departments and often make junior members of staff team captains.This helps identify those hidden qualities that are often not apparent in their day-today roles.
Improved concentration and increased motivation
We are all aware of the importance of exercise to keep both a health body and mind. Other benefits include increased energy levels, lower stress levels and improving memory function, which leads an increase in concentration and productivity. We find just being away from their desks for even a short time generates a noticeable improvement in focus and productivity.
Little spend for big gain
Arranging a company sports day or team event doesn't have to cost the earth. All that is needed is a space big enough to complete the challenges or activities planned, any equipment required and to find a couple of hours that the business can spare. For very little effort and money, businesses may see real employee and employer benefits. At advo we host wide range of activities, often following popular TV programmes, such as Great British Bake Off where each wee a name is pulled from a hat to mimic that week's challenges. Everyone looks forward to a slice of cake with their Monday morning tea or coffee.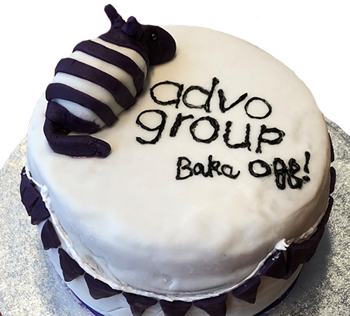 Injecting a little light hearted fun into the working week can benefit everyone. We certainly enjoyed our 'Not's So Sports Day'!