advo are exhibitors, speakers and sponsors at Kent Business Vision LIVE exhibition in May where advo will showcasing their unique approach of blending expert advice and linked technology that simplifies essential elements of staff reward.   
At Kent's Business Vision LIVE, advo's Lucy Pearce is hosting a Roundtable discussion entitled 'Becoming an attractive Employer. The session will ask what today's workforce want from an employer?  She will also explore the key motivators and incentives that are valued by staff. Lucy will also touch on what to look for in staff and the importance of attitude and best ways of embedding new skills.
Lucy will use her long experience to share trends, tips and techniques for attracting and retaining the best recruits to meet your business needs.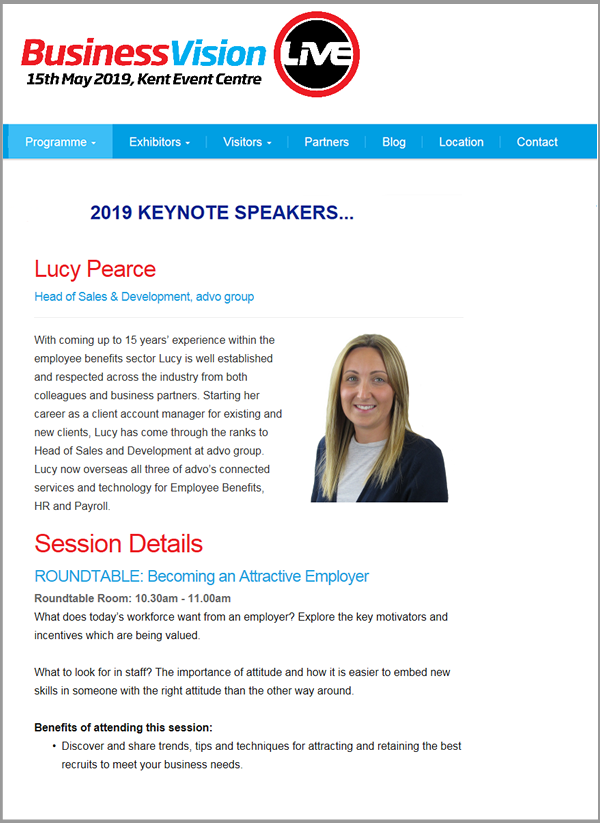 Kent Business Vision LIVE is aimed at business owners, senior managers, departmental heads and other executives working in forward-thinking organisation and is held on 15th May at the Kent Event Centre, near Maidstone.
Attendance to this event is free where businesses can meet key suppliers in Kent and benefit from a comprehensive programme of keynotes, workshops and special networking events designed to provide fresh insights into current business challenges and identifying new opportunities.
Now in its fifteenth year, Business Vision LIVE is the South East's premier business showcase and the largest regional business event in the UK: with over 3,000 visitors and 250 exhibitors coming together.
Kent Business Vision event details
Date: 15th May 2019
Time: 9am – 4pm
Location: Kent Event Centre, Detling, Maidstone, Kent, ME14 3JF
Entry and parking are free-of-charge for all delegates.
You can register for your free place here.
Visit www.businessvisionlive.com for more information.