A new survey finds half of UK employees experienced or witnessed discrimination based on age, race, gender or LGBTQ identity at work. We take a closer look at the figures and what they reveal.
One of the world's largest job and recruiting sites, Glassdoor, today released its 2019 Diversity and Inclusion Study covering the UK, USA, France and Germany. As part of the study, a new Glassdoor survey1 found that about three in five (61%) of U.S. employees have witnessed or experienced discrimination based on age, race, gender or LGBTQ identity in the workplace. In the UK it was 55%.
The survey also reveals the occurrences of discrimination across each of the four categories. In addition, while the study finds that employees have faced or witnessed discrimination at work, hiring for jobs to improve corporate diversity and inclusion efforts is up 30% year-over-year, according to Glassdoor's jobs data2, indicating that employers may be responding to the call for more diverse and inclusive work environments.
When it comes to the specific types of discrimination UK employees are facing, nearly over a third (39%) report having experienced or witnessed ageism, 31% having experienced or witnessed racism, another 37% having experienced or witnessed gender discrimination and a quarter (25%) having experienced or witnessed LGBTQ discrimination at work. The figures across all categories are the highest in the US and lowest in Germany.
advo hr's Carly Gregory is clear on the action companies should adopt stating that "Employers should adopt an inclusive culture at all levels of the business." and adding "to help prevent discrimination, companies should review their recruitment process to make sure it does not discriminate against candidates with protected characteristics."
Commenting on an employers' internal approach Carly added "They [employers] should have fundamental policies covering equal opportunities, dignity at work, code of conduct, family friendly, equal pay, training and development. Companies should also consider whether any length of service awards discriminate from an age perspective and should avoid a substantial length of service requirement to reduce the risk of discriminating.
It is good practice for a company to monitor diversity in the workplace so they can identify any issues in this area and resolve them."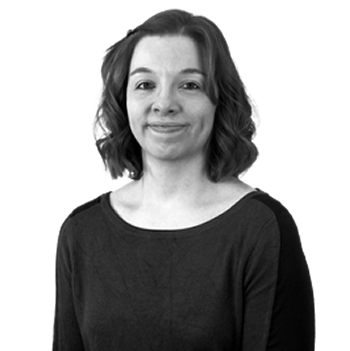 Carly Gregor, advo hr Business Partner.
"Employers should adopt an inclusive culture at all levels of the business"
The Glassdoor survey shows that younger workers (between the ages of 18 and 34) are more likely to have experienced or witnessed the four types of discrimination at work than older workers (aged 55 and above).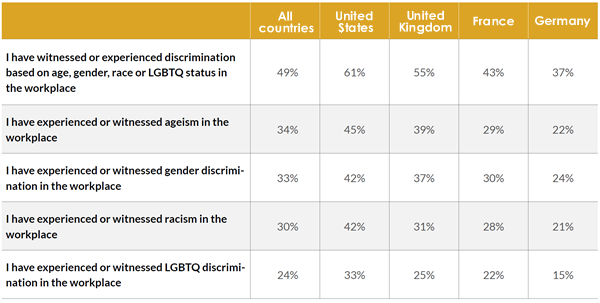 Source: Glassdoor 2019 Diversity and Inclusion Survey conducted by The Harris Poll
You can read the full Glassdoor Report here.
Notes:
1 This survey was conducted online within the United States (U.S.), United Kingdom (UK), France and Germany by The Harris Poll on behalf of Glassdoor from July 29 – 31, 2019 among 5,241 adults aged 18 and older, among which 2,028 are in the U.S., 1,071 are in the UK, 1,052 are in France, and 1,090 are in Germany. Furthermore, among all countries, 3,137 are employed full-time/part-time/self employed, 1,113 are employees in the U.S., 725 are employees in the UK, 654 are employees in France, and 645 are employees in Germany.  This online survey is not based on a probability sample and therefore no estimate of theoretical sampling error can be calculated. For complete survey methodology, including weighting variables and subgroup sample sizes, please contact pr@glassdoor.com.
2 Glassdoor Economic Research analysis is based on a sample of millions of online job postings and search logs on Glassdoor current as of August 2019.
You can read the Glassdoor press release in full here.