New research reveals that pressures in the workplace and at home are leading to working women feeling more stressed than men (79% women vs 66% men), with 10% of women finding their stress 'unmanageable'.
The research, part of Cigna's annual wellbeing survey highlights the stress of the sandwich generation, defined as those between the ages of 35 to 49, who often bear the brunt of caring for their ageing parents as well as their families.

Summarising the survey it indicates that personal stress factors of 'heavy workloads (17%), personal health (13%) and financial concerns (13%) are the top triggers for working women in the UK, and 78% are not getting enough sleep (vs 65% of men).
The annual Cigna 360 Well-Being Survey also unveils women feel unsupported in the workplace, with 62% stating their employer did not have a formal workplace wellness programme in place. Nearly half (44%) believe senior management lack commitment to providing workplace wellness support. Given the high levels of stress amongst working women and an appetite for tailored wellness programmes, the health service provider is calling for employers to take note.

Phil Austin, Chief Executive Officer – Cigna Europe: "It's evident from our research that women are finding it difficult in today's society to balance work and life, resulting in higher levels of stress compared to men, so we're calling on employers to take action. We believe that sustained and evidence-based improvements to wellness programmes will create a less stressed working environment, within which women will be happier and more productive."
The pressures women face at work and home is part of a wider social issue present in today's society and it's significantly affecting their wellness. Only 27% are eating a balanced diet (vs 38% of men) and 28% are exercising on a regular basis (vs 36% of men). Men are sleeping more, have more regular exercise and eat healthier.
The Cigna results reveal that the overall UK Well-Being Index increased slightly from 59.7 in 2018 to 62.5 in 2019. This means that, after a fall in previous years, the Index is improving. The UK now sits above the global average (62.0) and ranks higher than European markets such as Benelux (59.1), France (61.6) and Germany (61.6).
You can read the 2019 Cigna 360 Well-Being Survey – "Well and Beyond" here.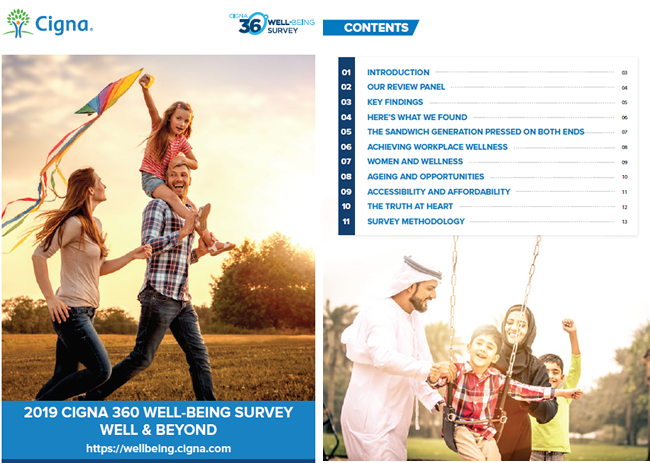 You can read the Cigna press release in full here.
You can see Cigna's introductory video summarising findings here.