With research from a leading health insurer confirming that over a third of employees ignore medical advice and go to work further research reveals that One third of UK professionals suffer from depression or anxiety, and work is a key contributor.
Over a third (35.2%) of the nation's workers are suffering from mental health issues, with four in 10 (42.9%) admitting that their job is a key contributor to these feelings. That's according to the latest research from CV-Library.
As the post-Christmas blues set in and the cold days continue, the CV-Library's survey of 1,200 workers sought to reveal how mental health affects professionals. The study found that for 70.6% of those that suffer, their depression or anxiety can sometimes have a negative affect on their working life, while a further 17.9% said it always negatively impacts their working life.
When asked what it is about their job that makes them feel this way, professionals cited the following as the top causes:
Doubting their abilities – 34.6%
Having a boring job – 26.6%
Not getting on with their boss – 22.6%
Working alone – 17.8%
Working with customers/clients – 17%
Furthermore, respondents revealed the negative impact that depression and anxiety has on their ability to do their job. For the majority (47.4%), it makes them dread going in to work. After this, 24.2% said it makes them feel tired, 8% said it causes them to taking time off and 7.4% said it means they don't really speak to their colleagues.
Lee Biggins, managing director of CV-Library comments: "While mental health is something we are beginning to talk more about across the UK, it's clear that there's still more that needs to be done to help those affected – especially in the workplace. It's sad to learn that one in three UK professionals are suffering from depression and/or anxiety, and that this is having such a negative impact on their ability to do their job."
Worryingly, over a third (37.7%) of professionals revealed that their employer does not do anything to help those that suffer from these mental health issues, and a further 38.4% said that they were unsure whether their boss would help them if they needed it.
Other findings include:
The majority (88.4%) believe that employers should be given training to help them understand mental health;
A third (32.7%) believe that organising regular one-to-one catch ups could help employers to support staff who are suffering;
After this, 26.8% believe paid mental health days (time off) could help, and 19.8% said they'd appreciate professional help being offered through their employer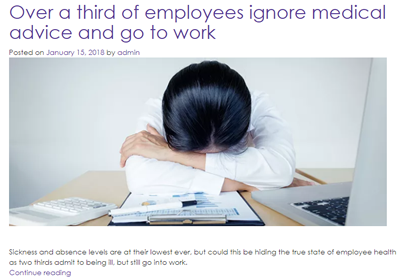 You can see the CV-Library press release here.