What staff benefits are best for you?  The answer is dependent on what you want to achieve. Benefits attract and retain staff, help to protect and support employees and company profits. The right mix depends on business goals and budget.
ADVO's Commercial Director, Colin Boxall has looked at a number of surveys and brought them together with data from ADVO's own client portfolio to look at the reasoning behind implementing benefits and where they can be effective.
It is clear that many employees want more than just a good salary. It is also clear that many also look to their employers to supply additional benefits.
They spend much of their daylight hours at work, a competitive salary for most will not keep them in their job for long if their time there is disagreeable or it conflicts with life outside of work. Staff benefits therefore go much further than giving additional perks, it's about environment and culture.
Many benefits also conflict between different parts of an organisation, the understanding of benefits and their importance varies, often this conflict is between HR and finance. A contentious benefit that highlights this is a Private Medical Insurance policy. For finance the PMI very visible and high cost, less visible however is the impact it has on attendance and presenteeism and the indirect impact it has on company profits. Often clearly seeing this link is difficult when no return on investment figures are available.
So how do you know you have the right benefit mix? The starting point is to ask your staff. You may think you know what is best for them but put your beliefs aside. Results may be startling and not be what is expected. The importance each places depends very much on the mix of employees, location, their jobs, aspirations and private lives. In one instance the first choice was a better brand of tea in the canteen, ahead of increased salary.
Look at what is wanted and see how it fits with your goals and budgets. Some may be impractical, silly or outside of any budget, but consider them seriously as it's what your staff think is best for them.
Remember a staff benefit is not just putting in place protection insurances and better pensions it's your company practices, and working environments. If your budget is tight you can still create enthusiasm and a feeling of belonging through the right approach and communication.
Starting with the basics; what is an employee benefit package? For employers, a strong, relevant and well-communicated benefits package not only helps employers make sure they get the pick of employees at recruitment, but can also help them retain happy, committed workers.
Not everyone needs the same employee benefits. At different times of life, and in different family situations, different things are important. When creating or reviewing a benefit package, employers need to consider the demographic of their workforce and employees need to think about whether the benefits they have are the right ones for them.
Benefits can be split into two types; those that benefit the employee and those than benefit the employer. Often one can be both. An example of this would again be private medical insurance (PMI). This is a very popular benefit assisting with retention and recruitment that allows staff access to private healthcare that because of the cost of individual policies would be out of the reach of many working people. Employers with PMI have an effective sickness and absence tool that ensures staff are back at work as quick as it is medically possible.
Staff benefits fall into a number of categories:
Financial (such as pension or retail discounts )
Protection (as life insurance, critical illness, income protection, health screening & health insurances. Some of these could also be considered financial)
Lifestyle (childcare, cycle to work etc.. or for example; wider health promotion strategies and health insurances such as cash plans and internal protocols such as sickness and absence intervention, reporting and support)
Working environment, work-life balance and employee communication
Training and development; opportunities for advancement to those who want it and training.
Company rules and processes (for example flexible working)
Company aims may be to meet statutory obligations such as in eyecare. But even these can be turned into a staff benefit. For example if you need to pay for eyecare why not consider a cash plan, costs can be similar and staff get much more and you save HR time in managing a process in-house.
As can be seen a number of benefits can fall into different or same categories. This is because some can be used to achieve different goals. The mix of benefits therefore varies from company to company depending on aims, the attraction and retention of talent and culture. The overall aim however should be to create a sense or worth and belonging. 'They do care for us'!
The table below highlights how benefits can be more effective. Employees that place a high value on their benefits show increases in loyalty and productivity. The right selection, communication and culture are key.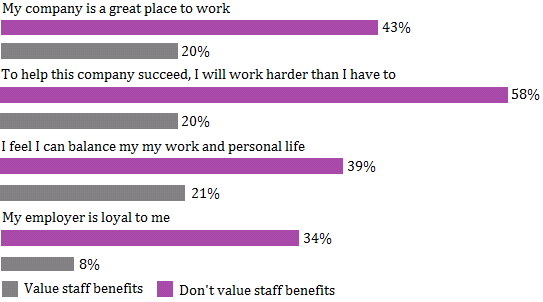 Contented staff are more productive. It is therefore important to support and nurture the diversity within a workforce. This could depend on age, a view on career progression, a stress free working environment, an own view of life, gender and family commitments.
The clear message here for employers is if there is an increase in of employee understanding and appreciation of staff benefits loyalty and engagement improves. Therefore how benefits are communicated is of importance. Staff need to understand and appreciate the benefit spend.
So what is right for your company? As the correct staff benefit package derives from an employer's business aims benefits are varied and designed to solve problems either for the business or workforce to create the right working environment to assist productivity.
When employees aiming to leave their current employer were asked what would keep them at the same job an improved benefit package was valued second after an increased salary.

The correct balance of staff benefits can assist in retention, aid recruitment and increase productivity.
The recruitment company Jobsite's own survey confirms that 77% of their candidates consider the range of staff benefits to be important when considering an employer.
Staff benefits should be considered in a broad context as everything that effects the working environment. What you feel is important may differ from your employees. For example some surveys place free tea and coffee above pension in popularity.
With the onset of pension auto-enrollment employers are re-evaluating the benefits they provide. Companies are increasingly offering a more even spread of employee benefits. Dental plans, childcare vouchers, cycle to work, PMI, health screening and critical illness protection are all offered by four in ten employers who took part in surveys with benefits that can be used by a broad range of employees on a regular basis favoured by employers. In addition, health benefits are popular with UK employers who place a strong emphasis on employees' physical wellbeing as part of their health and wellbeing strategy.
But there are Tax implications. In a number of instances HMRC considers staff benefits to be on a par with a salary and so taxes the employee (at their own personal tax rate) for the cost of providing the cover, either at an actual cost or a pre-determined set rate. These are P11d benefits. These can include company cars and insurances such as medical, health and dental insurances and protection policies such as critical illness. Insurances that are not considered for P11d include group life insurance, health screening, income protection and EAPs.
Effective communication is crucial to ensure staff are aware, understand and appreciate the benefits provided. How staff and employers value the different methods of communication are outlined below.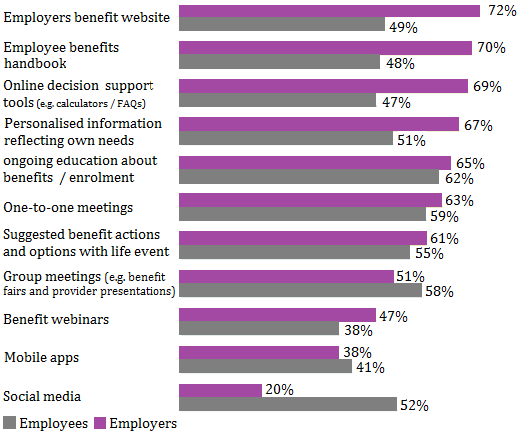 Also important is the pace of change. One of the main challenges facing employers is keeping pace with employee expectations around technology.  As technology advances at a staggering pace in their private lives there is the same expectation from employers.
So what do employees want?   We have brought together a number of surveys to allow a general overview of UK benefit provision and staff and employer attitude to employee benefits. Employees that value employee benefits tend to be more loyal and committed. Employee concerns appear to want as outlined in the table below and look to their employer to provide.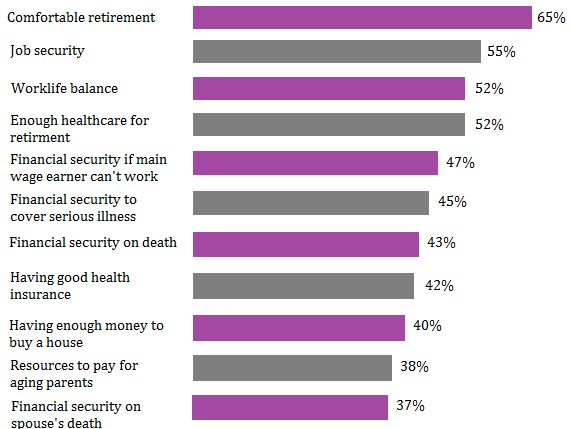 The CIPD undertook a survey of employees focusing on pensions and benefits and asking what they believed were their most valued and desired benefits. This confirms that employees see internal structures and support more important than benefits such as access to a Pension scheme with relatively small amounts of money delivering results.
Top five benefits offered to all employees (employee choice)
Paid leave for bereavement – 80%
Training and career development – 73%
Pension scheme – 71%
25 days and over paid leave – 66%
Tea/coffee/cold drinks – free – 65%
When looking at the employee desired benefits this can vary if a private sector employer.
Top ten benefits offered to all employees (all organisations)
Paid leave for bereavement – 80%
Training and career development – 73%
Pension scheme – 71%
25 days' and over paid leave – 66%
Tea/coffee/cold drinks – free – 65%
Christmas party/lunch – 62%
Death in service/life assurance – 60%
Childcare vouchers – 56%
Allow internet purchases to be delivered at work – 55%
On-site car parking (free/subsidised) – 54%
Top ten benefits offered to all employees (private sector services)
Training and career development – 77%
Christmas party/lunch – 77%
Paid leave for bereavement – 74%
Tea/coffee/cold drinks – free – 74%
Pension scheme – 59%
Death in service/life assurance – 59%
Allow internet purchases to be delivered at work – 59%
On-site car parking (free/subsidised) – 56%
25 days' and over paid leave – 56%
Eyecare vouchers – 50%
Employee interest in wider staff benefits and support if they were made available are outlined in the table below: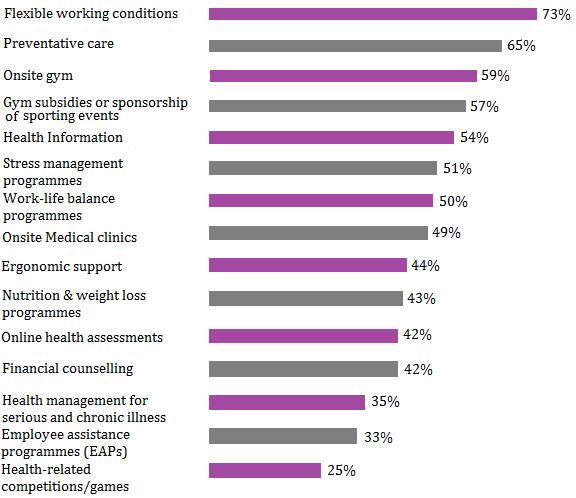 So in summary, what should your benefits package look like?  Ask what staff want, look at your culture and goals, set a long-term budget and plan.
In future essays I will give real life examples and costs and the pros and cons of the various staff benefits. In the meantime don't hesitate to contact me or one of my colleagues for a chat.
ADVO looks to support modern thinking SMEs and smaller corporates across all business services from Employee benefits, technology support and platforms, payroll and HR.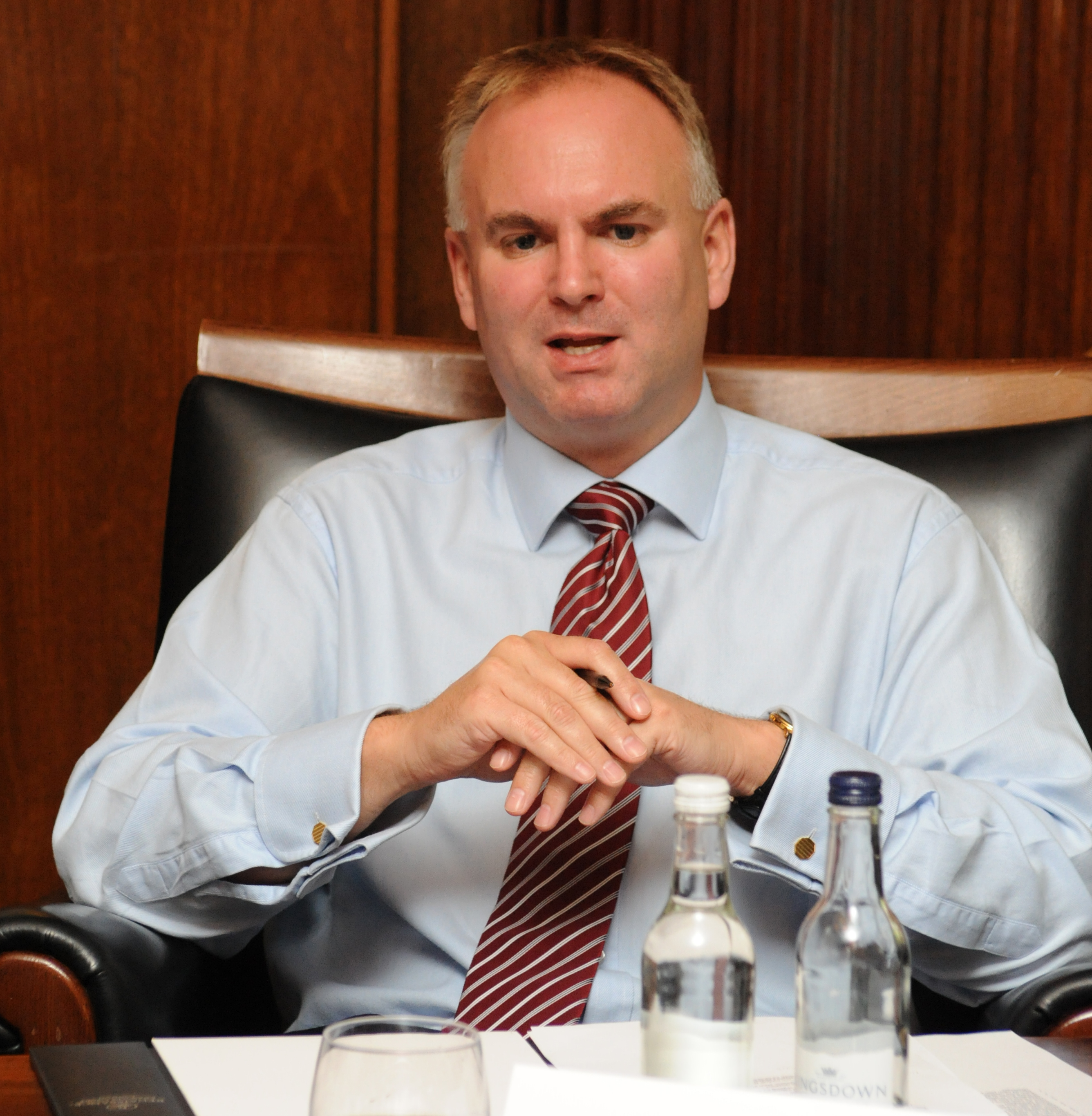 Colin Boxall is ADVO Group Commercial Director and has over 25 years advising employers on staff benefits.
A number of reports and surveys in this summary. This includes:
CIPD Annual survey report on Reward Management 2015. The CIPD is the professional body for HR and people development. The survey includes 314 employers interviewed by CIPD and 211 collected from YouGov totalling 525 respondents.
Simplyhealth/Denplan Health/YouGov and wellbeing survey 2016, Denplan Corporate Decision Makers Survey 2016
MetLife United Kingdom Employee Benefit Trends Study 2014-15 (updated 2016). MetLife is a global insurer delivering employee benefit solutions.
YouGov. Various studies 2013-16
Westfield Health, 'The Employee View 2016– Health and Wellbeing in the Workplace'
Website information sources: Jobsite.co.uk , Glassdoor.co.uk
ADVO Group existing client data for companies 50 + employees. ADVO Group research.
Full details of each survey statement of methodology are available separately from this summary.