Group risk insurer, ellipse, has released new research that shows what are considered to be the most important and popular benefits for both employers and their staff.
The research, highlights the most commonly offered benefits and why employers value them.
Of the 1001 employers contacted by ellipse two thirds (63%) provide benefits to their staff. Of those who don't give employees benefits over half (56%) cited cost as the main reason. Only 12% believed they did not add value.
Of the employers that offered benefits 28% said this was because they wanted to reward their staff, 24% to retain existing employees, 23% to look after, and 21% to attract new talant.
The top five benefits offered by employers are a workplace pension, childcare vouchers, cycle to work scheme, private medical insurance and life insurance.
As would be expected with the onset of auto-enrolment a workplace pension tops the list. Private medical insurance is next most popular employer-paid benefit suggesting employers are taking an active role and interest in their employees' health.
The scope of benefits provided by employers are outlined below.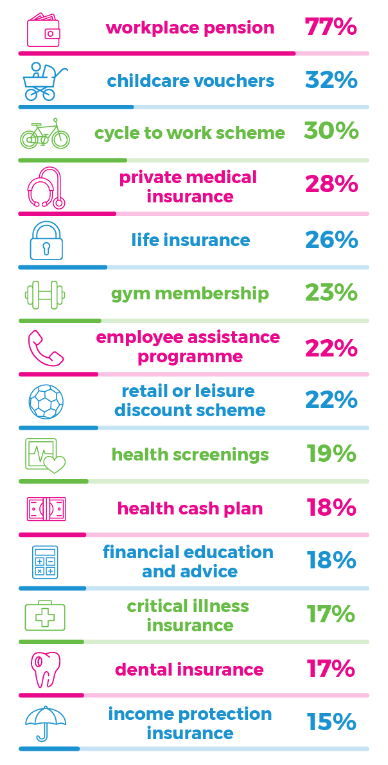 The report looks in more detail at:
What are the most valued benefits offered by employers
What are the reasons behind putting in staff benefits
How benefits are communicated
The added value benefits that come with some insurance contracts.
While the benefits employees value vary by their age and the industry they work in, generally speaking there are few discrepancies between what employees value and what employers think their employees value.
58% of employees valued their pension the most followed by 21% for medical insurance and 20% for life insurance. Critical illness was only 11%.
When communicating benefits to staff only 25% use online benefits platforms, however as the technology becomes more accessible for smaller employers we should expect this to increase over the next few years. Currently, not surprisingly, smaller employers rely the most on verbal communication and larger by email.
Across all companies surveyed other forms of communication of benefits were 47% mostly by email, 35% by intranet, 15% through a company meeting and 8% through workplace social media.
The ellipse report outlines in more detail the findings of their survey.
Notes: The ellipse survey included 1150 employees and 1001 employers and was conducted during August 2017.