The new Secretary of State for Work and Pensions is David Gauke MP. We look at who the new face is and what does his appointment mean for pensions? 
There's a change at the top of the Department for Work and Pensions (DWP) in Theresa May's post-election cabinet. Former work and pensions secretary Damian Green MP has been moved to first secretary of state and minister for the cabinet office, and the new face in charge at the DWP is David Gauke MP.
Who is he? Gauke isn't exactly a household name, but he's got a solid service history at the Treasury. He commanded a comfortable majority of 19,550 votes last week in his Hertfordshire South West seat, untroubled by a 4% swing to Labour. He has held the seat since 2005.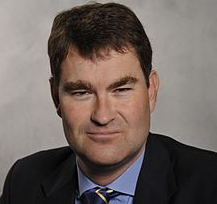 Prior to the election, Gauke was chief secretary to the Treasury. He has also served as financial secretary to the Treasury and exchequer secretary, as well as shadow Treasury minister from 2007 to 2010.
According to parliamentary watchdog website TheyWorkForYou, Gauke's voting history shows he's a traditional low-tax Tory. He's generally voted in favour of raising the threshold at which people pay tax, and against additional taxation for higher rate earners.  Gauke's record also shows he's in favour of lower welfare benefits, including restricting disability benefits.
Gauke voted to remain in the EU.
What does his appointment mean for pensions? Taxation is Gauke's specialist subject, but he is no stranger to pensions either. He has sat on the public bills committee for every Finance Bill since 2008, as well as the Taxation of Pensions Bill in 2014.  Could that bode well for a much-needed review of pensions tax relief?
The surprise general election left some unfinished pensions business for Gauke to pick up, as well as some Treasury announcements that affect pensions. The Pensions Advice Allowance, enabling employees to take three tax-free sums of up to £500 each from their pot to pay for advice, and the reduction in the Money Purchase Annual Allowance to £4,000, which limits the amount of money that can be paid into a pension once withdrawals have started, were both announced in the Budget but put on hold when the election was called.  Both could now reappear.
The former administration's green paper on security and sustainability in defined benefit schemes is another matter for Gauke's consideration. There will be pressure from many parts of the pensions industry to make sure that this does not lose momentum.
Then there is the contentious matter of the state pension age and the triple-lock guarantee on state pensions.  Theresa May's potential coalition partners, the DUP, are opposed to removing the triple-lock, whereas the Conservative government wants to reduce this to a double-lock. That would mean retaining the commitment to the higher of inflation or average wage increases, but removing the minimum increase of 2.5%.  Northern Ireland has one of the lowest life expectancies in the UK, which could put the Conservatives under pressure from their DUP partners when it comes to any state pension age increases.
It's old history now, of course, but Gauke voted against the introduction of auto-enrolment. Now, in association with his yet unnamed pensions minister, he will be responsible for its future direction.
Now, in association with Richard Harrington, he will be responsible for its future direction.
This article originally appeared in online HR magazine Reward. You can view the original article here.