During lockdown £57m has been paid to bereaved families from employer-sponsored group life insurance policies as a result of covid-19 reinforcing the worth of this valuable staff benefit.
GRiD, The organisation that aims to promote the benefits of group risk policies, has announced that the dependants of employees with group life benefits have been paid benefits valued at a total of £56,709,154* as a result of COVID-19 between 1 January and 30 June 2020. This represents 475 lump sum death benefit claims, plus the capitalised value of seven dependants' pension claims where COVID-19 has been recorded as the primary or secondary cause of death on the death certificate or reported on the claim form. The average lump sum death benefit payment was £110,285 and the average capitalised value of the dependants' pensions was £617,771.
The average regular pay for employees in Great Britain is £504 a week** so, the average lump sum death benefit paid by group risk insurers would keep the average earner's family and dependants going for over 4 years (218 weeks). This further demonstrates the significant value of employer-sponsored group life benefits which support people of working age who often have the most financial responsibilities.
Since the pandemic struck, the value of group risk benefits (employer-sponsored life assurance, income protection and critical illness) has come to the fore, and these figures highlight why. The significant financial payment that is made via a group life policy to dependants when someone dies is a huge burden lifted for both employers and dependants. Dealing with the death of a loved one is incredibly difficult on many levels, but the financial benefits that come with group life assurance is a tangible way that employers can support dependants of their workforce through such a difficult time.
At a time when the last thing people want to think about is finances, this gives them the breathing space to deal with the myriad of other issues and challenges they have to face.
Katharine Moxham, spokesperson for GRiD said: "These figures demonstrate exactly what our industry is here for. Group life is one of the unsung heroes of the employee benefits world, that is, until it's needed. Being supported in such a practical and tangible way, during one of the biggest challenges we've faced as a nation, will have been a great comfort to these families."
Many employers want to be supportive when a member of staff dies. Indeed, group life assurance is the most popular group risk benefit that is offered to staff, provided to 9.7 million employees***. It typically pays a multiple of salary, such as one, two, three, or four times salary. It is paid under discretionary trust which means it falls outside of probate and inheritance tax, so can be paid quickly.
Moxham adds "Some employers may look to fund such support directly themselves but most would be unable to afford to make such substantial payments without relying on insurance, especially since group life assurance can be put in place for, on average, as little as £133 per employee****.
Group life assurance is one of the most affordable benefits for employers to offer, and at the times it's needed most, such as these, it is one of the most valuable."
The options for group risk are numerous. advo, as independent specialists help employers navigate to the most appropriate solutions within their staff benefit programmes. If you would like to know more about how advo can help then email us on info@advogroup.co.uk.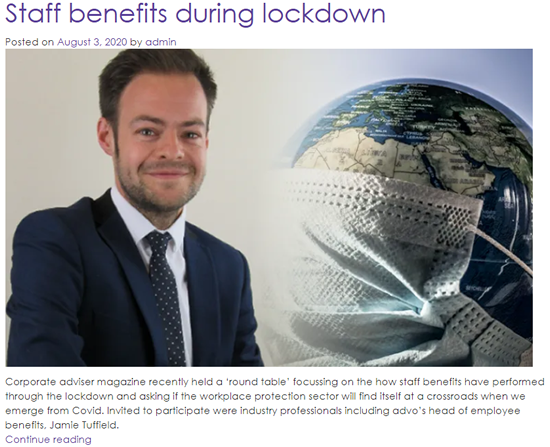 Notes:
*GRiD mid-year COVID-19 Claims Survey 2020
**https://www.ons.gov.uk/employmentandlabourmarket/peopleinwork/employmentandemployeetypes/bulletins/averageweeklyearningsingreatbritain/july2020
***Swiss Re Group Watch 2020
****Swiss Re Group Watch 2020
475 lump sum death benefit claims have been paid where COVID-19 has been recorded as a cause of death. A total of £52,385,178 was paid, the average payment being £110,285.
You can read the GRiD press release in full here.