The numbers of employment tribunals has jumped 90% since the abolition of fees, according to the government's latest quarterly statistics.
The Ministry of Justice reported that, in October to December 2017, 8,173 single claims were brought – up from 4,200 in the same period in 2016.
Tribunal fees of up to £1,200 were introduced in 2013, which the government said would cut the number of malicious and weak cases. However, in July 2017 they were deemed unlawful, and the government had to repay up to £32m to claimants.
It was widely predicted that employers would see a steep rise in Tribunal cases and the large increase has been greeted with little surprise by the HR community. Faye Baker from advo hr commented "It has always been important to ensure that HR practices are compliant, fair and consistent. However, I believe with the fees no longer enforce it should exaggerate the message to businesses the importance that the correct HR policies and practices are in place and executed to avoid claims which can cost businesses a great amount of time, manpower and overall cost."
Arran Heal, Managing Director at CMP Resolutions, a workplace conflict management company, confirmed that the upsurge in numbers of tribunals was expected once the fees were reversed. "Making employees pay fees for tribunals wasn't doing anything to help problems go away, it just meant grievances being bottled up [and] perhaps made worse," he said.
"From our experience of working with large public and private sector HR employers, the return to more common use of tribunals is now focusing minds on the importance of earlier resolution to employee issues – how can we pick up on conflict and the potential for conflict early.
While more tribunals might be a cost to HR, it's the wider implications that have huge financial clout – for example, stress. "The Labour Force Survey for 2017, as one snapshot, suggests people suffering from stress take around 29 days of leave with the condition" explained Heal. "According to CIPD figures, the number of days of management and HR time spent on managing both disciplinary and grievance cases has gone up in the last 20 years, from 13 to 18 days for a disciplinary, and from 9 to 14.4 days for a grievance."
Heal adds that HR needs to get better at employee relations if they want to avoid tribunals. "The future for employee relations, in an age of a greater awareness of rights, and growing willingness to air issues and suspected discrimination, is in developing skills and processes for early and more informal conversations that lead to a resolution" he said. "So that means equipping more managers with conversation skills, higher levels of 'conversational intelligence' and making opportunities for using mediation and neutral assessments a more available, and a more ordinary part of working lives."
You can catch up on earlier advo news on Tribunal fees here.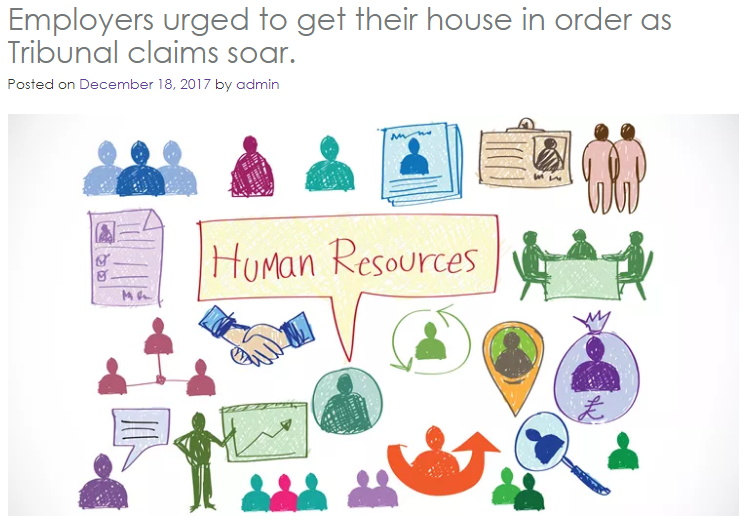 The article on which news story was based was published in HR Grapevine. You can view the original here.