The Government's Hamilton-Alexander Review, FTSE Woman Leaders, which has the aim of improving gender balance in larger organisations highlighted the most common explanations as to why larger companies have a lack of woman in their Board Rooms.  
The Hamilton-Alexander Review highlighted the following as explanations and then stated the reality of the situation.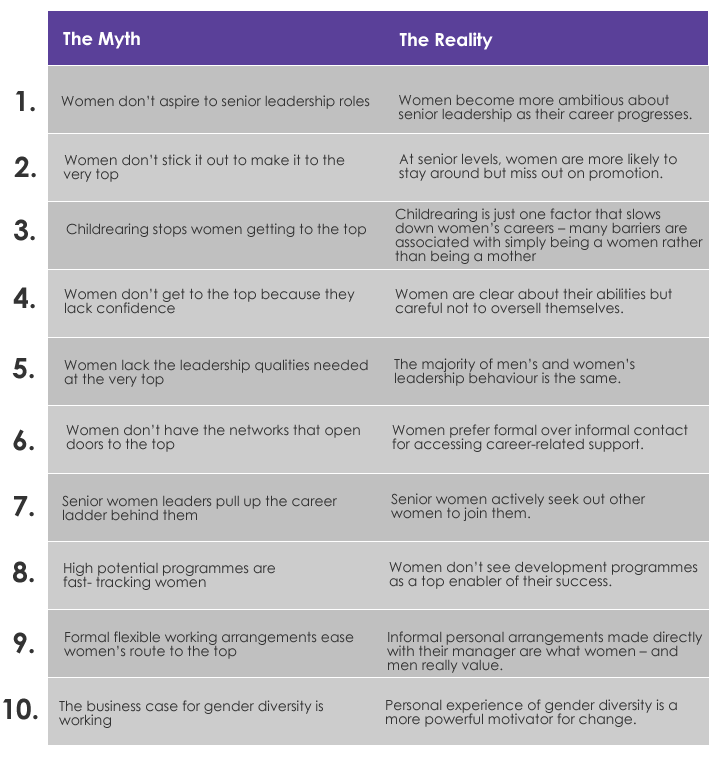 As part of the Hamilton-Alexander Review an Update on Myths and Realities by Rachel Short entitled Why Women Work was included.
In 2014 the Cracking the Code research by 30% Club/YSC/KPMG was part of a growing evidence base unpicking myths based around outdated assumptions and stereotypes about the women in leadership. It found many similarities between men and women at work, but also causes for dissimilar progress. The findings were revisited the findings were revisited showing times are changing. Using the above table the good, bad and mixed news is outlined as taken from the report.
Good News
1: Ambition
A wealth of cross-cultural research has discredited the idea that women's aspirations and choices are the main reason behind the persistent lack of women in leadership(12).
5: Leadership Ability
Women and men are seen as equally good leaders (13). A range of visible women executives, successful in their own right, have broadened expectations about corporate leadership. Attitudes to women as leaders are increasingly positive with 21st century challenges emphasising the need for authentic leaders, collaboration and thinking broadly about their impact. .
7: Women seek out women
Recent research has overturned the notion that senior women leaders kill off opportunities for other aspiring women (14). A collective 'tick box mentality' is more likely to be behind the appointment of lone females to predominantly male executive teams (15). Positional power makes a difference, as seen in the UK with women CEOs ensuring gender balanced top teams with EasyJet, Severn Trent and Kingfisher good examples.
Bad News
4: Realism and Reality
Confidence is still viewed through a male lens. Research shows that relative to men's 'honest overconfidence', women are seen to underestimate their abilities (16). A confidence gap remains the most popular explanation for women not competing for promotion opportunities when they feel under- qualified. This is contrasted with similarly under- qualified men, who believe that they can fill any missing gaps on the job. Conversely, the same female tendency to assess risk realistically is positively linked with sound decision-making and corporate governance in the boardroom.
Mixed News
2: Commitment
Women are working longer and returning to work from child-rearing in greater numbers than ever which is positive news for older women (17). Their wide experience, constructive non-conformism and honesty about failure, means they ask challenging questions that may ruffle feathers but can also prompt radical new perspectives and encourage engagement (18). Yet career paths continue to show women being significantly more likely to be moved through functional/support rather than operational/P&L roles. This gives women the experience and oversight to contribute effectively in the boardroom but not for the CEO's seat (19).
3: Parenting
Women are having children later in life. Yet career gaps emerge between the genders even before children appear on the scene. Domestic support is as important with increasing numbers of women breadwinners and dual income households in the UK (20), the division of domestic responsibilities and attitudes of life partners are key enablers for women to continue their careers. How to choose a supportive life partner is no longer a taboo subject and role-modelling family friendly behaviours by senior men and women sends a powerful signal about company values
6: Networks
Women Non-Executive Directors appear to have had relatively little access to women in the executive pipeline (21). Anecdotal evidence from cross company mentoring shows that mutual learning between a board member in one organization and an aspiring woman leader in another can open up networks and access to new insights for both parties. 8: Development The penny has most definitely dropped that high potential women need to build the right networks, with their development focused on learning from a mentor and enlisting a sponsor to open doors. However, this has been at the expense of more traditional leadership development activity, where men still outnumber women on MBA courses in the UK and the proportion of women developed through corporate high potential programmes has also dropped over the last four years.
9: Flexible Working
Flexible working is double-edged. In the UK, 8.6 million people work 30 hours a week or less and thanks to technology developments, 4.2 million work from home and a further 8.7 million people would like to work more flexibly. Women are three times more likely to work part-time than men, with part-time work attracting a lower hourly rate than full-time work and being read as lack of commitment, ambition and achievement. A pay gap also emerges for women working part-time through a cumulative lack of wage progression(22).
10: The Business Case
The personal case trumps the business case. There is plenty of research showing a strong association between gender diversity and corporate out-performance, with women leaders recognized as good for business (23). However, personal experience remains a stronger motivational hook for men to address gender balance at work (24). Their personal experience is critical, attitudes at home can be carried into work and affect gender equality efforts (25).
The Hampton-Alexander report also suggests HR Directors have an important role to play in supporting their organisations, and each other, to deliver progress.
"It is clear significant challenges remain, not least the need to tackle unconscious bias, particularly within the realms of performance management and recruitment," the report says. "HRDs have emphasised the ongoing need to take the whole organisation on the journey, continuously selling the benefits for everyone of improved diversity and a broader spectrum of leadership voices."
In 2017, 25.2% of Board positions were held by women. The Hampton-Alexander review suggests quotas could help to ease the gender gap in the C-suite. They draw on France as an example, which requires 40% of Board seats in its top businesses to be held by women (it has so far achieved 39.8%). Similarly, Norway's quotas have helped them secure 37.2%.
"If UK business wishes to hold its enviable position, it would do well to keep up with developments elsewhere – and indeed pick up the pace," the report adds.
Notes:
12 Rethink what you know about high achieving women, HBR, 2014
13 Women in Leadership, Pew Research Center, 2014
14 Do Women Top Managers Help Women Advance?, University of Massachusetts, 2011
15 I s There an Implicit Quota on Women in Top Management? A Large-Sample Statistical Analysis, Strategic Management Journal, 2015
16 On confident men and rational women: It's all in your mind(-set), Journal of Economic Psychology, 2014
17 https://www.gov.uk/government/news/older-women-see-a-dramatic-rise-in-employment-rate-over-past-30-years
18 How Women drive Innovation and Growth, HBR, 2013
19 Revisiting the Executive Pipeline, 30% Club, KPMG & YSC, 2016
20 Who's breadwinning in Europe? A comparative analysis of maternal breadwinning in Great Britain and Germany, IPPR, 2015
21 European Board Diversity Analysis, Egon Zehnder, 2014
22 http://www.equalpayportal.co.uk/statistics/ – 8.6 million people working part-time __http://www.ons.gov.uk/employmentandlabourmarket/peopleinwork/ employmentandemployeetypes/bulletins/uklabourmarket/october2016 – 4.2 million home workers __http://webarchive.nationalarchives.gov.uk/20160105160709/http:/www.ons.gov.uk/ons/ rel/lmac/characteristics-of-home-workers/2014/sty-home-workers.html – 8.7 million people would like to work more flexibly __http://timewise.co.uk/wp-content/uploads/2014/06/Updated-a- flexible-future-for-Britain.pdf
23 Credit Suisse (2016) The Credit Suisse Gender 3000: The Reward for Change
24 Winning Hearts and Minds – how CEOs talk about gender parity, Kings College/KPMG, 2014
25 The Implications of Marriage Structur e for Men's Workplace