Almost three-quarters of people say they would struggle to cope if their income fell by £570, the average amount lost by four in five families after a cancer diagnosis according to Macmillan.
In an article highlighted by health and income insurer, Canada Life, almost three-quarters of people they surveyed said they would struggle to cope if their income fell by £570, the average amount lost by four in five families after a cancer diagnosis according to Macmillan. This goes up to 80% of single parent workers, which includes almost two-thirds who say it would be very difficult to cope with such a loss.
Cancer now affects half of people during their lifetime; occurrence among 25-49 year-olds has risen by 20% over 20 years. Yet people are putting their finances on the line by not protecting their pay. Barely a fifth of employees have any form of critical illness or income protection cover to help them financially if they were to develop a serious illness such as cancer, and almost half are not worried by this lack. Have they given any thought to how a long-term illness could affect their income? Only one in ten single parents have cover, even though by their own admission a loss of earnings would be very difficult to deal with.
Table: Single parents most vulnerable to financial struggles of cancer, but do not protect their income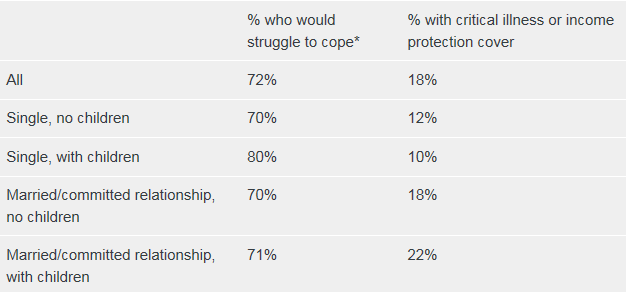 *If faced with average loss of income for 80% of families due to cancer (£570 a month)
Average worker has less than £3,300 in savings to fall back on if they became ill
UK employees have an average of £3,292 in savings. This wouldn't last six months if used to fund a £570 shortfall in monthly income. The typical UK worker spends £1,000 a month, so if they were diagnosed with cancer and completely unable to work their safety net would only hold them for three months – cancer treatment alone is likely to take three to six months, and then recovery time is on top of that.
Worryingly, nearly one in five employees have no savings at all, and an additional 10% have less than £1,000 to fall back on.
Two in five couldn't meet housing payments if income was lost due to cancer
If faced with a £570 reduction in monthly income, UK employees admit they would struggle to afford essential expenditure:
utility bills (72%)
weekly food shop (57%)
mortgage or rent payments (43%)
Half of respondents would also struggle to meet costs for their TV, phone and internet access, along with car and other travel costs.
Nearly half would need to apply for State benefits to get by if they were diagnosed with cancer and lost their income. However, benefits are becoming increasingly difficult to qualify for, and the amount of financial assistance given to those unable to work due to illness (but capable of some work related activity) has been cut from £5,312 to £3,801 per year.3 With average expenditure of £1,000 a month, most workers would struggle to get by on this amount of financial support.
One in five would worry about being a financial burden on their family and one in six say they would be more worried about their finances than their health.
Paul Avis, Marketing Director at Canada Life Group Insurance, comments:
"A head in the sand approach to the financial impact of cancer is putting families' futures at risk. Cancer accounts for nearly seven in ten critical illness claims and incidence rates have risen across all age groups, affecting those of working age as well as older people. As cancer survival rates also rise, more will undergo extended periods of treatment, likely resulting in a leave of absence from work and a reduction of income. It's clear from our research that most families would struggle to cope with this financially, but few have protection in place to provide the support they would need.
"With the ability to meet essential areas of expenditure such as housing, utility and food costs at risk, employers should consider the workplace benefits they can offer to prevent valued members of staff having to experience such hardship. Group income protection and critical illness policies provide vital financial support through difficult periods of illness and are relatively inexpensive to provide, and only 7% of respondents had cover such as this in place. They also come with a host of support services such as counselling and rehabilitation, helping enable a return to work if possible: a positive result for both employer and employee."
You can view the Canada Life article in full here.