Colin Perry, Head of Corporate Marketing at Simplyhealth, explores the link between fit and healthy employees, workplace productivity and corporate reputation: all the elements that a company simply cannot survive without. So why are many senior managers still wrangling over return on investment?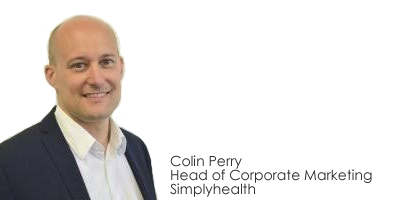 It's generally understood that good employee health and wellbeing equates to good productivity. Vast amounts of column inches and research reports are dedicated to the subject. Equations, statistics and case studies abound. Yet the endless search for meaningful measures still places a barrier in the way of some companies putting in place much-needed initiatives.
This is not only having a negative knock-on effect on employee health, happiness and productivity, it also puts companies at risk of damage to reputation and that may cost them a whole lot more in the long run. Gone are the days when companies defined their own brand and image, it is now bestowed upon them by employees, thanks largely to the popularity of employer review sites like Glassdoor. In other words, a focus on employee health pays in both financial and reputational terms.
Is ROI too generic?
The problem is, although there is lots of evidence out there on the link between health and productivity, it's largely meaningless when applied to individual companies due to all their various nuances. It could be argued that 'efficiency' measures of productivity (the traditional input / output equation) need to be used in conjunction with 'effectiveness' measures.
In other words, those that take into account output quality, employee and customer satisfaction, training or resources used and the demand for a product or service. For example, despite organisations as a whole striving to achieve high level goals and objectives, the functions that make up an organisation will each operate to achieve their own relative goals. With this in mind, work quality is often as important, if not more so, than quantity – particularly given the increase in globalisation and consumer demand for value.
The same goes for employee benefits. Return on investment (ROI) might give you an industry standard figure but what does it tell you about quality? Outcome measures can be much more tailored to individual corporate need.
For example, you wouldn't put in place management training and then measure success in monetary terms. Instead you'd assess whether your managers were performing well and teams were happy.
Likewise, if you identified a need in the workplace for physiotherapy and osteopathy services to help tackle short-term absences due to musculoskeletal issues, it makes more sense to put those services in place with a clear idea of what you are trying to achieve (the outcome) and then assess whether they're helping to reduce short term absence over time.
As opposed to the current trend of having to prove ROI before senior leaders will even sign off the initiative. The Simplyhealth Health and Wellbeing Guide 2017 found that the responsibility for approving employee benefit packages sat with the CEO / Managing Director in the majority (45%) of instances, whilst 32% said HR Director / Manager and in 21% of cases the Finance Director held final sign off responsibility.
Perhaps if those same senior leaders were presented with more evidence of need and clearly defined and tailored outcome measures, this hurdle could be overcome. Whilst this might not be an area many are familiar with, it's a rapidly growing requirement as more companies seek to define and implement a wellbeing strategy. And it's worth noting that providers are ready, willing and able to help.
Price & obligations
It's telling that the majority of companies (45%) still choose what benefits they offer staff based on value for money considerations as opposed to something that will be used regularly by employees (33%), according to Simplyhealth's research1.
Legal obligations obviously dictate the types of benefits included too. For example, employers have a duty to assess the risk of stress-related illnesses in the workplace and take reasonable measures to control it. Plus if employees work with display screen equipment, their work areas should be assessed for risks and training must be provided. Employees are also entitled to request the full cost for an eye test and a basic pair of prescription glasses as regularly as an optician recommends.
However, these are minimum legal obligations and employers would be well advised to go above and beyond this by introducing a robust employee benefits package.
Understand employee needs In order to ensure employees are engaged with benefits, using them and valuing them – and, hence, the business is also reaping the rewards – it's vital that employee needs and opinions are taken into account. This seems obvious but is so often missed. Almost half (43%) of HR professionals currently base their employee benefits research on simple web searches, again according to Simplyhealth's research1.
A good benefits provider will work with intermediaries and their clients to help structure a benefits package suited to needs. They will help with internal benchmarking, putting a stake in the ground before the benefits are introduced and help companies define their goals so that outcomes measures are clear. They'll also offer insight into performance over time. This could include management information such as the number of sign ups and level of usage broken down by individual benefit, plus qualitative feedback from employees.
All of this will help to provide a clear picture of the ongoing success of a company's health and wellbeing strategy, which can be fed back to the leadership team. This information can also help clients to build further business cases to introduce additional measures or extra employee benefits.
Act now
Wellbeing is not legislated at present but it's not beyond the realms of possibility that we get to a stage where companies are legally bound to report publicly on employee wellbeing.
Government is reportedly mulling over such an eventuality.
In the meantime, forward-thinking companies are pre-empting things and doing it anyway. And why not? It shows to shareholders that the company cares about its staff. That, in turn, helps keep a lid on the high costs of recruitment and retention, helping ensure that staff are healthy and happy with the obvious knock on effect on both productivity and corporate reputation.
Whilst it's difficult to make a direct correlation between all of that and profit figures, it's telling that the FTSE 100 companies that include reference to 'mental health' or 'wellbeing' more than twice in their annual reports enjoyed a mean profit of three times as much as those that didn't include such phrases2.
In short, employee health and wellbeing is no longer a nice to-have, it's now a corporate essential.
There's a strong relationship between being healthy and being productive at work, according to research. In fact, engaging in just one unhealthy behaviour can lead to a decrease in productivity. Here's a look, by the numbers: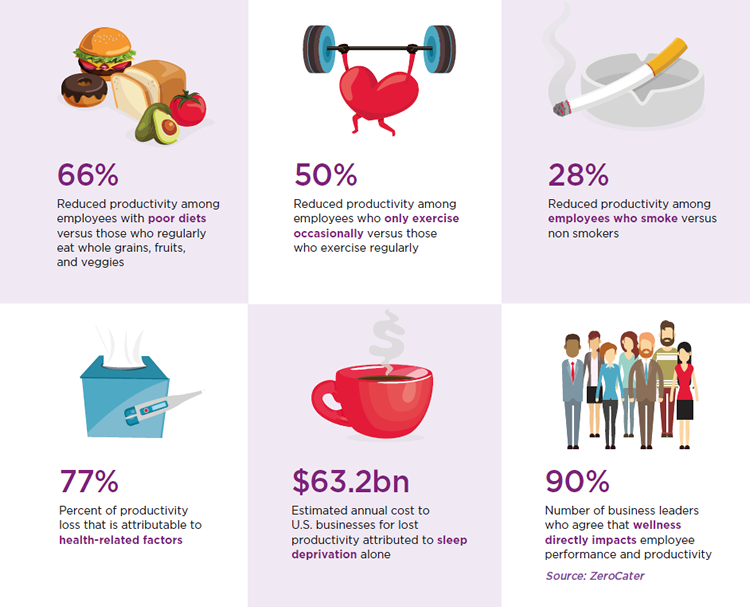 REFERENCES
1 Health and Wellbeing Guide 2017, Simplyhealth (2017)
2 Profits rack up for FTSE 100 firms with eye on mental health, study
This article was first published in HI Daily's 'A definitive guide to Health Cash Plans' which was put together in association with Simplyhealth. You can download a full copy of the guide here.