If you find that you're spending more and more time recording absence on spreadsheets, and sometimes lose track of who is in the office and when, then advo hr's absence management system could be just what is needed.   
The absence management module of our HR platform, personalised with company logos and colours is now available.
advo's new online absence management system 'MY HR' has been designed to give HR teams and Office Managers the ability to manage absence in a more effective and organised way.  MY HR will allow you to view and report on absence, and can be filtered by individual, team or office location.  Whether it be sickness, holiday or family friendly leave, the system allows you to view, update and authorise requests and will send email notifications to help keep you and your employees on track.
Employees access the system through their own log-in to request holidays and track their time off.  If you currently make use of our other services then we can also link MY HR to advo's staff benefit portal including advo perks –a staff discount portal. Additionally access to online payslips via our payroll services can be included further engaging employees into the wider company offering across HR, Pay and Employee Benefits.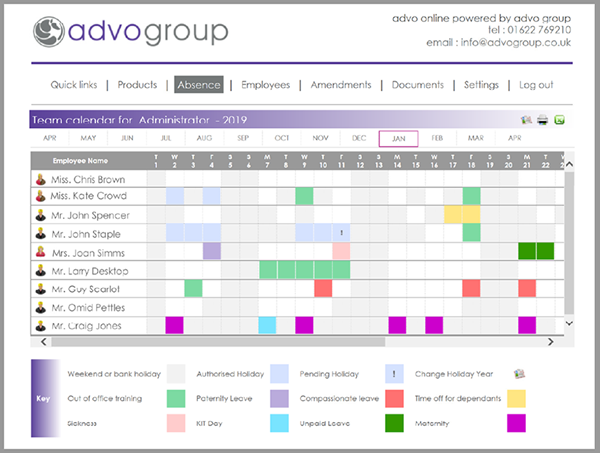 Access to MY HR will form part of existing agreements with advo HR clients and therefore no additional charge is applied.
If you want to know more about advo's absence management system and see a demo showing how it can make your HR life easier email Lucy Pearce on lpearce@advogroup.co.uk