Stress, and stress-inducing situations, are the main causes of short-term absence according to new research from GRiD, the industry body for the group protection sector.
The research shows that short-term absence (i.e. up to 26 weeks) for home and family issues account for one in five short-term absences; dealing with childcare issues accounts for nearly as many absences at 17%; and dealing with eldercare issues accounts for one in ten absences.
Whereas acute medical conditions (such as heart attack/cancer) and musculoskeletal conditions both account for 15% of short-term absence, stress and stress-inducing situations compound as the main reason why employees are unable to go to work.
The research asked 500 HRs the key reasons for short-term absence within their organisations.
Excluding minor ailments, the main reasons for short-term absence are: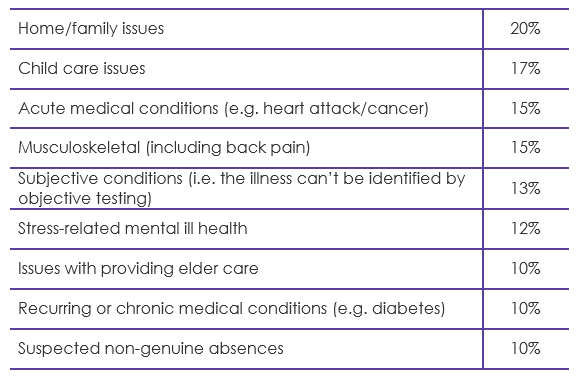 Companies that believe their absence is higher than the average for their industry also cite stress as a major reason.
27% believe work-related stress contributes to a higher-than-average absence. Stress-inducing situations are also seen as a contributory factor. Dealing with staff shortages (29% poor work/life balance (20%) and low morale (19%) were all given as reasons for higher absence.
However, employers also recognise the extent to which health & wellbeing initiatives and group protection can support better attendance. 22% said that not having health and wellbeing initiatives in place was the reason for having worse absence than others in their industry, and 14% said not having income protection in place was a reason for worse absence.
Katharine Moxham, spokesperson for GRiD commented: "The figures show that stress is not something that individuals deal with in isolation, it is a key reason for absence and has a major impact on employers.
"We're pleased to see that employers recognise that not having income protection in place also contributes to higher absence. Group income protection does so much more than simply provide financial support when people are unable to work. Providers recognise that stress is a big issue, and specifically offer a lot of support for stress within their products, such as fast-track access to counselling, access to mental health specialists, support tailored for carers, and much more.
"When stress is an issue for employees, it's an issue for employers too. Poor absence means poor productivity. The support is there and we want people to know about it and use it."
Reasons for lower-than-average absence
Indeed, companies that believe their absence is lower than others in their industry point to offering support for stress.
Those that believe their absence is lower than others said this is because they had good staff morale (57%), good work/life balance (50%) and offer flexible working initiatives (34%). All things that contribute to reduced stress.
Katharine Moxham continued: "When employers recognise the huge impact that stress has on their employees and their business and they do something about it they see the results. In practice this means better morale, less absence and increased productivity. Those that utilise the services that come with group risk products are reaping the rewards and we would encourage others to follow suit."
Notes
*The research was undertaken by Opinium on behalf of Group Risk Development (GRiD), amongst 500 HR decision makers in 500 UK businesses, including 100 in companies with more than 250 employees, during November 2017.
You can see the GRiD press release here.