Businesses are going to great lengths to attract and retain staff in today's competitive jobs market. Traditional staff benefits such as flexible working, healthcare and pensions are seen as an essential element. Glassdoor, the online recruitment company, has published a list of what they believe are the UK's 10 most extreme employee perks. But is this actually just a tailoring of benefits to match what their employees want?
Employee expectations continue to grow, meaning businesses are having to think outside of the box to make themselves known to the job seekers they most want. Glassdoor , has compiled a list of 10 Extreme Employee Perks based on information provided in reviews left by employees on its site.
Recent articles have however highlighted the lack of measuring effectiveness by over 40% of UK companies (see link below). On first glance Glassdoor's list may seem out of the ordinary when compared to other organisations but on further consideration can be seen as innovative and addressing whet their employees want in a benefit package.
Colin Boxall, advo's Commercial Director commented "staff benefits are much more than just ensuring your legal requirements, such as pensions, and traditional benefits such as private medical insurance and life insurance are made available. Employers need to look at their business culture and aims and construct a benefits package tailored and based around what the business and staff need and want.
Glassdoor's 10 Extreme UK Employee Perks 2019:
Flexpot from Arm – The semiconductor and software design company's 'Flexpot' gives employees a very generous allowance every year to spend on their own passions and development. This isn't necessarily work related, it can extend to passions such as flying lessons, puppy training classes and more!
Life Concierge from Improbable – The tech company's "Life Concierge" is there to help relocate families, organise parties, order pizza and more.
Free food from Facebook – You'll never go hungry at Facebook. The social media giant provides its staff with three free meals a day in the office – plus snacks!
18% pension contribution from Diageo – Diageo contributes 18% to employees' pensions, helping to set them up for later in life.
Paid leave when moving house from Sky – Sky supports its employees with one of the most stressful life events – moving house! – by providing paid leave for employees when they move house.
£1,000 travel perk from Travelzoo – Get paid to travel the world! Travelzoo offers staff £1,000 every year which can be spent on Travelzoo deals and offers.
14 weeks paid paternity leave from O2 – O2 offers all new dads 14 weeks of paid paternity leave.
Global mobility from Skyscanner – The tech firm encourages its employees to work from any of its global offices and also provides up to 15 days per year for employees to work from their home country, if they're based elsewhere.
Free GP consultations from Babylon Health – The health technology company gives all employees and their families free GP consultations through the Babylon app.
Onsite crèche from first direct – The Leeds-based bank provides an onsite crèche for its working parents, so they don't need to worry about last minute childcare.
Joe Wiggins, Director at Glassdoor, comments: "Extreme perks might help to get employees in the door, and they're certainly a good way for companies to get noticed! However, we know that benefits are not the main driver of employee job satisfaction. In fact, according to Glassdoor Economic Research, culture and values, senior leadership, career opportunities and business outlook all score above compensation and benefits when it comes to job satisfaction.
While benefits are a great way to make employees feel appreciated, businesses should not rely on them alone to keep employees satisfied enough to stay with the company in the long-run. Rather, they must look at all elements of their offering – from training and development, through to career progression and opportunities – and regularly refine their offering based on employee feedback."
If your organisation needs help shaping your staff benefit's package, as independent specialists advo can help. Contact Jamie Tuffield on jtuffield@advogroup.co.uk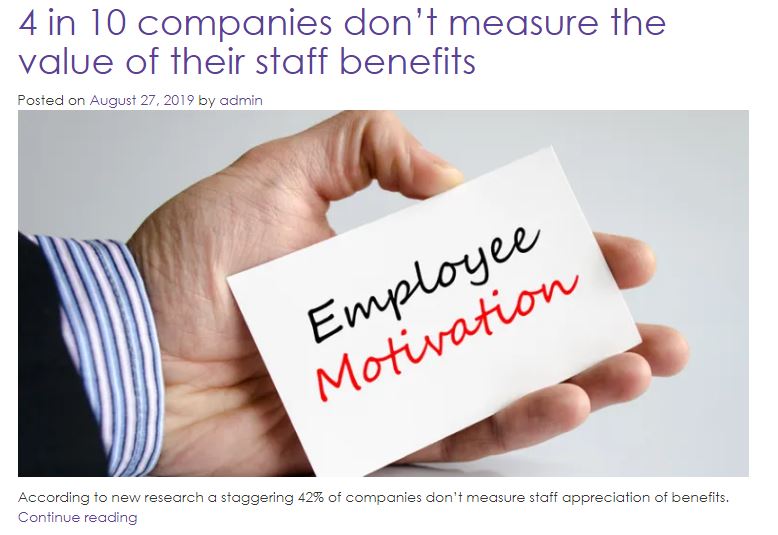 Glassdoor's methodology: The list of 10 Extreme Employee Perks was determined by identifying unique benefits that employees offer, based on reviews of benefits shared by employees on Glassdoor. Glassdoor states that their list does not reflect any order of importance or value.