Welcome to our spring edition of advocate, advo's online magazine, where we keep you up to date with our latest news and features along with news comment that has caught our eye.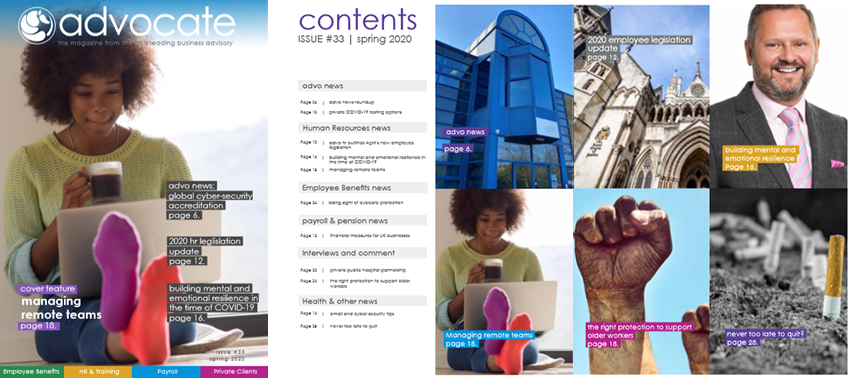 You can read the latest edition here.
The spring edition is heavily focused on home working given that for many organisations this is a new experience with the whole workforce moving to their virtual offices. We enclose a feature from International Insurer Aetna's European Director, Damien Lenihan who gives guidance on mental and essential resilience. In the same theme we feature an article from Investors in People who give practical advice in managing a team remotely.
Other features include Canada Life's Paul Avis who looks at the right protection policies for our ageing workforce. We also include comment from AMII on the working together of the private and public health systems and in health news yet another reason to stop smoking. In employee benefit news we focus on eyecare, an often forgotten, but important, staff benefit.
advo news includes a copy of an open letter from our CEO, Larry Bulmer, who reassures our business partners and clients that we are very much still 'business as usual'. The big advo news however was the attainment of the ISO Cyber-security accreditation which now gives parity with global technology and advisory firms.
In HR news we give an update on April's employment legislation. Wider advo news includes award recognition for Corporate Adviser, an update on cyber security and a financial update from Andrew Henderson who heads up advo's payroll team.  In addition, we give more detail on advo's option for private COVID-19 testing.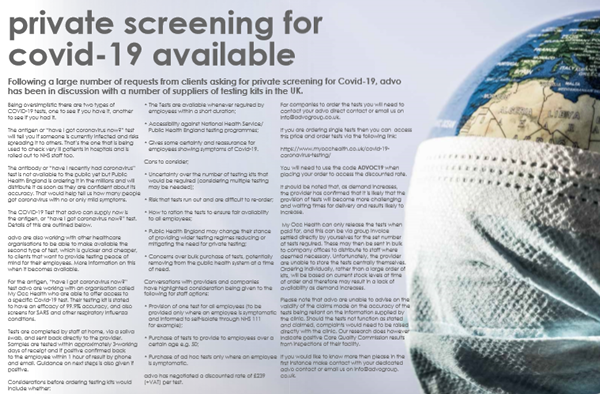 Remember that all past editions of our advocate magazine are free to read online at issuu.com/advogroup.