Newly released data from Aviva shows that 25% of UK employers are missing their Pension staging deadline.
The figures for July, August and September this year show that 25% of businesses applying for their workplace pension with Aviva did so after the date set for them by the Government watchdog, the Pension Regulator (tPR). Businesses that miss their staging date put themselves at risk of a fine and limit their options for a pension scheme because not all pension providers will accept 'late stagers'.
Latest figures from tPR show that in Q2 2017 it handed out almost 4,800 fines of £400 each to businesses that had failed to comply with their AE obligations**.
The table below details the proportion of Aviva's workplace pension applicants who applied during 2016 and 2017 in comparison to their staging month.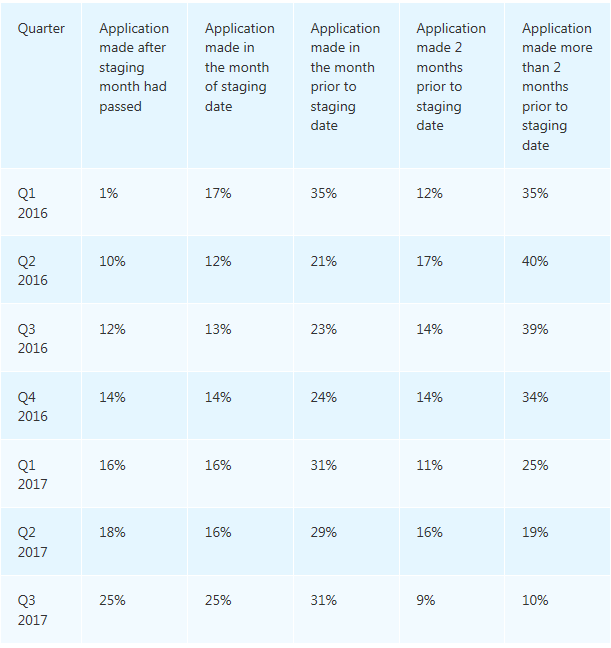 Planning ahead drops off
The proportion of companies sorting out their workplace pension two months or more ahead of their staging date has dropped to one in five (19%) – the lowest since Aviva began publishing the data.
However, this trend can in some way be expected. Firstly, some businesses may have only formed in the last 12 months so haven't had as much opportunity to plan in advance. Secondly, changes to the way auto-enrolment is rolled out mean that there are now fewer companies that have a staging date more than two months away, in turn increasing the proportion of companies leaving it late.
The future of auto-enrolment
Auto-enrolment in its current form, with businesses planning around staging dates, will only continue into the early part of next year. Significant changes are already taking place.
Since 1st October 2017, staging dates are no longer being given to new businesses. Instead, new companies will have auto-enrolment duties as soon as they hire their first employee and pay them a salary over £10,000.
Businesses also need to prepare for an increase in pension contributions. From April 2018 employers must contribute a minimum of 2% of an employee's qualifying earnings, up from the current 1%. Employee contributions will be rising from 1% to 3%.
Andy Beswick, Managing Director of SME Solutions at Aviva, said:"As we reach the end of staging dates for businesses it's clear that there has been an increase in the proportion of companies missing their deadline. But employers need to understand the implications. Not only could they be fined but, unlike Aviva, not all pension providers will take on 'late stagers' so they are limiting their choice.
"Auto-enrolment has been a fantastic success so far with millions of people now saving for their retirement. But businesses and individuals need to be ready for the next phase.
"Start-ups, or sole traders beginning to take on staff, must put their pension scheme in place as soon as they hire their first employee. They will have to factor the contributions into their costs and be aware that the vast majority of people stay in the pension scheme.
"And both employees and employers also need to be aware that the level of compulsory contributions is increasing in April to 2% for employers, and 3% for employees. "Higher contributions can help to contribute to a better standard of life in retirement and can be a useful tool in recruiting and retaining talented people. But both employers and employees need to be ready for the changes that are coming."
advo payroll manages auto-enrolment solutions. You can find out more about how advo can help here.
*Last minute is made up applications made in the month of staging (25%) and the month prior to staging (31%)
**http://www.thepensionsregulator.gov.uk/docs/compliance-and-enforcement-quarterly-bulletin-april-to-june-2017.pdf

You can veiw the Aviva press release in full here.