Private medical insurance tops the list for the most desirable employee benefit according to a recent employee survey. 
The analysis from The Knowledge Academy, a global provider of workplace training, has revealed that 42.7% of UK employees said that private medical insurance (PMI) was the benefit they would most like to see as part of their employee benefit package.
The second most desirable benefit was retail vouchers (35%), however life insurance finished closely behind (34.5%) followed by private dental insurance (32.1%) and gym membership (30.3%).
Critical illness was a priority for 27.4% and income protection was chosen by 20.3%, however it lagged behind both health screening (26.3%) and travel insurance (22.8%).
The full findings are summarised below.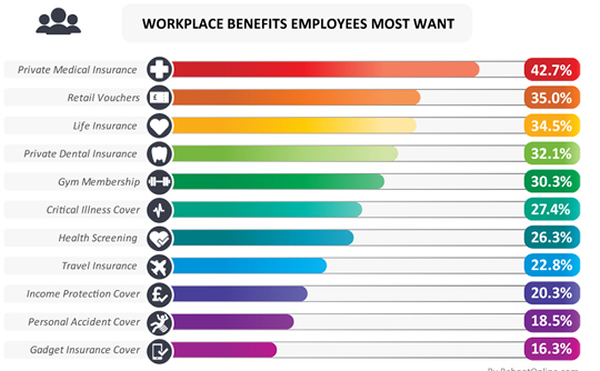 Purchased benefits
The survey also investigated what benefits employees would be most willing to pay for for themselves, if their employer didn't offer it. Based upon the data, Travel insurance came out top (43.5%), followed by life insurance (38.2%) and gym membership (28.9%), with PMI (16.6%), critical illness cover (15.3%) and private dental cover (14.8%) all less favourable than gadget insurance (19.1%).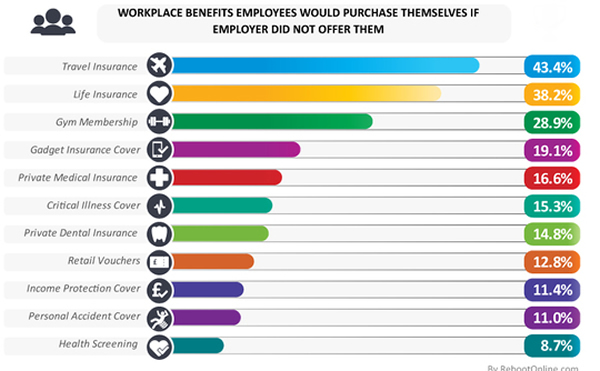 The Knowledge Academy commenting on the findings of their survey said: "The professional working environment for many employees is more than just about getting the work in hand done and earning a salary. Alongside the enjoyment they gain from their respective role, how well they are treated beyond the monetary level contributes heavily towards their overall job satisfaction. Consequently, this research indicates that employers should be aware of this and aim to have a mix of lifestyle as well as insurance-based products in their employee benefits offering. Additionally, they should take the responsibility to make workers aware of all the benefits available to them and which ones would be best suited to their individual needs."
Notes: The Knowledge Academy survey of 1,894 UK employees was undertaken to better understand workplace benefits and was based on data from Capita.
This article was first published in Cover magazine,. You can read the original article here.