advo's Colin Boxall (left) interviews Tom Wilkinson, CEO of AXA's Global Healthcare team
In a wide ranging interview we ask Tom Wilkinson about what he feel separates AXA from other international health insurers, how they support advo clients and where they have gone  'above and beyond' what would normally be expected.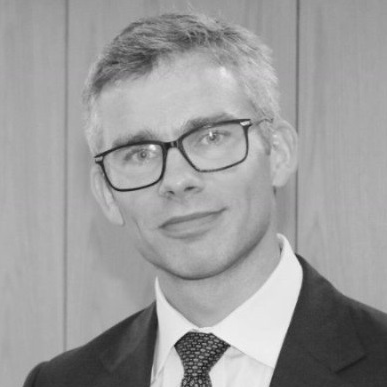 Q. In a global market where (unlike UK PMI) there are many other insurers – What sets AXA apart, both in the UK and other parts of the world? How can this work where there are local legislation and requirements?
What sets AXA apart is our ability to offer clients locally compliant international medical insurance propositions under one brand through our unique ability to partner with AXA's health insurance businesses around the world. With a presence in more than 64 countries, including 35 health businesses, we are able to provide international healthcare packages to businesses and individuals alike. This 'multi-local' approach ensures we can offer a consistency of brand, proposition and service but where certain countries (such as the UAE) have specific regulations about how health insurance plans are procured and designed, we can provide products that are locally compliant. As more and more countries introduce local healthcare regulations, AXA is well placed to adapt.
Q. What is the service ethos for AXA's global healthcare business ?
Our ethos is to empower people to live a better life. We strive to do everything we can to make that happen – from securing guarantees of payment for treatment to offering customers the choice of a second medical opinion if they are seeking reassurance about their diagnosis.
We very much focus on a 'Customer First' approach. Our global contact centre is available 24/7 and speaks many languages so customers can speak in their own language about their medical claims and queries. We also put a great deal of investment into our talent, learning and development team in our contact centre so talented people can do what they do best and don't get dragged away from what's important – helping customers.
We also do work behind the scenes. For example, our claims transformation programme is an ongoing initiative dedicated to the continuous improvement of our claims management. We have a team focused entirely on tracking fraudulent activity and an innovation hub to test ideas to enable us to go above and beyond what customers expect.
Q. Have you examples where AXA has gone 'above and beyond' what would normally be expected from an insurer?
These are perhaps some examples that bring our service ethos to life. We recently had a young girl who needed to go into hospital for an operation. Her case manager knew she was worried about the operation so to make the experience less daunting, we sent her a toy bear dressed in a doctor's uniform. She loved this and took the toy to hospital with her as it made her feel better about the experience.
Another example would be for a member who had cancer. This member had been designated a cancer case manager who had been with him throughout his journey of diagnosis through to remission. One day, the gentleman happened to mention that, once his treatment was over and he was in remission, he was looking forward to a nice glass of red wine to celebrate as he had not enjoyed it so much during treatment. Our case manager remembered this and, when he went into remission, we sent him a case of red wine to celebrate. He was touched by this gesture and thanked us for it. Engaging with customers on this scale is fantastic as it enables us to make the difference to them and bring them closer to our brand.
Q. What can AXA do to assist HR managers faced with relocating staff overseas?
We have been working internationally for over 40 years so we have lots of knowledge we can share with clients – be this the most common types of claims experienced on an international medical insurance policy or helping HR managers to understand regulations around healthcare provision and what they need to ensure their employees are properly covered. We can also offer them and their employees access to online information around some of the administrative aspects of moving and living abroad such as visa applications and what local healthcare is available.
We also offer a pre-assignment screening service, which can help businesses identify ways to plan and support any health needs their employees or their family members might have.
Q. What is more important, value for money, good benefit coverage, effective claims management or good administration?
All of these points are crucial to a quality service that will delight customers and we work with customers to get the right balance for them. Depending on the customer, certain criteria will be more important. For example, good benefit coverage and effective claims management might be more important to consumers purchasing an IPMI plan for their family, whereas a multinational business covering hundreds of employees might place cost containment at the top of their priority list. We look to optimise our whole offering to ensure all clients are happy with our service.
Q. Companies typically promote experienced people in to non-client facing roles. How do you ensure you retain the experience on the 'front line'?
Keeping talented client-facing employees doing what they do best is key for us. We have a talent programme which provides opportunities for colleagues to work on cross-business projects, giving them an opportunity to develop their skills and widen their experience whilst still retaining their core focus. This helps employees to develop and broaden their skills and empowers them to grow as much as possible. Therefore we're able to promote and reward without removing senior employees from client contact.
Q. What is the most challenging part of managing an international book of clients?
The ever-changing healthcare regulations around the globe present challenges in ensuring plans are, and remain, compliant. However, this is where AXA's global presence is key – our approach combines our international expertise with local, in-market knowledge to help us work with regulators to anticipate changes and remain compliant.
Containing costs where claims are incurred in multiple countries is also a challenge. Having a strong global medical provider network and an effective anti-fraud team are two of the ways AXA actively works to ensure it offers competitive and sustainable international health insurance propositions.

You can find out more about Axa PPP International here.