A new international medical insurer is looking to establish themselves in the already thriving UK international medical insurance market. advo meets and interviews two of the main players and asked why they believe they have something different to offer.
UnitedHealthcare will be a familiar name to advo's US clients as one of the major providers of health insurance in the USA but are mostly unknown to many UK employers. This is likely to change as UnitedHealthcare Global recently launched their new International health Insurance proposition to UK specialist brokers at the Four Seasons central London hotel. David Powell, CEO Global Solutions was joined by other senior UnitedHealthcare Global employees to deliver an overview of their new proposition.
Hosting the event was Debra Searle MVO, MBE. Debra is an inspiring individual winning Gold World Championship medals for GB, a businesswoman, author and BBC presenter who is also well known for her successful solo row across the Atlantic Ocean. The event was interesting and informative outlining where UnitedHealthcare believe their proposition of a more proactive approach pre-overseas posting separates them from competitors.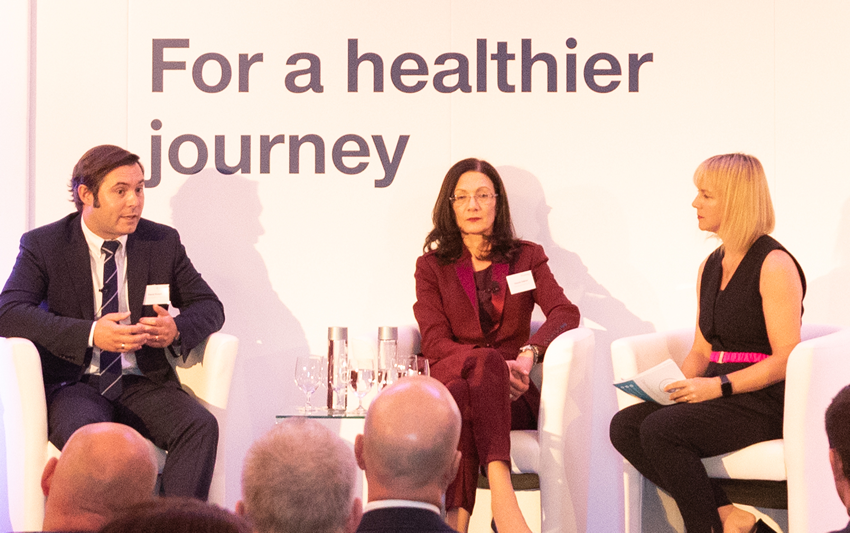 David Powell and Claude Daboul with Debra Searle speaking at the launch event
advo took the opportunity to catch up with CEO David Powell and Claude Daboul, MD for Europe, to find out why they believe they have something different to deliver in what some would consider to be an already overcrowded market and ask about what they see are challenges facing employers with staff based overseas.
Q. Why is UnitedHealthcare entering the European insurance market?
David Powell: "UnitedHealthcare Global sees great opportunities to help people in Europe live healthier lives, and use our technologies and capabilities to make the health care system work better for everyone.
Our BeHealthy Insurance plans build on UnitedHealthcare's extensive portfolio of international health insurance plans that have been available to U.S.-based multinational companies for years. Our plan range provides high-quality, cost-effective benefits and services to customers wherever they are in the world."
Claude Daboul adds "Insurance plans are available now across all 31 European Economic Area countries. UnitedHealthcare Global is proud to have one of the largest, high-quality networks in the world. Plan participants will have access to UnitedHealthcare's worldwide medical network of more than 1.3 million care providers and nearly 21,000 hospitals."
Q. What is your target market, is it just corporate plans you are selling?
Claude Daboul: "We offer our international insurance products to European companies that have a global workforce, providing quality health plans designed to provide coverage and peace of mind to employees living or travelling abroad on work assignments. Our products are geared to help employees on assignment overseas."
Q. What kinds of products and services will UnitedHealthcare Global offer (in the UK and more broadly across Europe)?
Claude Daboul: "UnitedHealthcare Global is offering BeHealthy, a comprehensive health care plan range which delivers value to employers.  BeHealthy features broad network coverage, comprehensive wellness programmes and extensive assistance and security services.
UnitedHealthcare Global has one of the most comprehensive wellness plans in the market, ranging from routine annual health checks, cancer screenings, vaccinations, customised healthy lifestyle services, wellness coaching and EAP services. The plan also includes comprehensive family plans with exceptional cover for oncology, congenital conditions maternity and chronic conditions.
BeHealthy includes a range of security services such as Travel Security Manager, an online tracking tool, World Watch Global Security Intelligence, and medical intelligence reports and extensive assistance services covering medical evacuation and repatriation.
UnitedHealthcare Global also offers digitally enhanced technology for clients and members. The innovative mobile app "myUHCGlobal" is designed to allow members to access membership services through a convenient secure facility. Members can make a claim through the app within 90 seconds.
UnitedHealthcare Global is one of the first insurers in Europe to offer people a personalised digital experience that inspires and motivates healthier habits as part of their health care plan. The BeHealthy plan includes My Wellbeing, a personalised digital experience that encourages healthier habits. My Wellbeing combines clinical programs and engagement expertise with mobile technologies, social networking and gamification. My Wellbeing currently has 67,000 members worldwide. Of those, 29% lost weight, 11% reduced their blood pressure and 42% reduced their risk of diabetes.
Q. How does your plan provide value to employers and employees?
Claude Daboul: "UnitedHealthcare's BeHealthy includes important features which deliver value to employers, allowing them to better manage costs and reduce their administrative burdens, manage their risk and compliance requirements more seamlessly, and promote the health and well-being of their employees who live and travel abroad.
BeHealthy focuses on a whole-person approach to well-being, helping to identify health risks before they happen. This helps employees better manage their international assignments by prioritising their mental, emotional and physical health.
Employers can choose from the core, outpatient and dental plan modules. The core plan module provides coverage for inpatient treatments, maternity benefits, wellness services and assistance and security services. The outpatient plan module offers a range of comprehensive benefits including vision. The dental plan provides options for dental treatment, dental surgery, periodontics and orthodontic and dental prostheses.
Q. In your view what are some of the greatest challenges that expatriates face when going on assignment?
David Powell: "There are a number of issues that face expatriates before, during and after they go on assignment. Some of these include family issues, cultural and language barriers, health issues, lack of support network, unfamiliarity with the medical health care system, work pressure and poor preparation ahead of their assignment. Our services can help prepare and overcome these challenges so they can work towards enjoying their assignment and it being a successful one for them, their family and the company they work for."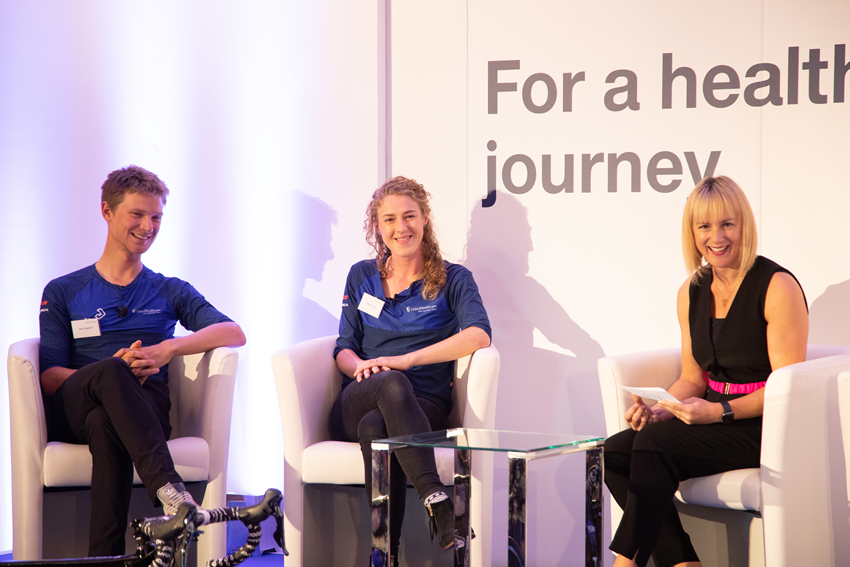 The launch event also featured an interview with members of the UnitedHealthcare Professional Cycling Team who have competed in many major cycling competitions around the globe.
advo will be working with UnitedHealthcare Global where their proposition is a match for clients with global employees.
Who is UnitedHealthcare Global?

UnitedHealthcare Global is a single-source provider of health care, insurance solutions, assistance, security, remote medical services and medical supplies and equipment in the global employee benefits market. UnitedHealthcare Global is part of UnitedHealth Group, a diversified health and well-being company serving 139 million people in more than 130 countries.
Who is David Powell?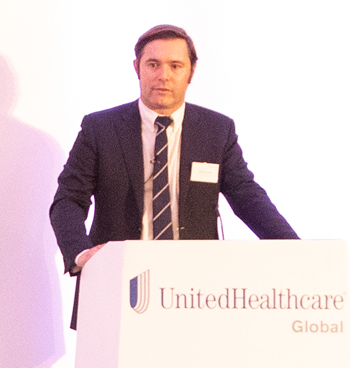 David Powell, CEO of Global Solutions for UnitedHealthcare Global.
David is responsible for leading customer-centric health care solutions for globally mobile populations, with members in over 130 countries. Previously, he was senior vice president of strategy and corporate development, responsible for market expansion and new market entry across UnitedHealthcare's global businesses. He was also responsible for strategy and intelligence, focused on the development and execution of strategic growth initiatives, strategic planning, and market and competitor intelligence.
Who is Claude Daboul?
Claude Daboul Managing Director for UnitedHealthcare Global in Europe.
Claude is responsible for leading the team who manages the International Private Medical Insurance business across 31 EEA countries. she has over 20 years' experience working in insurance and the IPMI market globally. UnitedHealthcare Global recently obtained its license from the Central Bank of Ireland to provide insurance solutions to operate across the 31 EEA countries. UnitedHealthcare Global has developed a fantastic range of health care plans, which we are very excited to bring to market in Europe.
You can find out more about UnitedHealthcare Global here.