Travelling, hobbies and giving money to children and grandchildren are the top three things employed people would most like to do when they retire, according to new research. But the findings show a gap between hopes for the future, and the reality they may be facing.
The report from Aviva also found almost a third (31%) of people they surveyed think they will only have enough money to 'get by' in retirement and nearly a quarter (23%) think life is likely to be a financial struggle. Only 17% believe they will have enough money to really enjoy themselves.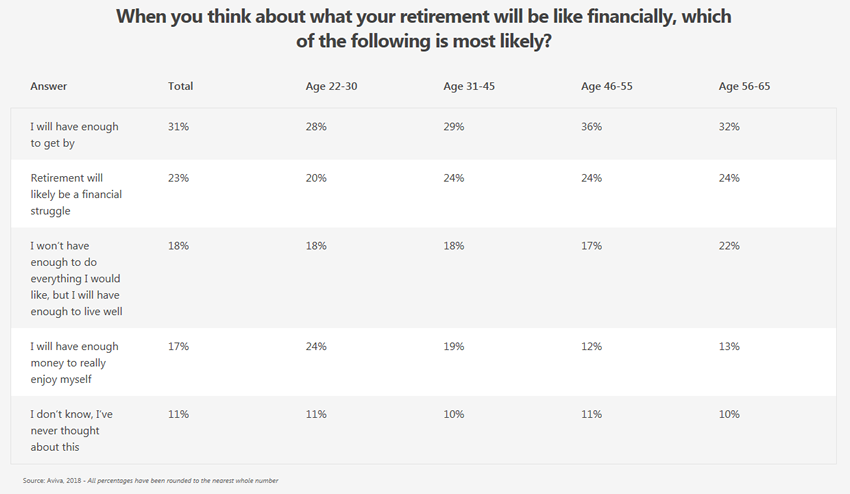 The gap between dreams and reality
Aviva's new report examines the gap between the retirement dreams of employed people in the UK and the financial reality they may be facing.
Despite aspirations to lead an active and generous retirement, less than a third of people surveyed (32%) said saving for retirement is among their top financial priorities. This drops to around one in five (19%) workers aged 22 to 30, but comes into much sharper focus for 56 to 65-year olds, with over half (54%) stating it is a top priority.
The success of auto-enrolment since it was introduced in 2012 means almost 10 million more people are now contributing to a workplace pension. In April 2019, minimum contributions will rise to 8% of earnings, including top ups from employers and the government.
However, Aviva believes even this is unlikely to give people the pension they will need for a comfortable retirement, or to achieve the dream of travelling and helping their children financially.  To help close the gap, Aviva is calling on the government to increase minimum auto-enrolment contributions to 12.5% by 2028.
Aviva has  three 'rules of thumb' for retirement saving to help people be better financially prepared:
The 40 Year Rule: aim to begin saving at least 40 years before your target retirement date.
The 12.5% Rule: aim to save at least 12.5% of your monthly salary towards your retirement. That includes contributions from employee, employer and the government.
The 10 Times Rule: Aim to have saved at least 10 times your annual salary by the time you reach retirement age.
Alistair McQueen, Head of Savings and Retirement at Aviva commented: "Our research has shown that the retirement dream may not be the retirement reality for many people.Travelling the world is clearly a goal for some people, but if you're not prioritising saving for retirement, that dream trip may never come true. We know people are facing many financial pressures, which often make saving more difficult. But saving into a pension should be aspirational.  We need to remind ourselves that we are putting aside money for a better life in the future. Retirement is something we should all look forward to, but we should be aiming to thrive, not just survive. To make our dream retirement a reality, the planning starts now."
1 Table 2: Thinking about when you are old enough to retire, what do you think you would most like to do? (selected up to three)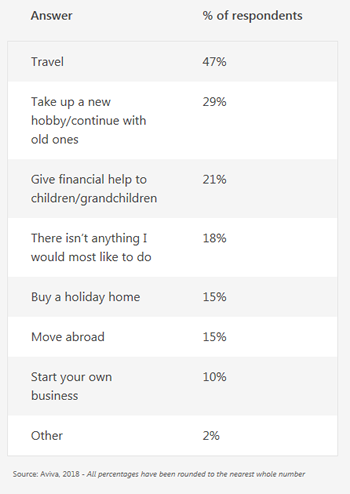 Aviva Survey: Survey of 2,010 UK employed adults, aged 22-65, surveyed by Censuswide on behalf of Aviva in Q1 2018