Men are being encouraged to 'check their tackle' to kick testicular cancer into touch, as six million admit they've never checked themselves for the disease1. Bupa UK has partnered with Welsh international rugby star and testicular cancer survivor Matthew Rees to urge men to 'check their tackle'
The appeal comes as part of a nationwide campaign by Bupa UK as it's revealed that one in four (24%) men have never checked themselves for testicular cancer with nearly half (45%) admitting they 'regularly forget' to look for symptoms.
Common misconceptions are also holding men back from checking their testicles, with one in four (23%) men in their 30s thinking they're 'too young' to get the disease, despite it being most prevalent at this age2. One in three men are aware that heaviness or fluid in the scrotum (33%), with even less aware of abdominal pain (24%) or back pain (12%), are symptoms.
Men are still uncomfortable talking about their health, with one in three too embarrassed to talk to friends about issues 'down there', one in five (21%) uncomfortable about talking to a doctor and 20% admitting they wouldn't tell anyone if they spotted a symptom.
One in four men have never checked themselves and nearly half 'regularly forget to check'
But misconceptions and embarrassment are leading to treatment delays – with potentially serious consequences. When diagnosed at the earliest stage, all men diagnosed with testicular cancer will survive for five years or more3, but one in eight men under 35 said they had previously delayed seeking help for a symptom which turned out to be cancerous. On average men would delay for three weeks (21.7 days) before visiting a doctor with a symptom.
With the condition affecting more than 2,000 men in the UK each year4 and one in three (35%) unsure what they're looking for, Bupa and international rugby star Matthew Rees have teamed up to encourage men to 'check their tackle'.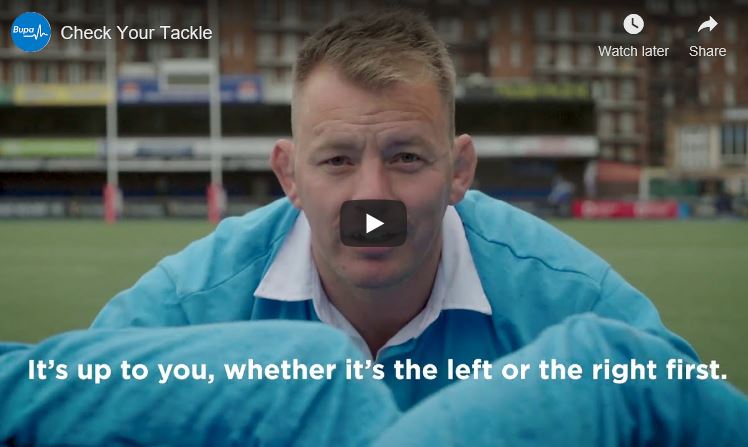 You can watch the video here.
Matthew Rees says: "As someone who was diagnosed at just 32 at the height of my rugby career, tackling the myth that young, fit men can't get testicular cancer is hugely important to me. While I was lucky that my cancer was caught and treated relatively quickly, I'm aware that many men with concerns don't check themselves or speak to their doctor, putting their health at serious risk. I know all too well that testicular cancer doesn't have an age limit, so checking your tackle might just save your life."
Julia Ross, Head of Cancer Care at Bupa UK, says: "We're working with Matthew to raise awareness for testicular cancer ahead of the 2019 Rugby World Cup, and while his rugby career is exceptional, his cancer experience is similar to thousands of other men. The World Cup is a time for celebration, but it can also be a useful reminder for the importance of promoting awareness for men's health conditions."
You can find out more about Testicular cancer here.
Bupa launched its telephone-based cancer self-referral service – Cancer Direct Access – as part of its commitment to improving cancer survival rates by reducing the length of time between diagnosis and treatment. Bupa UK insurance customers can call the dedicated oncology team before being referred to a specialist consultant if they are experiencing cancer symptoms, without the need for a GP referral. Since launching in 2015, it has helped over 4,000 customers gain faster access to a specialist consultation to discuss their symptoms.
Notes
Research conducted amongst 1007 UK men aged 18+ by Opinium Research, between 19-21 August 2019.
1 24% of men said they have never checked for testicular cancer. There are 25,589,214 men in the UK= 6,037,011
2  https://www.cancerresearchuk.org/about-cancer/testicular-cancer/about
3 https://www.cancerresearchuk.org/health-professional/cancer-statistics/statistics-by-cancer-type/testicular-cancer#heading-Two
4According to Cancer Research UK, here are around 2,400 new testicular cancer cases in the UK every year