As we move into 2019, Paul Zollinger-Read, Chief Medical Officer at Bupa looks back at 2018 and forward to what medical advances we could expect to see in 2019.
"Many predictions have already been made about what the top medical advances for 2019 will be. Here are my thoughts on the predictions for the year ahead.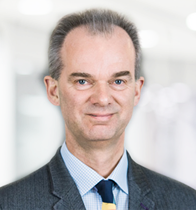 Paul Zollinger-Read Bupa's Chief Medical Officer
Expansion of AI into mainstream healthcare
I've discussed AI many times and hardly a week goes by without the mention of a new AI health application. AI applications have significantly increased in popularity over the year, and I see this trend continuing into 2019 and beyond. However, AI should be seen as a tool to help make a clinician's life easier rather than considering such tech as clinician replacement.
At Bupa, we are embracing AI opportunities. Only weeks ago, Sanitas introduced its new Virtual Psychological Assistant based on an artificial intelligence system, which aims to allow easier access to anyone who needs psychological help. And in the UK, Bupa has partnered with Babylon to provide a range of AI-powered health services for its corporate customers, which will also be made available for SME customers from January.
Immunotherapy coming of age in cancer treatment
Cancer immunotherapy, or biologic therapy, is where the body's own defence mechanisms are used to attack the cancer. Cancers manage to "cloak" themselves and generally are invisible to the immune system. Usual treatments, such as chemotherapy kill cancer cells but also kill normal cells. These newer treatments make the cancer visible and enable the immune system to see it and attack it.
3D printing makes its presence felt
3D printing is constantly advancing. It allows medical devices to be matched to the exact specifications of a patient, making the devices more compatible with an individual's natural anatomy.
Devices such as external prosthetics, orthopaedic implants, and airway stents for diseases of the large airways have already been shown to be accepted by the body and generally demonstrate increased comfort and better outcomes.
Earlier this year, Bupa's University Hospital Sanitas La Moraleja and Exovite in Spain, introduced 3D-printed splints for patients with fractures and sprains that adapt to the person's body, shortening the recovery time and allowing early rehabilitation.
Advances in robotic surgery
No list would be complete without the mention of robots. Robotic surgery can help surgeons by enabling extreme precision and help to move from traditional "open" surgery to minimally invasive surgery. Potential benefits include shortened recovery time and limited pain after surgery and hopefully improved surgical outcomes.
At Bupa Cromwell Hospital, we provide hip and knee replacements using this ground-breaking robotic technology. I believe we could see further progress in this area with robots more likely to assist surgeons than replace them.
Medical education through virtual reality
We've started to see the use of HoloLens technology, which is an augmented reality device that gives an amazing 3D view and provides the ability to visualise the human form as never before. Cleveland Clinic uses this device to teach medical students anatomy.
It is also used to support nurses in rural areas. They will visit a patient, then using the headset call up a dashboard and input various vital signs. These signs are observed by a remote doctor who can then communicate through the virtual world with the nurse or patient directly. I've also seen this tech used in operating theatres to overlay MRI and CT scan results in 3D on a patient due to be operated on so that the internal anatomy can be visualised in 3D.
An increase in genetic testing
Genetic testing has many potential clinical applications, including being able to assess whether a patient is likely to benefit from a particular treatment or drug. But we are starting to see a greater interest in genetic tests not just in clinical care but also amongst customers. In early 2018, it was estimated that over 12 million people had had their DNA analysed by a direct-to-consumer genetic test. A few months later, that number is estimated to have grown to around 20 million.
Cancer liquid biopsies
A liquid biopsy is a simple and non-invasive alternative to surgical biopsies. Traces of a cancer's DNA in the blood can help to diagnose its presence and can help doctors to discover a range of information about a patient's cancer through a simple blood sample. It can also give clues about which treatments are most likely to work for that patient.
This is a very exciting area and one we are watching closely. It could mean that cancer patients undergoing chemotherapy can avoid intrusive biopsies to assess how treatment is working and could instead be tested through the prick of a finger at home or in hospital.
Skin cancer diagnostics
This is another area of great interest. AI-based assessment of photos of potentially cancerous moles or skin lesions and new blood tests could help save thousands of lives. In the case of melanoma (the deadliest form of skin cancer), early detection and intervention is associated with a survival rate of 95 percent. But if you miss that early window, your chances will plummet to below 50 percent. As the tech develops, time-to-diagnosis will decrease (potentially to just a few seconds) giving people with skin cancer a better outlook.
A minimally-invasive way of treating heart valve disease
This is quite amazing stuff. For some time, surgeons have been replacing the heart's aortic valve by inserting a catheter into an artery in the groin or arm and into the artery until it is in the heart. From there the valve is replaced. This approach is much less traumatic than open heart surgery and has good outcomes and much quicker recovery times, however it previously could only be done for the aortic valve.
It's now possible to replace two of the other heart's valves, the mitral and tricuspid, in a similar way. These are the valves between the top chambers of the heart, the atria and the lower chambers, the ventricles. I just find this mind boggling; how such complex surgery can be done through a narrow catheter tube.
RNA-based therapies
RNA (Ribonucleic acid) has a vital role in the body in copying DNA. The RNA makes the copy and then reassembles the RNA copy back into a new DNA copy. The potential of using RNA as a therapy is that it provides an opportunity to intercept a patient's genetic abnormality before it is translated into DNA and actually becomes a disease.
This is being tested in a variety of rare genetic diseases such as Huntington's disease as well as cancer.
So that's the "hot list" for 2019. Watch this space as I'm sure many new and exciting developments are on the horizon."
Paul became Chief Medical Officer of Bupa in July 2012. He has led a distinguished medical career within the UK's National Health Service, both as a GP and as CEO of a number of Primary Care Trusts. He has previously been the Medical and Primary Care Advisor at the King's Fund. Paul leads the Bupa-powered CMO Network. 
This article was first published on Bupa's website. You can read the original article in full here.