New research shows nearly half of managers have never received training on managing mental health in the workplace. Less than a third have received training in the last twelve months.
The new survey of nearly 950 managers in the UK from the Chartered Management Institute (CMI) found that less than a third of managers (30%) have been trained in managing mental health in the workplace in the last year. More worryingly half of managers (49%) have never received any training on managing mental health problems and 20% had received training but more than a year ago.
At the same time, over half (51%) of managers reported that they have had a member of staff disclose a mental health problem. Reported mental health problems include common problems such as stress, anxiety and depression as well as rarer problems such as bipolar, eating problems and post-traumatic stress disorder.
In context, this means that over three fifths (62%) of managers who have had a member of their team disclose a mental health problem to them have either never received any training, or received it over 12 months ago.
The survey also found:
51% of senior managers have never received training on managing mental health in the workplace, compared to 44% of junior managers;
52% of older managers (over 50) have never received training, compared to 42% of younger managers(18-29); and
52% of male managers have never received training, compared to 42% of female managers.
Some managers surveyed have been proactive in addressing these training challenges. Jo Humphrey, a manager from St John's Hospice, commented that "Mental health is a growing problem amongst staff and as such will increasingly become part of a manager's remit. Training has improved and enhanced my existing knowledge and confidence to support staff through difficult periods."
The CMI is calling on all managers to get talking about mental health. This includes talking to employers about training so that managers feel equipped and empowered to have a conversation with their teams about mental health.
CMI's CEO Ann Francke said it was time for all employers and managers to show leadership adding "Given the vital importance of maintaining mental health at work, the fact that half of managers have never been trained in this area shows we have a very long way to go to make this a part of essential workplace practice. CMI research shows that mental health at work is an issue that cannot continue to be ignored, as over 50% of managers have had a mental health problem disclosed to them by colleagues."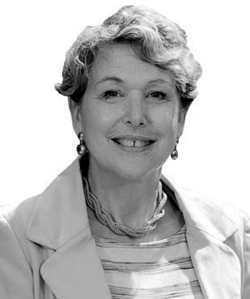 Ann Francke, CEO of the Chartered Management Institute
CMI's 2016 Quality of Working Life report found that improving health and wellbeing in the workplace may need dedicated action across the organisation to change the culture and reshape negative attitudes. CMI recommended:
Tackle taboos – Start conversations and provide information that makes it easier to ask for help.
Engage managers – managers can have a direct impact on the motivation, engagement and ultimately on the wellbeing levels of the people they work with. They need to be informed and engaged on quality of working life and wellbeing issues. Don't leave it to HR
Understanding personal management styles – Provide management and leadership development that helps managers to reflect on their own behaviours and the impact of their actions.
Ann Francke added "Good, skilled managers know that they need to switch off and allow their employees to do the same."  adding that "Line managers play an absolutely critical role in supporting employees' mental health and wellbeing. Employers are already required by law to provide training on physical health and safety. It's time the same requirements applied to mental health."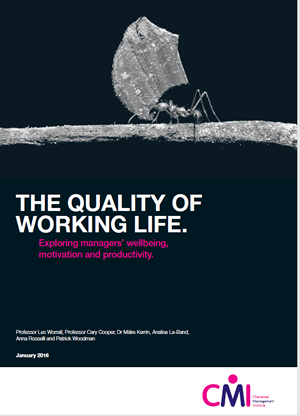 You can view the CMI report in full here.
You can see the original CMI press release here.

advo managers attending a Mental Health awarareness course hosted by UNUM.