Around 2.4 million people in the UK are waiting for cancer screening, further tests or cancer treatment according to a new analysis by Cancer Research UK, recently published.
COVID-19 has caused enormous disruption to cancer services across the UK, including delays to cancer treatment, screening and diagnosis, and huge decreases in patients being urgently referred to hospital with suspected cancer symptoms.**
Delays to cancer screening have had the biggest impact on the total number, with a backlog of around 2.1 million people left waiting for breast, bowel or cervical screening. During this time, 3,800 cancers would normally be diagnosed through screening.
Urgent cancer referrals, often known as the two week wait, have been severely impacted with up to 290,000 people missing out on further testing, which would normally catch up to 20,300 cancers in the same time period.
There will also be a backlog of treatment to catch up on, with up to 12,750 fewer patients receiving surgery, 6,000 fewer for chemotherapy and 2,800 fewer receiving radiotherapy since lockdown began.***
'COVID-protected' safe spaces will be a crucial part of addressing the growing backlog and ensuring more people can safely receive treatment or be diagnosed quickly. But this will only be possible if all cancer patients and healthcare staff – whether symptomatic or asymptomatic – are tested regularly for COVID-19.
Cancer Research UK has estimated that to test patients ahead of hospital appointments and cancer staff weekly, between 21,000 and 37,000 COVID-19 tests must be done each day across the UK. This means that doctors and nurses can care for their patients in a safe, 'COVID-protected' environment.****
Michelle Mitchell, Cancer Research UK's chief executive, said: "The enormous strain COVID-19 has placed on cancer services is of great concern to us. The NHS has had to make very hard decisions to balance risk, and there have been some difficult discussions with patients about their safety and ability to continue treatment during this time. But we're over the peak of the pandemic now, and cancer care is starting to get up and running again as 'COVID-protected' spaces are being set up.
"Prompt diagnosis and treatment remain crucial to give people with cancer the greatest chances of survival and prevent the pandemic taking even more lives."
Professor Charles Swanton, Cancer Research UK's chief clinician, said: "My colleagues and I have seen the devastating impact this pandemic has had on both patients and NHS staff. Delays to diagnosis and treatment could mean that some cancers will become inoperable. Patients shouldn't need to wait for this to be over before getting the treatment they need.
Notes
We estimate the following shortfalls in screening, referrals and treatment compared to what we would normally expect to see over a ten-week period. The treatment figures have been estimated for the UK based on data for England.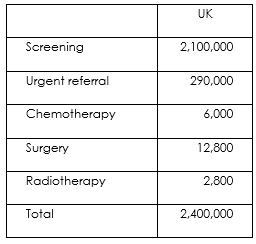 ** Urgent referrals have fallen by as much as 75% is some parts of the country although improvements have been reported in more recent weeks. Even with ***Chemotherapy – it is estimated that this fell to around 70% of what was expected, which would mean around 600 patients each week not receiving this treatment.
Surgery – we have estimated surgery has fallen to around 60% of what would have been expected which is around 1,300 fewer patients receiving surgery each week.
Radiotherapy – we believe that RT has been running about 10% lower than normally expected numbers, meaning 200 fewer patients receiving radiotherapy than normal.
**** In order for staff to be tested weekly for the virus and patients to be tested when needed, an estimated 21,000 to 37,000 COVID-19 tests would need to be carried out each day if the service was back running as normal.
You can read the Cancer UK Press Release in full here.