Manchester Pride, one of the longest-running LGBT+ (lesbian, gay, bisexual, and transgender) events in the country attract thousands of visitors celebrating their community. However, LGBT+ people are still facing discrimination in the workplace, according to new report.
The research from InsuranceQuotes.com found that there were 1773 LGBT+ discrimination-based charges in the USA last year, a very small drop from 1795 in 2016 and a rise from 1458 in 2015.
While 68% of the charges were dismissed, 15% were closed due to administrative reasons, and 17% were found to be in favour of the complainant. This resulted in a total of $5.3million (£4.11 million) being paid out, or an average of $15,600 (£12,090) per case.
There are positive steps you can take at work to improve your culture for LGBT+ colleagues.
Separate research indicates that inclusion initiatives do have a positive impact on LGBT+ people, with those working at organisations active in inclusion feeling much more comfortable, with 86% believing they can comfortably be themselves at work, HRD Australia reports.
However, non-LGBT+ people believe their organisations are better at inclusion than they are in reality, with 88% of non-LGBTI (lesbian, gay, bisexual, transgender and intersex) respondents believing that LGBTI employees can comfortably be themselves at their workplace, compared to 80% of LGBTI respondents.
The 2018 Australian Workplace Equality Index (AWEI) Employee Survey also found that more than 13% of gender diverse employees experienced 'very high' or 'high' levels of anxiety during the recruitment processes.
Carly Gregory of advo hr commented  "It is important that an organisation's culture includes everyone and there is a zero tolerance approach to discrimination on the basis of any protected characteristic. A Company should have clear policies on the expectations of behaviour in this area but a policy alone is not enough. Employers need to make sure they provide training to all employees and make sure that all their processes do not discriminate. Everyone is entitled to feel safe at work, have access to opportunities and develop their  skills."
Luca Sale, Manager of Solutions Architecture at Amazon UK and Chair of Glamazon UK, Amazon's LGBTQ+ employee affinity group, told HR Grapevine that it is in a business's best interests to support their LGBT+ staff.
"Research by Stonewall shows that 25% of LGBT people are not 'out' to their work colleagues, and a study conducted last year by Pride in London found that 74% of the LGBT community felt the need to hide their sexual orientation or gender identity altogether," he said. "Yet all the research demonstrates that people perform better at work when they feel they can be their true, authentic selves."
He added that Amazon run several activities to celebrate Pride and build inclusion. "For example, this year for Pride month, we encouraged executives at Amazon to be visible and proud with a series of initiatives running from 1 June to 6 July, culminating with us marching in the Pride in London parade," he said.
"We're also took over the corporate spaces in our offices with rainbow colours, hosted health and fitness classes, bake-offs, a diversity fashion show and even social events with musical artists.
"We've also held photography competitions, stocked our cafes and kitchens with rainbow food, created Pride-themed playlists to play in the office and held an LGBTQ+ book club.  Something for all employees to have fun getting involved with!"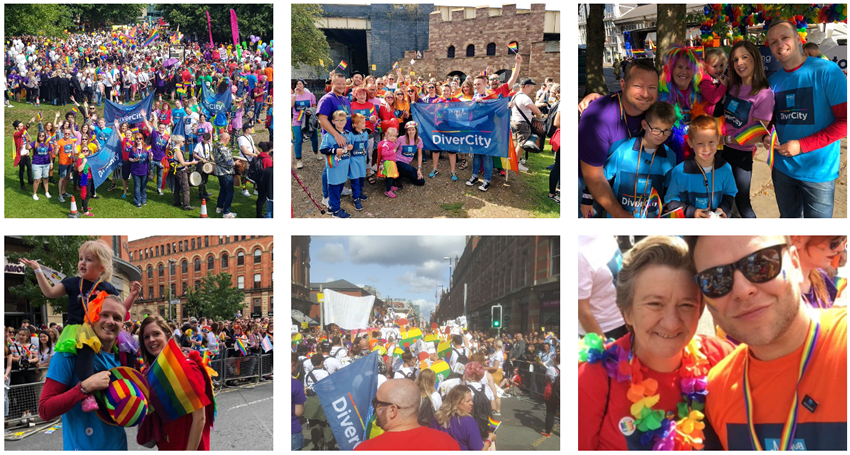 Health insurer, Bupa UK, employees turned out in force to celebrate diversity at Manchester Pride this weekend. Here some of those who attended share what Pride means to them.  #Pridematters
Lucy Robey: "My husband and I want to raise our daughter to know and believe she can be who she wants to be and that all people around her can be whoever they want to be. I have many friends who have only been able to be their true self later in life and we want to raise our daughter to support those around her to be themselves and raise her to be herself."
Holly Platt: "Pride for me means being who you are without judgement or worry. It's about feeling free in your own skin."
Carwyn Davies: "Pride is a celebration of who we are. It is about coming together no matter who you are, and not having to hide who you are. Pride also means we have come a long way, but we have a long way to go until everyone feels comfortable being openly gay, and their true self."
Paul Whittaker: "For me Pride is a celebration of who you are as a person and how far we have come as a community without the feeling of shame or judgement."
Mike Cullen: "I have been attending the Manchester Pride parade and the 'big weekend' since 2015. Every time I have been to see the parade I have seen so many different companies participating and showing their support for the LGBT+ community, so it is great that this year we had the opportunity to show that Bupa is an accepting, tolerant and open company for all. One of Bupa's codes is to celebrate diversity and for as long as I have been working at Bupa I have seen this in action, as I have received nothing but love and acceptance since starting here at the young age of 18."
#Pridematters: What Pride means to me? | Bupa Bupa UK employees share what Pride means to them after joining this weekend's parade
You can see the original HR Grapevine article on which this news update is based here.