advo's online magazine is packed features including GDPR and easy steps to implementation, what are best benefits you can give to staff, health and legal updates and a round up of advo news.

The winter 2018 edition of advocate, the quarterly magazine from advo is now available to view online.
You can see the latest edition of advocate here.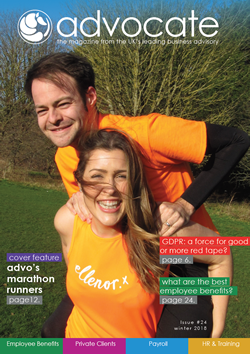 In this edition, we look at how the partnership with our chosen charity, ellenor, has become part of the advo daily life with the wide range of staff initiatives that have raised thousands of pounds in 2017.
We announce the 2017 'advonian' of the year and other award winners, and focus on two marathon runners who are taking to the streets of Brighton and London later this year.
There is a closer look at what benefits work for employers, why companies invest in them and what is most popular with staff.
Keeping with the benefits theme we highlight an important benefit often overlooked, eyecare, and how it can better support overall health and wellbeing.
With one of the biggest structural and organisational charges coming in 2018 with the implementation of GDPR we ask whether it is a force for good or just more red tape, advo's operations director also gives her 5 tips on how to make the transition easier.
In addition there is a round up of the  ground breaking stories impacting on business.
Remember that all editions of advocate magazine are free to read online at issuu.com/
advogroup