VitalityHealth has launched a new GP service which they claim transforms the health insurer's capability to deliver primary care benefits that can be accessed quickly and easily.
VitalityHealth has said that they are now the only organisation offering and funding three choices of GP access for every member. This is face-to-face, video-call and a 24-hour phone advice. The broader service will be delivered through a new GP app, which they call a full 'clinic in your pocket' experience.
The new app will also provide members with access to various other types of care and advice. Through the app, VitalityHealth members will be able to self-refer for priority Physiotherapy services, directly access mental health support and source a range of medical information and advice. The app is delivered by Square Health, one of the UK's largest telemedicine providers.
Vitality have confirmed that their 'Vitality GP' is positioned at the centre of their private healthcare offering, enabling GPs to refer patients for minor diagnostic tests, prescribe medication and make referrals into consultant care without the need for an NHS referral. On the wellness side, Vitality GPs will continue to consult with patients regarding their lifestyle choices and the effect that these choices could have on their long-term health.
Gill Mateo, advo Operations director commented "the upgrading of the Vitality virtual GP services will be a great benefit to our clients who manage their Staff healthcare through Vitality. It is pleasing to see that insurers continue to develop and expand online services recognising the growing trend of using online and social media in our lives."
VitalityHealth's Clinical Operations Director, Dr Ali Hasan, commented "This is a transformation of our successful integrated GP proposition and it makes it even easier for our members to access our best-in-class healthcare. At VitalityHealth, we don't see ourselves as just funders of care, but also as trusted providers of advice for our members. We want to help them navigate the healthcare system and, of course, to ultimately achieve the best health outcome possible. Our updated Vitality GP is the next evolution of our approach – a health concierge in your hands."
The launch of Vitality GP is part of VitalityHealth's core purpose to help make people healthier and to enhance and protect their lives and is available to VitalityHealth members as a core part of their benefit and is accessible through Android and iOS devices.
The Vitality GP app will give their members:
Up to four Vitality GP video consultations each plan year for each member.
At least two Face-to-Face GP consultations in the London area each plan year for each member. You'll need to make a £20 upfront payment each time you book a consultation. Vitality have said they would then cover the rest of the costs.
A private prescription service for acute symptoms with Prescriptions sent to the member's  home address or local LloydsPharmacy.
Up to £100 per the member's policy year for minor diagnostic tests – such as a full blood count, x-ray or ultrasound – and private prescriptions, when arranged or issued by the Vitality GP or a Face-to-Face GP.
24/7 GP Telephone advice service.
Clinical advice and guidance.
You can find out more about the new GP service here.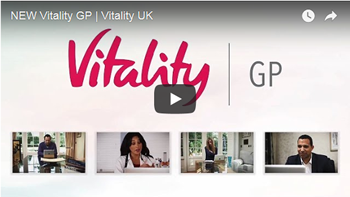 If you are a Vitality client or just wish to find out more you can contact advo's employee benefits team.
You can view the Vitality press release here.