The Investors in People annual employee sentiment poll was expected to show that British workers were planning to stay put in the face of economic uncertainty. But IIP have seen exactly the opposite: a significant rise in people looking to move jobs in 2017.
Employees told the Investors in People (IIP) they want to move jobs for better management, better pay and flexible working.
The annual IIP survey, Job exodus trends reveals major trends across the UK workforce focusing on employee sentiment tracking the likelihood that people are looking to move jobs, the reasons for doing so, and the most attractive benefits that employers offer, this report provides advice for organisations to retain and recruit the best talent.
2017 – 1 in 3 employees feel the job market has improved over the last 12 months. In 2016 this was 1 in 4.
59% of UK staff are considering moving jobs in 2017 – an increase of 10%, Information technology is the sector most at risk, with 77% of employees thinking about changing jobs, followed by finance (65%) and retail (60%).
Paul Devoy, Head of Investors in People, comments: "We were expecting to see British workers planning to stay put in the face of economic uncertainty. But we've seen exactly the opposite: a significant rise in people seeking to move employers in 2017 and a jump in jobs confidence. Workers are telling us they want to move for better pay, better management and flexible working. This sends a clear message to British business to invest in your people or risk losing them."
The survey confirms that Poor management is also having a negative effect, with 42% saying it was one of the main reasons they weren't happy in their current role.
Devoy continues: "With worker wages stagnating and a strong jobs market there is a clear imperative to address workers' pay and tackle poor management. Employers need to really invest in their people in 2017 to attract and retain the best talent."
Working environment is a major factor in retaining staff with the importance varying between genders.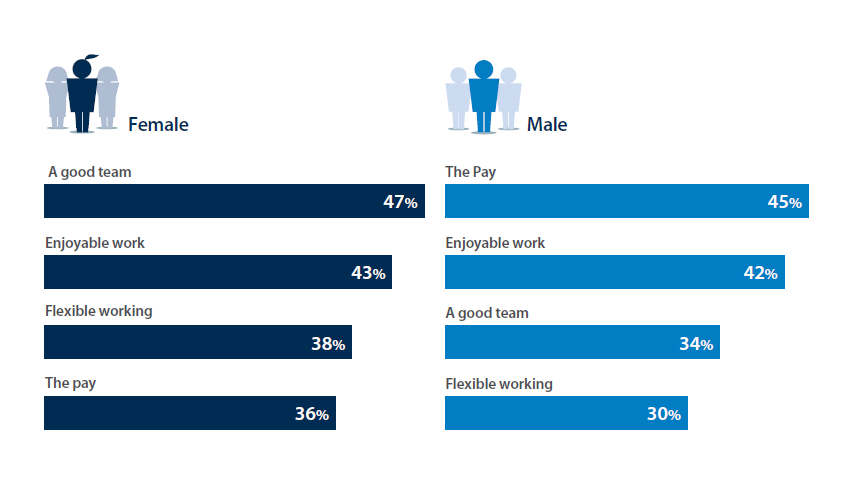 Being part of an organisation that values its staff is particularly important to younger workers (16-29) with over a third (38%) saying it's one of the most important qualities they look for in a new employer.
The survey underlines that it makes sound financial sense for an employer to values its staff and invest in their future and wellbeing.
Original IIP press release can be seen here.
Download the IIP Survey here.
About the IIP 2017 Employee Sentiment Poll
A poll of 1028 employed people in the UK was launched on 8 December 2016 and closed on 10 December 2016. A poll of 1002 unemployed people in the UK seeking work was also undertaken between 8 December and 15 December. Data was captured via an online survey carried out by research organisation Morar.