GRiD, the industry body for the group risk protection industry has released UK claims statistics showing that over £1.6 billion was paid out during 2017.
The industry data compiled and published by Group Risk Development (GRiD) which is based on claims data from Grid's provider members, also found that 25,906 claims were made in 2017 for group life assurance, group income protection and group critical illness.
The total claims paid and average new claim amounts is outlined below

Facilitating return to work
For group income protection, as well as the claims paid, there are a large number of cases that are not shown in these figures where people are helped back to work both before and after a claim becomes payable, often with the support of the insurer, the employer or both.
GRiD captured data on these cases where the insurer supported a return to work with active early intervention (such as fast-track access to counselling or physiotherapy, funded by the insurer) before that person was eligible for a monetary payment. 2,989 people (33.1% of all claims submitted, 6% more than 2016) were able to go back to work during 2017 because of such early intervention (of which, 52% had help to overcome mental illness and 17% had support overcoming a musculoskeletal condition).
On top of this, for the first time, GRiD has captured details of cases to demonstrate that once a claim is in payment, help and support back to work is still given and people are not forgotten. Of the 5,255 group income protection claims that went into payment during 2016, 1,955 people were helped by the insurer to make a full return to work during that year or during 2017.
Help and support
As well as paying claims and helping people back to work, group risk insurers give access to everyday services that can be used to help and support people on a day-to-day basis, including:
Employee Assistance Programmes;
Second medical opinions;
Fast-track access to counselling, physiotherapy or treatment;
Helping people make changes towards better health behaviours;
Liaison and mediation;
Bereavement support and help with probate.
7,879 people accessed extra help and support during 2017 following a referral by a group risk insurer confirming the importance of selecting an insurer with active support towards rehabilitation and return to work.
Main causes of claim across all group risk products

Paying claims
Not all policyholders submitted valid claims. However very few claims are declined for group life assurance but for group income protection and group critical illness claims, the numbers declined are higher. A common reason for this is that it can sometimes be difficult for an employer to be sure that the claim an employee wants to make is either genuine or something that is valid under the policy.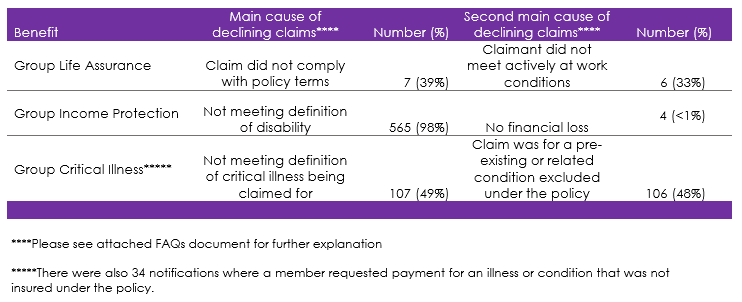 Katharine Moxham, spokesperson for GRiD, commented: "Once again, it's great to be able to show how employer-sponsored group risk protection benefits support people through some really difficult times through a financial pay-out as well as in other ways.
"GRiD's latest employer research cites the key reasons why employers provide group risk benefits. These include helping with recruitment and retention/differentiating their company, being able to recoup the costs in improved productivity and team morale, and paternalism.
"Enlightened employers see exactly how group risk benefits and their inherent additional services help with engagement and productivity, support employee wellbeing and enable a business to fulfil its duty of care. They also ensure fair and consistent treatment of people, and can put businesses in a prime position to comply with their role in the Government's ambitions for healthier and more inclusive workforces.
"One size doesn't fit all – people's needs are met when they are treated as individuals. These figures illustrate the very real difference that group risk protection products make to peoples' lives day in and day out."
You can view GriD's accompanying FAQs document here.
advo looked further into the main causes of staff absence in the article below. You can view the article here.