U.S., UK, France and Australia see slight progress to close gender pay gaps; German gender pay gap widens; U.S. gender pay gap widest among older workers. Economists estimate U.S. pay gap could close by 2070, if current factors remain unchanged.
With global attention on the gender pay gap over the past three years, has progress been made to close the gap? Today, Glassdoor in the USA has published a new multi-country study on the state of the gender pay gap. The report, Progress on the Gender Pay Gap: 2019, reveals that although significant pay gaps remain between men and women, the pay gap has narrowed slightly in the U.S., UK, France and Australia, showing improvement since Glassdoor's 2016 study.
Today, the unadjusted pay gap between men and women in the U.S. is 21.4%, meaning women earn, on average, $0.79 for every $1.00 men earn. This represents a 2.7 % reduction in the unadjusted pay gap from three years ago.
"Over the past three years, company leaders, politicians, celebrities and more have called for an end to the gender pay gap. Though a promising sign, it should not detract from the larger fact that significant pay gaps remain around the world, even after controlling for workplace and job factors," said Glassdoor Chief Economist Dr. Andrew Chamberlain.
The study also reveals the unadjusted and adjusted pay gaps, and how they've changed since 2016, in the United Kingdom, France, Germany and Australia, along with new pay gap data in Canada, the Netherlands and Singapore. Findings in each of these markets are similar to the US: a larger unadjusted pay gap that shrinks, but does not disappear, when additional factors such as worker experience, age, location and job title are considered. Similar to the U.S., pay gaps have slightly improved over the past three years in the UK and Australia, but not in Germany. Of the eight countries in the 2019 study, Germany has the largest unadjusted pay gap (22.3%), while France has the smallest unadjusted pay gap (11.6 %).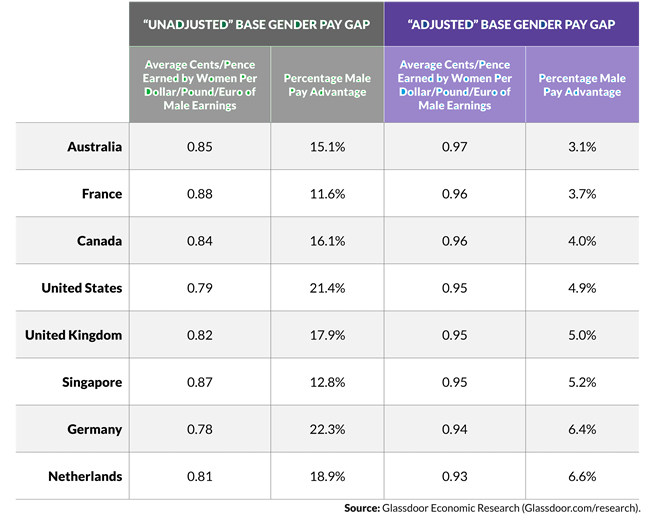 Notes:
The 2019 study, which offers new gender pay gap data on Canada, the Netherlands and Singapore, is based on more than half a million salary reports shared on Glassdoor by employees over the past three years(1), and includes pay data down to specific job title and industry. This specificity enabled Glassdoor to understand both the "unadjusted" and "adjusted" pay gap in each country. The unadjusted pay gap explains the overall difference between pay for men and women, while applying statistical controls for a more apples-to-apples comparison is known as the adjusted pay gap.
 (1) The study is based on 510,954 salary reports shared by employees in eight countries on Glassdoor from 1/1/16/-12/31/18.
(2) Past research on the existence of a gender confidence gap in pay has been mixed. It has often focused on whether women and men are equally likely to ask for raises or promotions with some research finding that women are less likely to ask (Bosquet, Combes and García-Peñalosauet 2018; Leibbrandt and List 2012; Bowles et al. 2007; Babcock and Laschever 2003) and some research finding no difference (Artz, Goodall and Oswald 2018; Belliveau 2012; Gerhart and Rynes 1989).
You can read the Glassdoor press release in full here.